Who is Ashton Whitty? Do You Know Her Well Enough? Check Out these Facts!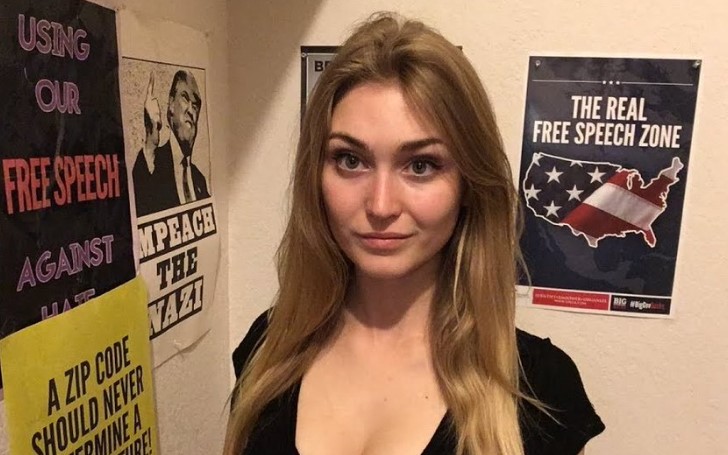 Aston Whitty describes herself as an American Political commentator. To elaborate a little more about her activism, we must mention, Ashton is a vlogger and a political activist.
Despite her promising title, she is more controversial for too obvious reasons. Ashton is one of the most contentious social media influencers, making Twitter the central platform to vent her views; she is often seen as having divergent views and opinions on issues many people.
The political activist who was born on 1st October 1995, in Berkeley, California, has some fun facts you should know.
Ashton Whitty is a Fan of Donald J Trump and 'MAGA.'
Ashton Whitty, as we mentioned earlier, she is known for her controversial comments on the issues and situations. Likewise, while many are have a mixed feeling for Donald J. Trump's presidency, Whitty is an open supporter of Trump.
Also See: Top 5 Facts About Morgan Ortagus
Her support for the now-president is unshakeable, and she firmly believes Trump's agenda to 'Make America Great Again' - MAGA. Moreover, she is actively hosting rallies, and she is responsible for all major demonstrations in Washington, D.C., Texas, and Austin.
There was a Huge Twitter War for a MAGA Hat
Apparently, the 24-year-old political activist was in a Twitter war with Chrissy Teigen. The two got into the fight when Chrissy took to her Twitter account to bash then 22-year-old Ashton. The whole thing started when Chrisy noticed Ashton's MAGA hat while the 24-year-old activist was visiting Disneyland.
Chrissy wrote, "I've seen like…all the Disney movies, and none of the princesses have ever been like, "I HATE GUNS AND LOVE ABORTION AND BEING SUPPRESSED AND HATE MY COUNTRY" usually it's just pretty mellow, singing and animals and stuff."
After seeing the post, Ashton took to her social media to respond. Whitty wrote, "You know you've won at life when a swimsuit model takes the time out of her busy schedule to tweet about you over a meme."
Also Read: InfoWars Host Owen Shroyer - Here's his Entire Life Story!
The war, however, did not turn into a violent one as we thought it would be, but it was quite interesting to see two people from entirely different fields fight over a hat.
Ashton Whitty was Featured in Short Drama
As we all know, Ashton Whitty is famous all over social media. Her social handle 'Ashtonbirdie' is well recognized by all the fans. The young political activist also boasts a youtube channel where she uploads videos on issues such as abortion, deep state conspiracy, immigration, and more.
Moreover, Ashton was also featured in short Drama. The young activist has always shown a keen interest in acting, to fulfill just that, she appeared in a short film titled 'The Heart and Other Small Shapes.'
Ashton Whitty Identifies Herself as a Bisexual
The 24-year-old has come out as a bisexual. However, she said she would settle down with a man just to preserve family tradition.
For more information on your favorite celebrities' lifestyle, Movies, and TVs news, stay tuned to Glamour Fame, and don't forget to sign up for the newsletter.
-->