Axl Rose Sustains a Nasty Fall Recently at Guns N' Roses Show; Speaks on their New Album
Published Mon Nov 04 2019 By Chester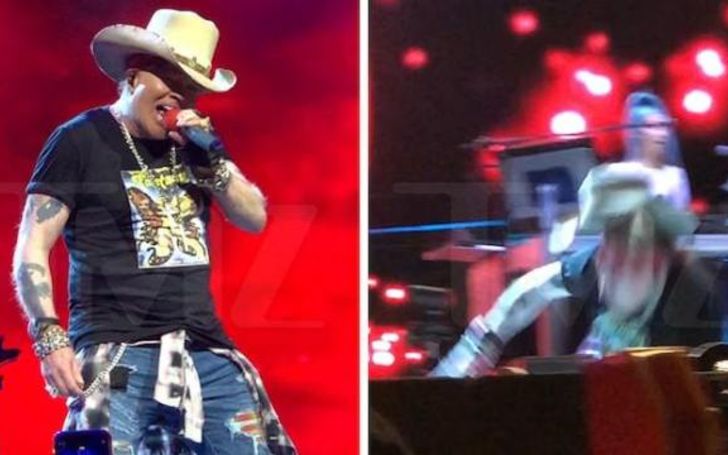 Guns N' Roses' frontman Axl Rose seems to be knocking on the heavens' door as he appears to crash on stage during a performance.
On Nov 1, Friday evening, Axl played in The Colosseum' in Caesars, Vegas along with his iconic band Guns N' Roses and sang their famous hits.
Unfortunately during the performance of their hit cover Knocking on Heaven's Door, Rose falls and vanishes during the middle of of the performance.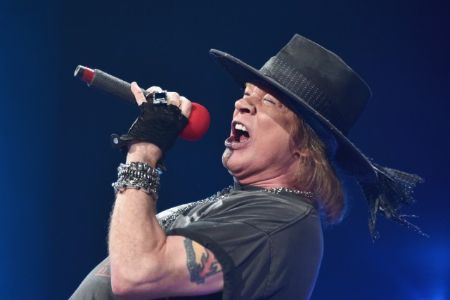 But unlike any rockstar, the King of rock stands up and starts to rock again as if nothing happened.
SOURCE: Spin
The 57-year-old rocker got right back up and continued, however, he went off to the side of the stage, got a towel and wiped down the area of the stage where he seemed to lose his balance. It seems there was some sort of liquid that triggered the fall.
The leading rock band which split back on 1996 after having an internal dispute is currently on their "Not in this Lifetime" tour. The band reconciled in 2016.
Find Out: Late Linkin Park Vocalist Chester Bennington's Widow Talinda Is Engaged >>>
It's not an ordinary fall as it comes just after Slash shared jolly news for all the November Rain hitmakers fans about the new album.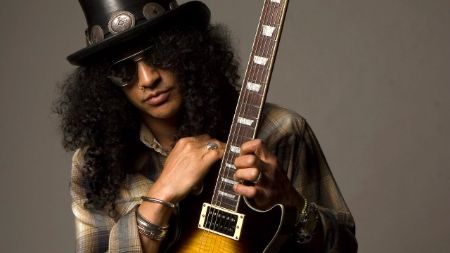 Facts: Slash once shoplifted his famous hat for a gig as during those he didn't have the money to buy one.
SOURCE: Pinterest
Yes, Guns N Roses are coming up with a brand new album. The 54-year-old guitar mogul shared,
I mean, Axl's got a ton of s**t that he recorded already, so we're going to get in there and just start getting into that thing, and then if we do a record and then do a tour, I could see that cycle going on endlessly.
The Paradise city trascendental leak player added, 'But there's a different way of putting stuff out initially nowadays more so than … I mean, there's always been the single, but now you sort of look at that preliminary release a little bit differently now.

Slash ended up saying and confirming us with the album sharing,
I mean, you can do any one of a million different things to releasing a record. But at the end of the day, I think that we will ultimately release a full album.
The group has been performing in Vegas this year. They performed at the Hard Rock earlier in the summer. They're in the middle of their "Not in this Lifetime ... Tour."
Did You Know: Megadeth's Dave Mustaine Has Been Diagnosed With Throat Cancer >>>
So guys aren't you excited for the new album? Stay tuned and connected to find updates on the news only on Glamour Fame.
-->