Magician Shot In The Head With A Crossbow During A Live Performance At The National Arts Festival In South Africa
Published Tue Jul 02 2019 By eden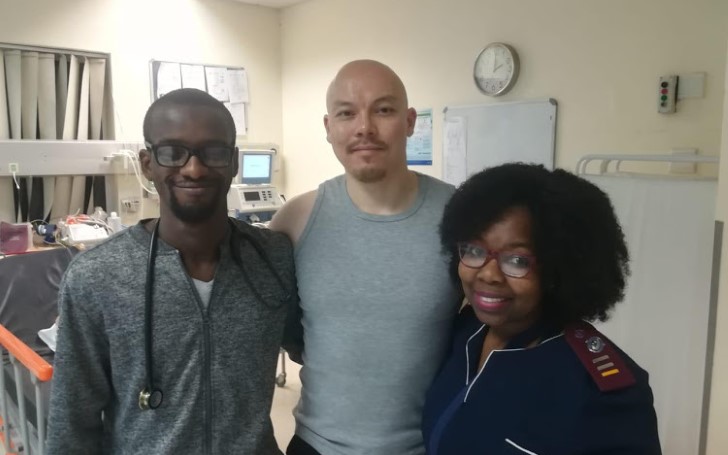 Magician got shot in the dead with a crossbow as trick goes disastrously wrong.
In a rather unfortunate event, a magician got himself shot in the head with a crossbow during a live performance. The incident occurred whilst he was performing the act at the National Arts Festival in South Africa on Sunday.
Better known by his alias name 'One Crazy China', Li Lau was delivering his performance alongside fellow magician Brendon Peel when he got shot at the festival in Makhanda.
During the "Carnival Sideshow and Other Magical Things", Peel was apparently holding the crossbow while his fellow magic partner was performing an escape.
You Might Like: Sos Petrosyan Pulled Off The Most UNIQUE Card Magic Tricks On America's Got Talent 2019
The production company, however, refuted the initial reports. Magic Africa revealed the crossbow was not a result of a human error, rather a technical glitch.
"The escape is performed while the crossbow is held by apparatus and fired by a mechanically-timed trigger. At the time the crossbow was fired, it was not held by either performer."
The magicians duo later released a statement where they said Mr. Lau designed the escape which is always a regular part of their act and this was, in fact, the first time such an incident happened.
Mr. Lau was subsequently taken to and treated at Settlers Hospital for a head wound. He was later discharged with three stitches in his head.
Also See: David Blaine Street Magic: Check Out His Top 6 Most Mind-Boggling Tricks!
The magician shared a video with the fans where he said, "We just had a little minor incident this afternoon, but I am all well, we just took precautionary measures. "We would never put ourselves at harm or any potential risk."
"So thank you for your support I am 100 per cent and the show is going to go on."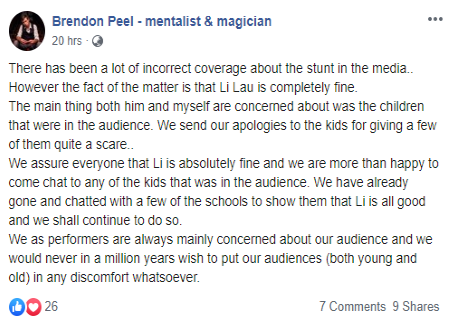 Meanwhile, fellow illusionist Brendon Peel too issued a statement on his Facebook page where he apologized for scaring everyone with their deadly act.
"We assure everyone that Li is absolutely fine and we are more than happy to come chat to any of the kids in the audience," said Peel.
"We as performers are always mainly concerned about our audience and we would never in a million years wish to put our audiences (both young and old) in any discomfort whatsoever."
Also Read: Criss Angel Mindfreak: 7 Tricks That Literally Screws Your Mind!
Meanwhile, the duo will continue as planned until July 6 with daily performances.
The magicians pair, however, agreed to remove the act with the crossbow following investigations by festival organizers on how the accident occurred ensuring additional safety measures were in place.
-->