Mary Magdalene Plastic Surgery - The Complete Details
Published Fri Dec 13 2019 By Travis
Plastic surgery is not a new concept to our world; for the longest time, women and men are going under the knife to look, what they consider to be, their best version. Everyone's got their own way of looking at themselves, and if they are comfortable being the way they are, then we are no one to really judge.
Little plastic surgery to find a person's confidence or even enhance bodily features is amazing, but then there are people who just want to look big, and the surgery passes the point of being a cosmetic enhancement, to a big health risk. One of the people currently obsessed with getting work done on their body is Canadian dancer Mary Magdalene.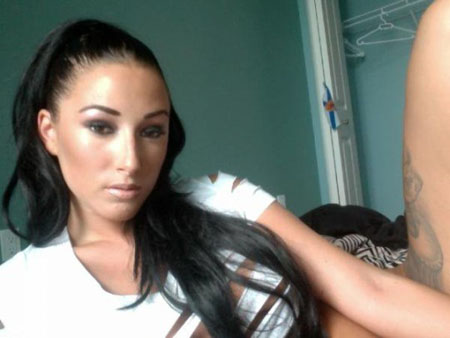 Mary Magdalene before she got all her plastic surgery work done.
Source: Instagram
Born in 1994 to a missionary father and a whole conservative family, from the age of 12, Mary dreamed of getting plastic surgery, and after some year in school at the age of 17, Mary started to dance and became a stripper. When she turned 20, the body, she had just seemed ordinary for her, and Mary started to get surgery, but at first, she was not thinking of getting so much, as the dancer states, it just happened for her.
Mary Magdalene Plastic Surgery – Where to even begin!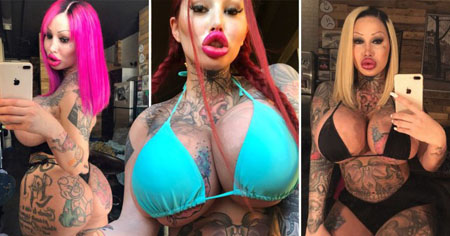 Mary Magdalene plastic surgery are extensive and borderline scary.
Source: Metro
Mary is extremely open about all of her plastic surgeries, and there is so much work done on her body, we do not even know where to begin. The thing is she is not going for all big parts on her body like some women are, but the girl is just going nuts on the places you least expected people to get plastic surgery on and even get the type of surgery she is getting.
Through the past four years, the former dancer spent over $150,000 on her plastic surgeries on body parts from her eyebrows all the way to her vagina. Liposuctions, butt lifts, botox, lip fillers, brow lift, and the list goes on and on. So, without further ado, let's dive straight into it!
Getting a Brow Lift and Cheek Fillers
Mary Magdalene got a brow-lift and cheek fillers.
Source: Instagram
We are going to start from top to bottom, so the first major change you will see on the dancer's face is the way her eyebrows are arched. The God-given face of Mary never boasted eyebrows like those, and the arch was made possible by stretching her forehead and giving the fine curve her eyebrows currently sport.
Also, the almost rosy and puffy cheeks are also not the work of the almighty above, instead of the doing of a doctor who injected some collagen to fill some bumps and puff her cheeks up to the way it looks now.
Mary Magdalene's Nose Job
Mary Magdalene got some work done on her nose to get it pointed up.
Source: Instagram
The model also revealed she got some work done on her nose. You can see the changes between the nose she was born with and the one, surgeons, worked their magic on. The nose of Mary before surgery was parallel to her nostrils, but after the surgery, they look more like the one Michael Jackson was walking around with during the height of his fame.
They are pointed upwards, and the nostrils also appear to be stretched because of the way the nose lifts upward and out.
Mary Magdalene got a lot of Lip Fillers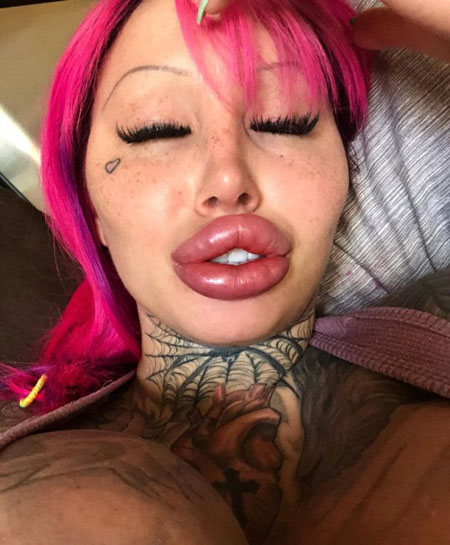 Getting lip fillers and doing multiple surgeries on her lips to get the puffy look.
Source: Instagram
When you look at the face of Mary Magdalene, it is not the arched eyebrows, puffed cheeks, or the nose which takes you attention first, the one thing you will be looking at are those Magikarp lips. For those who did not get the reference, Magikarp is a water Pokemon, well, all we are trying to say is her lips look like those of a fish.
The way they look if is not wrong to wonder if she can even fully shut her mouth because the first thing they look weird and second, they must be extremely uncomfortable. By all accounts, the model/dancer got work done on her lip about seven-time, and lip fillers were injected. She first wanted to get lips like Kylie Jenner, but then it just snowballed from Kylie to Angelina Jolie type look but five times fatter.
Mary Magdalene Boob Job – Her Breasts went from 32B to 32J!
Mary Magdalene got her breasts from 32B to 32J.
Source: Instagram
The second thing after her lips you are going to notice are the massive racks hanging from her chest. Those boobs are just massive, and the first boob job for Mary was the most dangerous one because she got it in Mexico, and the man who did the surgery was a Dentist. Then, the whole thing went downhill from there, multiple boob job later, Mary went from a 32B to 32J.
Mary said she looked basic before she got her breast implants placed in, and now she feels way more comfortable and beautiful than before. She also explained how her new breast is awesome for her job and mentioned if she was doing anything other than what she is doing right now, the former dancer would still look basic.
Arm and Flank Liposuction – Hunting for a Tapered Look
Mark Magdalene got liposuction on her arm and flanks.
Source: Instagram
For people who are not so fond of going to the gym, there are ways to get rid of fat. Liposuction is a technique used to remove targeted fat by way of using suction. Mary took the liposuction route to get rid of fat from her arms and also her flanks.
The sloping look to the hip is because of all the fat liposuction sucked out of the flank area, giving her a more tapered look and also a smooth transition from her upper to the lower part of her body.
Mary Magdalene Butt Lift – About Eight Surgeries for Implants and Lifts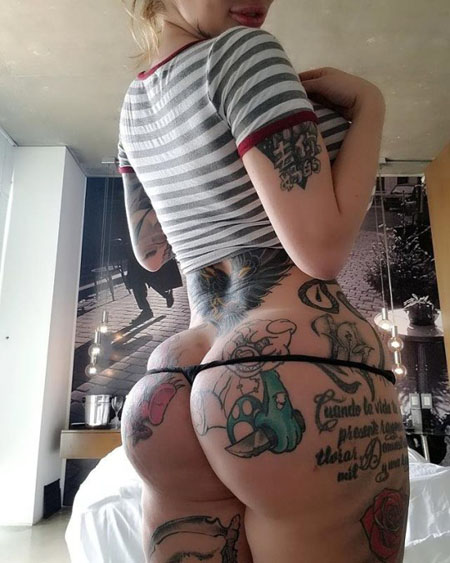 Butt lift and butt implants were used by Mary Magdalene to get to the size she's at right now.
Source: Instagram
All the work on her upper and mid-body led Mary to the bottom half of her body, and her ass was the first victim of the model's plastic surgery tendencies. She got implants placed in to get a fat ass, and then she got Brazilian butt lift to hold those massive butt cheeks up and in place.
Also Read: Full Details on Salma Hayek Breast Implants; Before and After Pictures
The circular looks and cut and paste type of look of her butt are due to the butt lift, and the model is not shy to show off her massive ass on Instagram and other social media platforms. The way her massive and round butt look is because of almost eight surgeries she went in for. One thing is for certain, the woman is extremely dedicated and knows what she wants with her life.
Mary Magdalene's Custom-Designed Vagina – Fattening Up her Lady Parts and Dealing with the Complications
Mary Magdalene is on a quest to get the fattest vagina possible.
Source: Instagram
Mary Magdalene is, in all honesty, a different breed of human, she likens the extensive surgeries she got on her body, to extreme sports. We would not call getting your body parts puffed up beyond recognition as an extreme sport, but it does take a lot of dedication and determination to want to look like the way she does.
The goal for the model is to be a real-life blow-up doll, and on a quest to become a walking talking blow-up doll, the model is getting her vagina to the point of being "the fattest in the world." You heard that right, Mary got injections on her individual parts of the vagina lips to fatten it up, and in an interview Mary said she gets turned on by looking at her vagina. She succeeded in getting her lady part fattened, but the deed was not without complications.
There was some complication after she got her vagina injections.
Source: Instagram
Mary's vagina was swelling, and she needed to get constant injections to even both sides out. She said, "It's a lot better than it was [but] I have complications with the fat, so I will need to keep getting vagina injections to even it out. I am worried about one side because it keeps growing. I think it's probably from the swelling."
There is no telling where the model/dancer is going to stop with all her plastic surgeries; she recently went through some breathing problems because of all the boob jobs. This whole thing is getting out of control, and people need to understand, too much of anything in life is bad. In adequate doses, there can be success, and too much, too fast, is a recipe for disaster, but at the end of the day, it is her body to do whatever she chooses with it.
Also Read: Danii Banks Plastic Surgery - The Complete Details!
Before you leave, make sure to visit Glamour Fame to be in the know of all the happenings in the world of show business.