Mia Khalifa Weight Loss - Get All the Details of How the Former Adult Film Actress Lost Weight
Published Sat May 02 2020 By Bran
There is no doubt on the fact that Mia Khalifa is one of the hottest stars in the adult industry. But, you would be shocked to see her former self. Stay with us to go through all the details on her dramatic weight-loss transformation.
The famous quote,'Love her or hate her, but you just can't ignore her' suits quite rightly for the Lebanese-American internet sensation, Mia Khalifa. Over the years, she worked as a sports commentator, webcam model and got a tremendous amount of fame as a pornographic actress. While she quit the industry in 2015 itself, the influence she left there is quite significant enough to make her a global star.
Khalifa has been a subject of huge controversy and criticism since her choice to join the adult industry was strictly against the values of the Middle East. Although, the diva left her mark in the industry as one of the jolly and hot actresses and webcam models, things weren't always the same for the 27-year-old. Interestingly, the Lebanon born actress used to be quite fat and chubby while growing up, but she did burn the midnight oil to shed down some pounds later on. So, without wasting much time, let us get into the details.
Mia Khalifa's Used To Be Chubby and Fat
While we see Mia Khalifa these days in her widely successful YouTube channel and all those adult movies, it hard to take eyes off her curvy figure. However, things were not always the same, since she used to be overweight while growing up and faced a lot of struggles while growing up. Earlier in 2018, the internet star posted a before-and-after picture of her, which displayed her amazing transformation.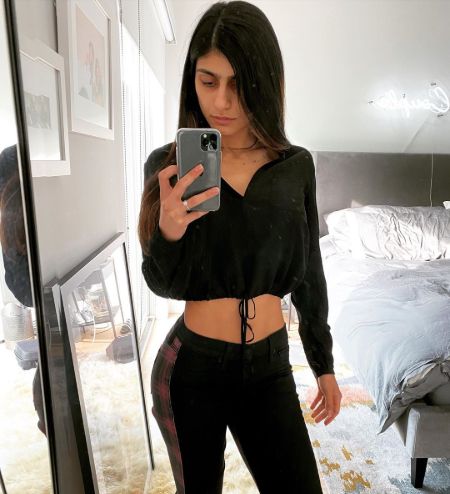 Former Adult star Mia Khalifa used to be overweight while growing up.
Photo Source: Mia Khalifa Instagram

In her social-media page, Khalifa revealed that the main reason behind her increased weight was young metabolism. During her young age, she used to be able to eat higher than a healthy amount of food. Surprisingly, she used to be a foodie who loved eating delightful cuisines at fancy restaurants. Previously, before her rise to fame, she used to work at a fast-restaurant chain titled, 'Whataburger.'
You May Also Like: How Many Calorie Should You Eat Per Day to Lose Weight? A Simple Diet Hack
The former adult star always loved to cook and often posts pictures on her social media platform, as she flashes the new dishes she prepares. Recently, she runs a YouTube channel that has over 800 thousand subscribers and also does live streams at Twitch. Mia, who happens to be a fan of West Ham United, is engaged to boyfriend Robert Sandberg but postponed her marriage due to the COVID-19 outbreak.
Mia Khalifa's Five Day Intense Work-Out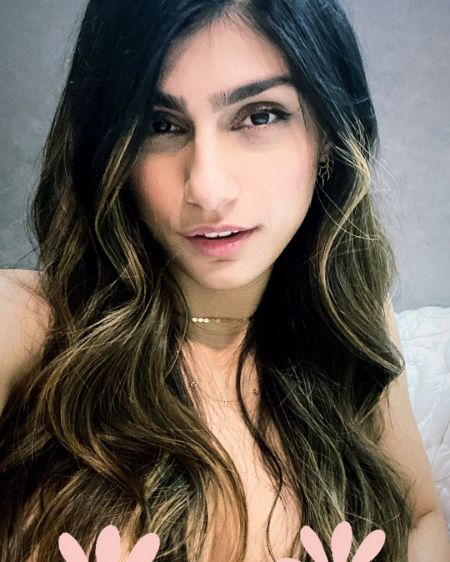 Former adult star Mia Khalifa left pornography industry in 2015.
Photo Source: Mia Khalifa Instagram
When it comes to food, adult star, Mia Khalifa made no sacrifices. However, she believed that the balance was the key to her fitter shape. The food enthusiast didn't cut down on her diet, but she did balance it with intensive exercises and workout schedules. There was no credit to her genes or metabolism for the fitter shape, as it was all down to the work she put in.
"Life is about balance. For me, it's balancing my passion and love for food with my health."
There was no way that Mia would give up on her favorite food items, but there was a way she could accommodate it for a healthy body. Thus, she used to hit the gym five days a week and do the right combination of exercises that helped her to shed down on her body fat. It was all about hard work, and the web camera model was quite transparent about it on one of her Instagram posts.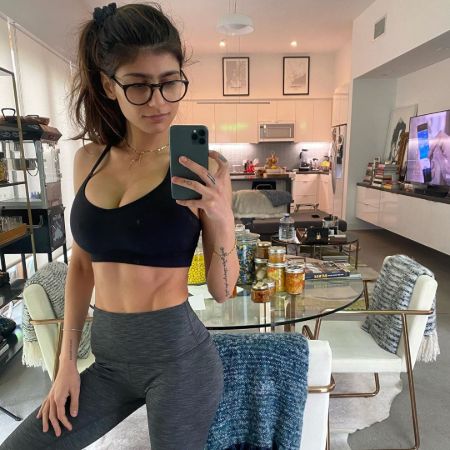 Mia Khalifa goes to the gym five times a week.
Photo Source: Mia Khalifa Instagram
The workout schedule on the gym makes her guilt-free before going on to eat some unhealthy yet delicious culinary items. Interestingly, the main goal she set before shedding down the weight was to work hard enough that she could eat all the carbs and all the items that she always loved.
Also See: The Secret Behind Amanda Batula's Weight Loss.
When it comes to health and fitness, the online star is quite conscious and aware of the new techniques and methods. While many speculate that she used several supplements and surgeries to help her cut down on some weight, the rumors were outright wrong. Likewise, she also completely opposed her followers of using her picture as a tattoo and labeled it as quite creepy. On the contrary, the Internet sensation made several tattoos on her body, including the one with the opening line of Lebanese National Anthem.
For more news and updates, stay with us at Glamour Fame.
-->