Rihanna Made A Surprise Appearance In The North-East Of England To Cheer On The West Indies At The Cricket World Cup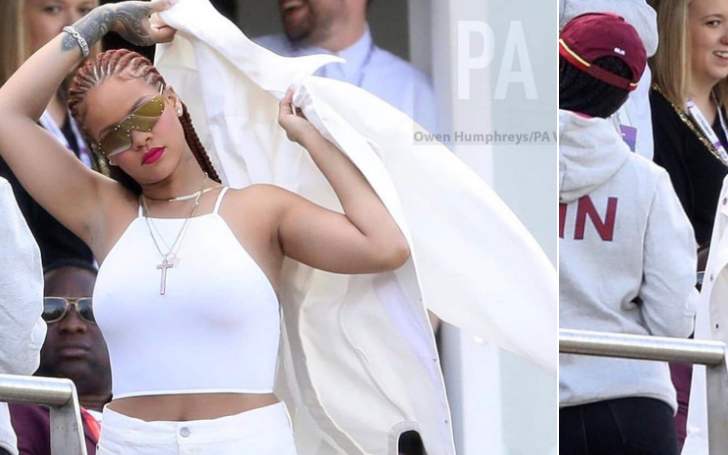 Rihanna stunned fans as she made a surprise appearance at Durham to cheer on West Indies.
Well, no one expected this, not even remotely possible! But, Rihanna stunned us with her surprise appearance at Riverside Ground, Durham.
The 'Umbrella' singer appeared at the Riverside Ground, Chester-le-street to cheer on West Indies.
West Indies was playing against Sri Lanka in the ICC world cup championship group stage match and the multi-Grammy winner singer joined the spectators.
See Also: Check Out These Magnificent Beauty Images Of All Time
The 'Rude Boy' singer could be seen enjoying her drinks and laughing, and thoroughly rejoicing the experience.
Though West Indians were defeated by the Sri Lankans in the match, the singer did not lose her good spirit.
The star singer turned out wearing all-white with sunglasses and a gold necklace and gave a much summery vibe.
The singer is from Barbados and cricket is a popular sport there, and her presence proves it.
Read Also: Who Is Richer, Rihanna or Beyonce? Check Out How Much The Top Female Musicians
Soon after people realized that Rihanna was present at the match, it did not take long for people to blow social media with their stunned reactions.
Not only the crowds and fans but even the West Indies cricket team was much excited to play the match in her presence.
Recommended: Rihanna And Boyfriend Hassan Jameel Enjoy A Romantic Italian Vacation
The West Indies' Cricket's official Twitter handle shared the excitement and posted a video with a caption "Look who came to Rally with the #MenInMaroon today! Hey Rihanna."
-->