Tiani Warden, Gary Busey's Second Ex-Wife Who Died in Jail — Facts about the Former Actress
Published Thu Jan 09 2020 By Sea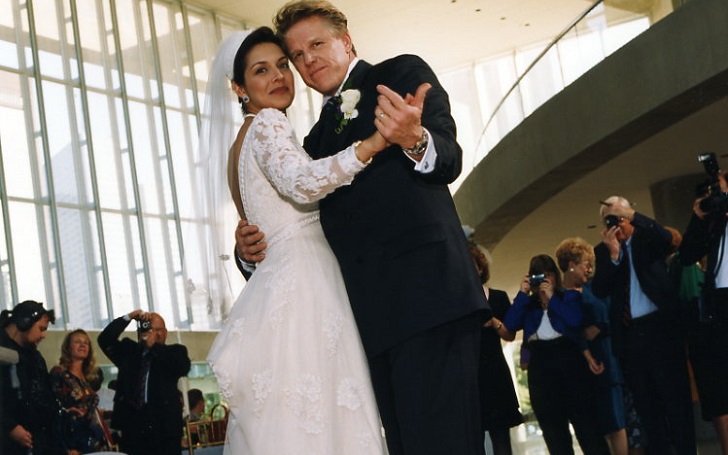 The years of married life with Gary Busey were not entirely pleasant for ex-wife Tiani Warden, according to her at least. Nor were the days after their divorce as she completely disappeared from the media for a long while until 2019.
Even though Warden stepped into the limelight during the time of their relationship, it couldn't last long. But back in July 2019, she was caught up in a public intoxication case. With the case of the same nature in November, she was put in jail. But it couldn't last long, nor could her life.
Source: Hunt County Jail Records
On January 8, 2020, it was announced that Tiani Warden had died in jail on November 4, 2019, and confirmed that she was, in fact, Gary Busey's ex-wife by the actor's publicist office.
► Tiani Warden Died Less Than 24 Hours of Her Arrest - Cause of Death
According to the reports, Tiani Warden was arrested on November 3, 2019, for a public intoxication charge by the Quinlan Police Department and booked into the county jail. But less than a day later, officials found her unresponsive in her holding cell.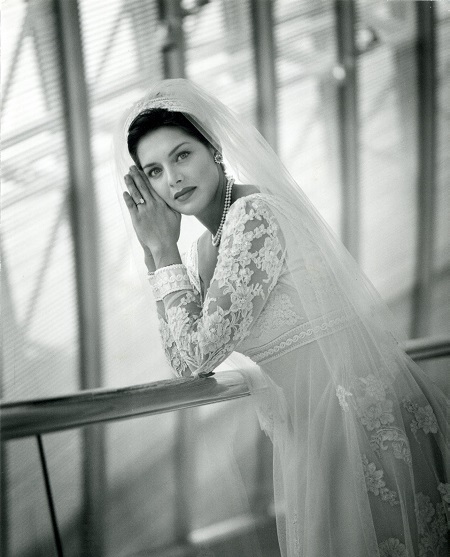 Warden was 46 when she passed away.
Source: Michael Clements
Warden was taken to the hospital, and despite several attempts to revive her in the detention center, on the way to the hospital by the AMR and by the Hunt Regional Medical Center doctors, she gave her breath away in the hospital for the final time. She was 52.
After an autopsy was ordered by Justice of the Peace, Wayne Money, the cause of death was listed as 'accident' in the reports. But other outlets suggest it was the misuse of drugs — reportedly cocaine overdose — in her system that led to her demise.
► Warden Was Arrested Twice in 10 Hours in June 2019 for the Same Charge
It seems Warden has been involved in public intoxication cases in Greenville for a long time. According to court records, back in September 2015, she was arrested for public intoxication but was released with a fine paid and being sentenced to time served.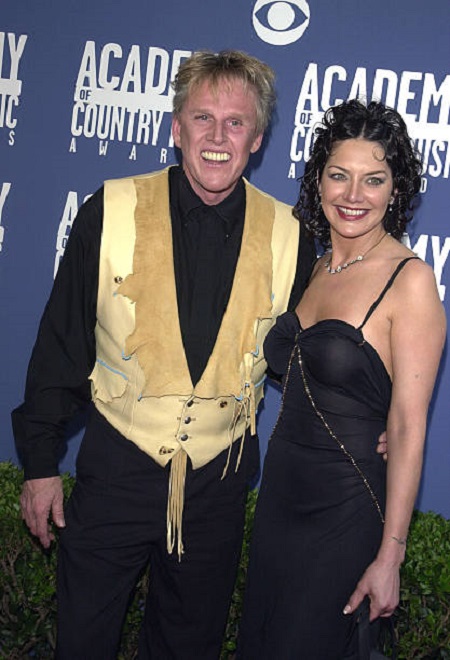 Warden was arrested multiple times in the past as well.
Source: Frank Trapper, Getty Images
It made a roundabout again one late afternoon in June 2019. 'East Texas Matters' reported she was taken into custody at around 3 p.m. on Saturday, June 8, but was released on a $500 bond. The Smith County judicial records further detailed she was re-arrested at 1 a.m. on Sunday morning, June 9, for the same charge. She was again released on another $500 bond.
► Marriage to Busey with No Kids and Acting Credits
Born on September 9, 1967, in Santa Monica, California, Busey and Warden met in Dallas in 1989, about a year after his fatal motorcycle incident. They started dating in 1994 and got married on September 23, 1996, at the Morton Meyerson Symphony Center in Dallas.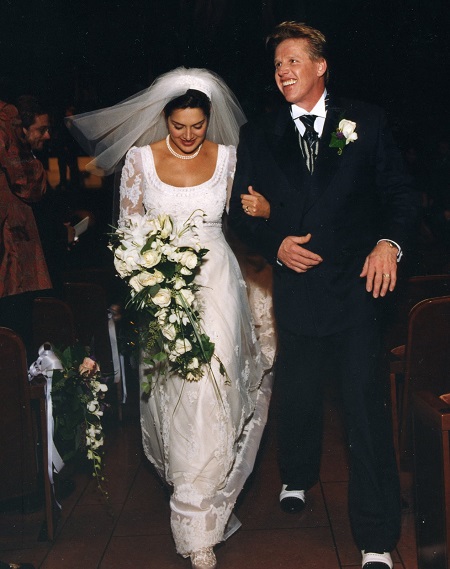 The couple was married for about five years.
Source: Michael Clements
With the relationship, a spot in the limelight was imminent. She also took some appearance roles in movies Busey was also a part of. Her acting credits include, 'The Chain', 'The Rage' and 'Rough Riders' before the turn of the millennium.
At the couple's wedding, Busey's now-48-year-old son, William Jacob Busey Jr., aka Jake Busey, was his best man. According to an article about the wedding at the time, Warden was described as a "model and kickboxer – and a great singer".
► Tiani Saved Busey's Life from Cocaine Overdose in 1995
Gary Busey was described as a notorious drug user back in the day, even after declaring himself as clean in 1985. He was hospitalized, ironically coinciding with Warden's recent incident, for cocaine overdose in May 1995. He was already engaged to Warden at the time. And guess what, she was the reason he survived.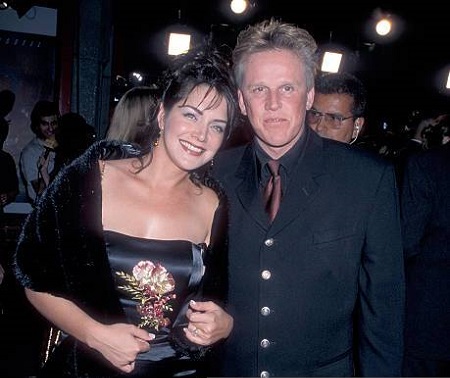 Warden was quick to respond after Busey OD'd on cocaine.
Source: Ron Galella Collection via Getty Images
An archived article of People from back in 1995 tells the story of Warden, who called 911 telling the operator he might've OD'd on cocaine. "I think my mate, Gary Busey, OD'd on cocaine. He's barely breathing." Tiani said as she tilted his head back on the suggestion of the operator. "I can't move him! Honey? Gary? Sweetheart?"
Within minutes, the medics arrived in his home and was rushed by ambulance to nearby Santa Monica Medical Hospital Center, where he was revived and recovered quickly. But since he was found with 1.5 grams of coke in his shirt pocket and an additional half gram of cocaine, four grams of marijuana and two grams of hallucinogenic mushrooms in his home, he was charged felony cocaine possession as well as with misdemeanor counts five days later.
The district attorney recommended a bail of $10,000.
► Divorce Became Imminent after Being Charged with Spousal Abuse
The rumors of the separation of Gary Busey and Tiani Warden began swirling around in 1999, especially after Busey reportedly abusing his then-wife. Again, Warden testified cocaine was involved. She also accused him of prompting a quarrel between them in 2004.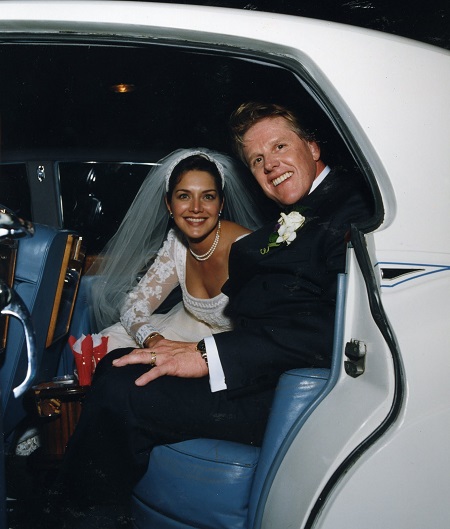 There were accusations against Busey even after the divorce.
Source: Michael Clements
In 2014, 13 years after their divorce finalized in 2001, Warden was quoted by The Sun saying, "[Busey] put his face about an inch from mine and started screaming. He grabbed my neck and started choking me. I slid down on the couch to try and get his hands off my neck and he put his knee into my chest as he continued to choke me. I finally pushed him off me and ran to my car. He jumped on the hood but I drove to the police, who arrested him."
She further added, "Gary saw me pick up his cocaine to throw it out, he jumped a table and grabbed me, throwing me across the room. He dragged me out of the hotel room and down the hall, resulting in numerous bruises. His behavior is unpredictable. I am afraid for my safety."
Busey was arrested back in 1999 due to the incident. Warden was granted an emergency protection order against him, but the charges were later dropped due to lack of evidence. He was arrested again for the suspicion of battering her, but the case was also later dropped.
► Warden Married Again Years after the Divorce from Busey
Busey moved on from the divorce with a new girlfriend, Steffanie Sampson, 30 years her junior, since dating in 2008. They became parents to Busey's youngest child, Luke Sampson Busey, in 2010.
On the other hand, Warden's name faded from the spotlight records. There was nothing other than the reports from her marriage to Busey back then. But we did find one thing.
According to Texas Marriage Listings, Warden was married to Rodney A. Crivac on April 19, 2014, in Hunt County. Crivac was 51 at the time. No other public records of the couple exist as of now.
Stay tuned and connected to GlamourFame for more Entertainment content.
-->