Valentine's Day is not far away. You may be planning to match your dress and other accessories with your loved ones. For the special day, you may be precisely focused on makeup for the romantic look. Likewise, you could be looking for ideas to create a soft and the colored painted nails of yours.
But don't worry we are here you to help provide you romantic nail art ideas which you will eventually fall in love with.
10. Creamy Puff and The Butterfly
A cream hue is a soft and smooth color. So, a creamy coat with the butterfly-drawn and some crystal embed so so eye-catchy for your loved one.
9. Matte Red
A mate is a symbol of modern color. It looks smooth as silk and adds some sparkling glitter to add extra impression to your nails.
8. Floral Imprinted
This day is all about roses and flowers. Floral design can be a great idea to give the most cutest look to the hand. You should definitely try this to make your hand fancy.
Also Discover: Top 5 Premium Skincare Brands in The World
7. Red Heart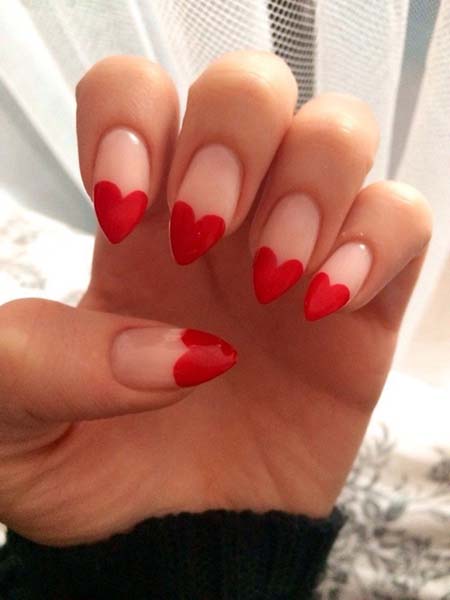 SOURCE:

Luulla's blog
The simple heart design on the edge of nails can be the snap and better way to make your Valentine special.
6. Fancy Pink
If you are planning to go with some matching pink clothes and accessories then pink can be the cool and the appropriate color to go with your nails.
Also Read: Best Makeup Brands in The World
5. Swarovski Crystal
This is the most lavish looking nail art that you can try to look like nail art fashionista.
4. Lovely One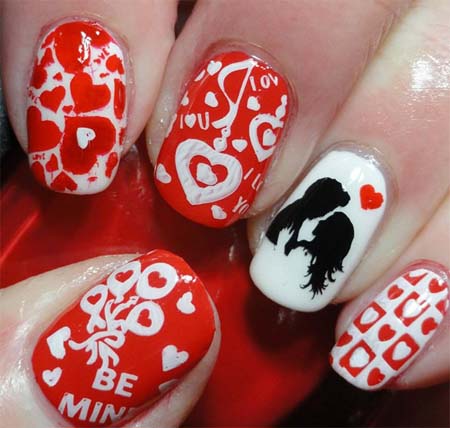 SOURCE: Template
Every nail coated with distinct image and the love quotes such as I love You, Be Mine, as well as the heart-shaped pattern coats, could be the best concept for this valentine.
3. Heart Warming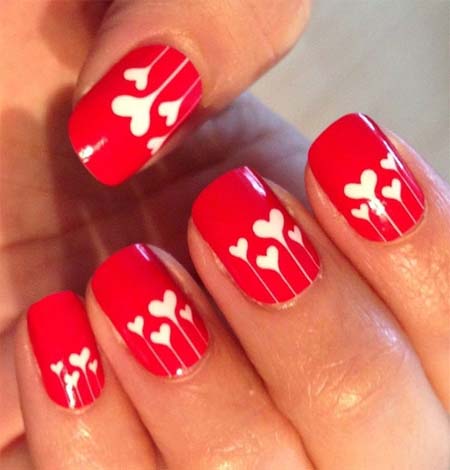 SOURCE: Template
This is the cutest one to show your love to your sweetheart. The glossy coated red nail polish can be added with the small heartwarming heart symbols.
2. Emoji Nailpolish
SOURCE: Youtube
The cutest emoji painted on the nail can be grant ideas for this Valentine. The funny and kisses emoji will definitely make a smile on the face of your dear one.
Also See: 10 Ultra Moisturizing Balms to Save Your Lips This Winter
1. Cutest One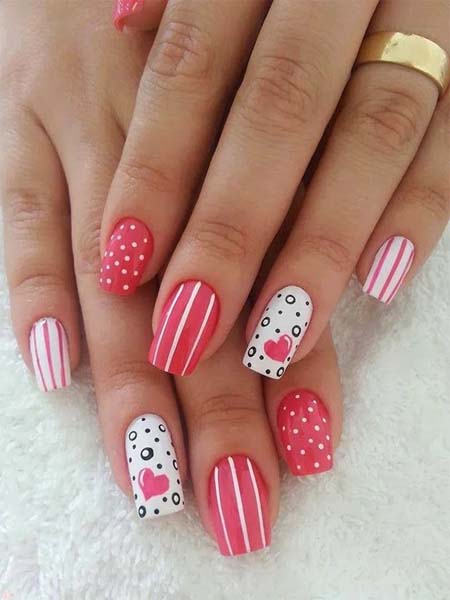 SOURCE: Template
The stripes spotted and the pinkish white laminated can give the cutest look to your fingers and make beautiful hands for this Valentine.
Valentine's Day is all about kisses and red roses. If you are planning to add extra spark and make beautiful hands in this cold winter then make sure to plan with great romantic and heartwarming nail arts.
-->