'90 Day Fiance' Family Restriction - The Wedding Between Mursel and Anna Possibly Off As He Leaves Home for Turkey
Published Mon Dec 23 2019 By Sea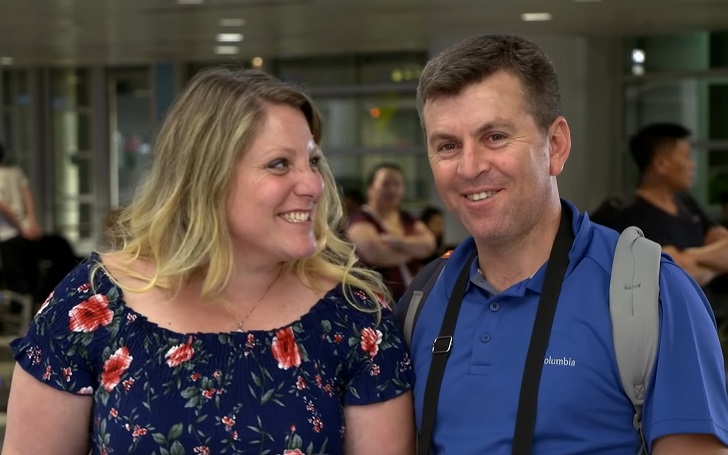 '90 Day Fiance' stars Mursel and Anna are not walking down the aisle due to Mursel's family restrictions.
A lot of drama occurred on the latest episode of '90 Day Fiance' on Sunday, December 22. 38-year-old Mursel was pulled by a pressure rope from two sides as he had to make the most difficult of decisions. His fiance, Anna, wanted him to come clean about the secret he'd been keeping with his parents, but the reception from the other side was not that inviting for either of them (in one way).
The secret Mursel kept from his parents was that he hadn't told them about Anna being a mother of three sons from her previous relationships. It might not have been that much of a problem in the States, but he has Turkish parents who are extremely conservative about this kind of things.
Things seem to have ended between Mursel and Anna.
Source: TLC
He didn't want to tell them about it as he knew his parents would cut off from him or want him to split up from Anna as it would be offensive to their faith. But when Anna had given him a deadline to tell his parents about her kids, putting their marriage under threat herself, everyone knew it was a reckoning for this day.
When Mursel's parents heard the fact, they were obviously not okay with it. Instead of "not talking" to him, as he'd guessed, they wanted him to come home to Turkey. His father told him that she'd taken him "for a fool" and that their neighbors in Turkey were talking about him behind his back and asking why he couldn't just find a Turkish woman to settle down with.
Anna's sons don't get along with Mursel; their interests don't match at all.
Source: TLC
They were previously supportive of Mursel and Anna's relationship, which made their response all the more shocking for him. When Anna asked him if they were still going to be married, he shrugged it off stating, now they won't and that everything is ruined.
Anna stands out of the couch they were sitting on and left the room. In the preview of the show's current season, Anna is seen crying at the airport, telling him not to go back to Turkey.
There were major struggles for the two during the whole season, mainly due to the language barriers and the fact that Anna's sons didn't get along with him. The preview of the next week's episode shows Anna's mother furious at Mursel, saying he broke her daughter's heart and that it was 'bulls**t' for him to go back to Turkey.
It seems there's a lot of things to be resolved over time.
Stay tuned and connected to GlamourFame for more Entertainment updates.
-->