The Reunion and Comeback of the Band AC/DC Excites Fans More than Ever
Published Tue Sep 29 2020 By Chester
The Reunion and Comeback of the Band AC/DC Excites Fans More than Ever
The all-time memorable band AC/DC's comeback was starting to fill the internet after fans suppose the band will be back soon. The assumption is made clear by the band yesterday as they uploaded a small video. Letting all fans and followers seeing the cryptic video, they have created positive chaos in the country as well as abroad. The band has been back active on Instagram too.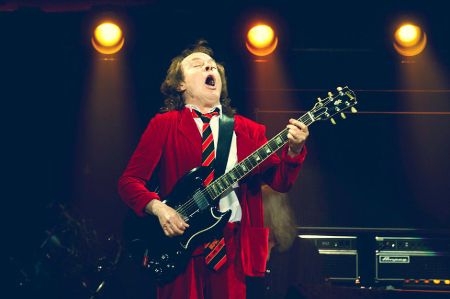 The Teaser of the comeback of the band
Image Source: BrooklynVegan
Talking more about the video, it was posted on the band's social media channels. The video contained a neon light in the shape of the iconic lighting logo. With flickering light and guitar's sound, fans have said they can feel the comeback of the legendary band" AC/DC". Their social pages are also filled with a new banner which informs the comeback of the band any day from now. The rock music lover has felt refreshed after hearing only the lighting sound and guitar amplifiers. The comeback short video was posted on the channel of the band after a series of posts for a week. They were giving hints to the fans about their comeback all the way. Looking at their posts, it seems singer Brian Johnson and drummer Phil Rudd also came back in the band.
With no doubt, the band are ready to break the internet with their album
Image Source: Loudwire
Johnson had left the band in 2016 after an extensive hearing loss and the band had taken a down road path since then. The talented drummer Rudd was replaced after an allegation of drugs and threats to kill in 2015. The photo has suggested that Johnson is the lead vocalist and Rudd is as always a drummer behind the drumset. The reunion and comeback after a long time have made fans more excited than ever. The sources also have said that the band have already recorded their new album and is set to release. Fans and metal lovers eagerly waiting for the release of the album.
The first look of their comeback
Image Source: Instagram
Let's hope the album doesn't disappoint any fans and audience. Their comeback and reunion have got a chance to prove themselves and the news reporter is saying the album with no doubt will set some record. The band had some rumors of getting back in 2018 but at last, they have come back with a surprise album. Stay tuned for the album hit and release date.
Recommended: 'Shake It Off' artist Taylor Swift has broken a Billboard 200 Chart after her Awesome Album "Folklore"
For more Celebrity News and Recent Events, Visit Glamour Fame.
-->