Who is Amy Robach's Husband - Grab Details of Her Married Life!
Published Wed Nov 06 2019 By Sea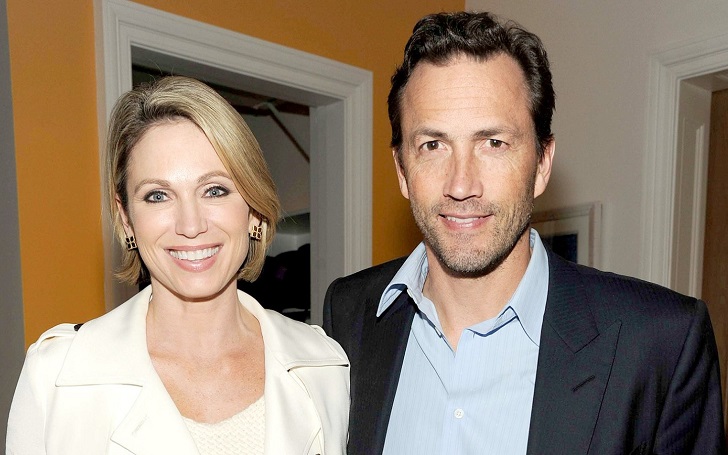 '20/20' anchor Amy Robach has been married for almost a decade now, and her husband is no common man either. They're quite the pick of the bunch. Her husband, Andrew Shue, is an actor and a former soccer player.
The two people just click together as they had the same background before they got married, at least in their romantic lives. Andrew was one of the big brains behind 'CafeMom', the social networking site for moms. In 2013, he launched and co-hosted CafeMom's podcast, 'Mad Life, with Amy's mother, Joan.
The Couple Was Engaged After Five Months and Married After Ten Months of Meeting
The couple got married on February 6 of 2010. When it would be amazing to make marriage stick for even a decade in the US, the story of them getting married is unconventional in many ways. The two met in April 2009 at a book party, were engaged five months later in September 2009, and five more months later, they got married.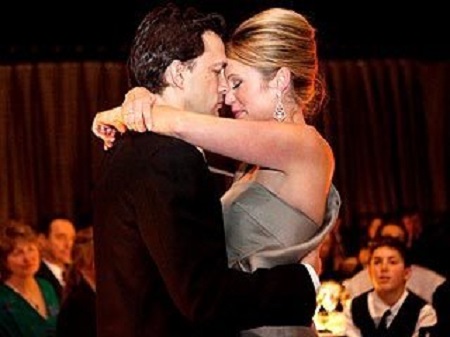 It was quick, but the marriage is lasting longer than expected.
Source: Perez Hilton
The wedding day was a special one as it was Amy's 37th birthday. The nuptials was held at The Lighthouse at Chelsea Piers near the Hudson River. Andrew's mother officiated the wedding. It was weird that they invited their exes.
The two don't have any children together yet (not known anyhow), but they do have kids of their own. That's how it was for them before they were married, and they never felt the need to increase the family when they are happy with the life they live with the five kids.
Both Their Five Kids Get Along Extremely Well with Each Other
The life they live is just strange, but at the same time, exciting. They have five total kids that they take care of following the wedding. All of Andrew's three kids are sons, while the two of Amy are daughters.
Andrew was married to Jennifer Hageney from 1994 to 2008 from whom Nathaniel, 23; Aidan, 20; and Wyatt, 15, were born. Amy gave birth to Ava,17, and Analise, 13, during her marriage to Tim McIntosh from 1996 to 2008. They realized it would be hard to raise them when they started living together in the same house.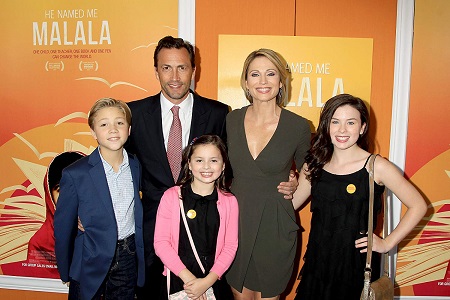 Parenting Was a challenge for the two.
Source: Dave Allocca, Starpix
The 46-year-old TV presenter wants to care for her stepsons as their aunt rather than a stepmother because she doesn't want to be someone to replace their mom. During the early years, when they would scream "Mommy!" to her, it took quite some time to soak it in. It was quite the challenge, but they learned to get along well. The pair even had help from therapists to help them to cope with the struggle of keeping things together.
"He's the Romantic," Andrew Took Her to Mount Kilimanjaro for Her 'Cancerversary'
The early years were extremely tough with the household and more than that Amy's health condition. She was diagnosed with breast cancer on November 11 of 2013, and after assessing her treatment options, she decided to undergo a bilateral mastectomy.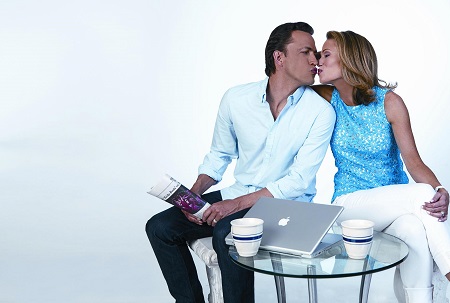 "He's the Romantic," Amy admits.
Source: Sarah Merians Photography
During the course of surgery, another previously undetected malignancy was thankfully discovered. After that, she had to go through six months of chemotherapy and heavy physical therapy sessions.
Although Andrew was beside her all through the process during the surgery, the time between the diagnosis and surgery took a heavy toll on their marriage. She revealed they would have blowout fights on various occasions. But therapy helped quite spectacularly. And they got back on their feet together. "A lot of hard work" was key to their working relationship. Turns out cancer actually saved their marriage as well.
As a cancer survivor, she was treated well by her husband. She believes it is he who keeps that flame of love burning. As a reward (according to her), Andrew took her to the summit of Mount Kilimanjaro in Tanzania on the day of the fifth year of her cancer diagnosis. They went with close friends and family members in November of 2018.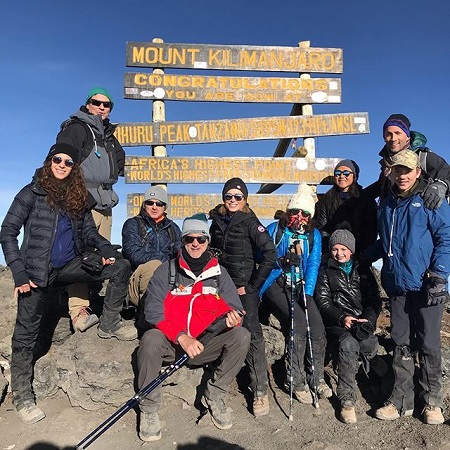 The summit was another challenge they took on.
Source: Amy Robach, Instagram
"He bought me this beautiful tanzanite ring, a beautiful blue stone that's only formed in the foothills of Kilimanjaro in Tanzania, and gave it to me for summiting. He even got down on one knee!" Amy told Closer Weekly in February of 2018.
Of course, she too keeps it all together as well. She helps massively around her house. There are a lot of things the couple has to look after in their own lives. The main thing they do at difficult times is they work at it.
The two people have been through so much together and still growing strong. It's true that sometimes people only find true love after they are married already. Despite getting married without knowing each and everything about it each other, they found the middle ground and made it stick for so long.
Stay tuned and connected to GlamourFame for more Entertainment content.
-->