Amy Schneider Reveals Engagement to Genevieve Davis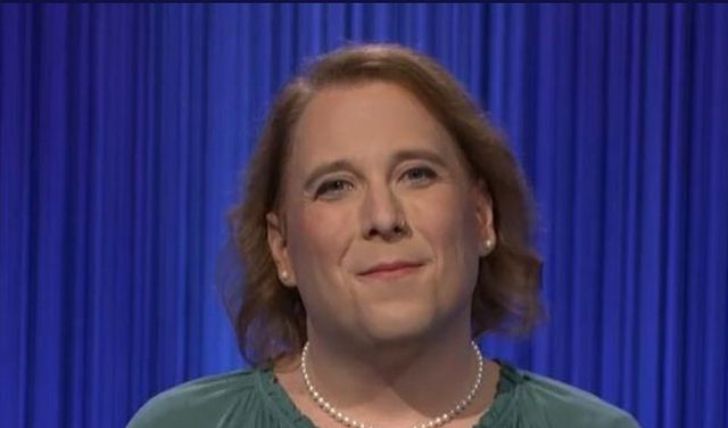 'Jeopardy" champion Amy Schneider is engaged: "I couldn't be happier," says Amy.
The record-breaking Jeopardy Champ, Amy Schneider, with a 40-game winning streak on the game show, is no more dating. The engineering manager/ game show contestant took her relationship with her girlfriend, Genevieve Davis, up a notch by saying yes to Davis's proposal. The Jeopardy champion shares a photo of their hands with solitaire engagement rings on.
"She said yes! Well, actually, I said yes, but then I wanted to propose too, so she said yes as well, lol," Amy, 43, wrote. She adds, "I couldn't be more proud to be marrying the very best person in the entire world, and I'm so going to be sharing my life with her. It's great, I'll be able to introduce her to people as Genevieve, my fiancée."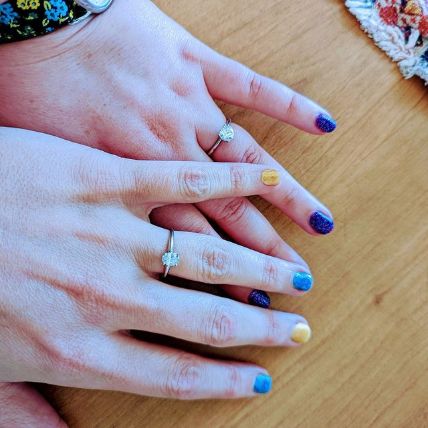 "Genevieve is no longer my girlfriend, she's my fiancée," wrote Amy.
Photo Source: Instagram
Schneider even took to her Twitter handle to gush about the great milestone in her personal life. "I have an announcement: Genevieve is no longer my girlfriend, she's my fiancée," Amy wrote. Schneider and Davis's paths crossed in summer 2020 when Amy's friend invited her boyfriend's sister, Davis, to Schneider's apartment to hang out.
Check Out: Aaron Rodgers Thanks Several People in his Life, Including Ex-Fiancee Shailene Woodley.
Schneider, a trans woman, said, "I'd never really believed in "love at first sight," and maybe I'm just retroactively projecting my feelings back onto that encounter, but I swear I knew when she walked in the door that she was going to be in my life for a long time."Despite feeling the spark in their first meeting, it wasn't until February 2021 that the two started dating.
Amy is the first trans contestant to qualify for the 'Tournament of Champion.'
Source: Jeopardy
Schneider is the first transgender contestant to qualify for the Tournament of Champions in the game show. During her run in the show earlier this year, Schneider sported a pearl necklace, which she said was a birthday present from Davis. "It was the first significant time I'd spent apart from her since we'd started dating, said Amy. She adds, "And so having that was just a nice, just sort of comforting reminder that, that she was at home waiting for me."
For more information and news on your favorite stars, stay connected to glamour fame.
-->