Andy Roy's Relationship with His Girlfriend Priya. What about His Past Affairs?
Published Mon Oct 14 2019 By Travis
Andy Roy is a skating enthusiast who is famous for all of his exploits with the board and his Instagram postings. He became a pro skater in the 90s and was even a sponsored athlete for the Anti Hero Skateboards, but people on social media know the man for his personality, his drug use, and loss of teeth, which causes a striking image on photos.
The pro skater was born on 6 July 1971 in Santa Cruz, California, and from an early age, he was infatuated by skateboards and the subculture which was forming relating to the skateboard. The kids in parks showing off tricks were something, which took the interest of young Andy, and he made his mother buy almost all kinds of boards for him, which was a trouble for her.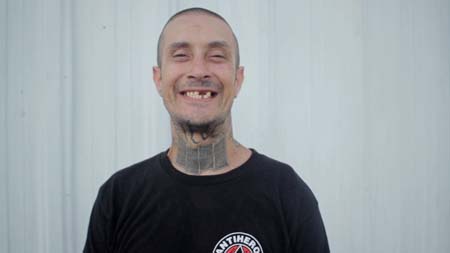 Source: YouTube
Andy made skating and pro skating his career, which served him well, brought him name and fame, but it was not the only thing which came to him as part of the fame. The talented skateboarder fell in hard with drugs, but there was one person who went through it all with him and made sure he came out clean and sober, his girlfriend.
Andy Roy and His Relationship With Girlfriend Priya
Andy was going through a hard time, he struggled with drug abuse almost all of his adult life, but it was getting out of hand more and more each passing days, months, and years. While he was trying to control his drug habit, the skateboarder was failing, but there was also a person in his life, making her presence felt and helping him in every way possible.
Priya came into his life, and Andy will tell you how much sh*t he put her through, and still, after all the trials and turbulences, she was still there with him, making sure he got well. Andy went to rehab and came out a clean and sober man, which was a good thing, and most of the credit he will always give to his girlfriend, Priya.
Source: Instagram
The relationship between the two only grew more, and there was a sweet image posted by Priya about Andy being sober for 60 days on 8 March. He is still clean, and the two enjoy a healthy relationship of mutual respect and appreciation.
There is no ring her finger, and we've not seen any post about the two getting in a relationship, which means the two are probably not married. They are a great couple and amazing together, which is why it will come off as no surprise when the two do decide to get hitched.
Andy's Failed First Marriage
While the fame was catching up to the professional skateboarder, he also met a woman with whom he got extremely close. Erin Roy was the woman who took the heart of Andy, and the two got married in an intimate ceremony in the presence of their parents. It was reported, Andy's father and mother cried when the two tied the knot.
It was a special day for the two and even happy couple of years, but the marriage was not supposed to last. There were a lot of troubles the duo faced, and when the dust settled, there was not much anyone could do about their failing relationship. The two called it quits, and after only a few years of marriage, the two separated and then got divorced, which was heartbreaking.
Source: Instagram
But all of the experience and hardship brought Andy to the place where he is now, and he is more than happy, to say the least. The nuptial was not meant to be, and all of it brought Andy to Priya, whom he calls the "love of my life." So, it seems the whole thing worked out fine for Andy and his girlfriend.
Before you leave, make sure to visit our Entertainment section for more news and gossip on your favorite celebrities. Also, do not forget to visit Glamour Fame to be in the know of all the happenings in the world of show business.
-->