Who Is Andy Samberg's Wife? When Did They Get Married? Learn About Their Daughter!
Published Mon Sep 16 2019 By Travis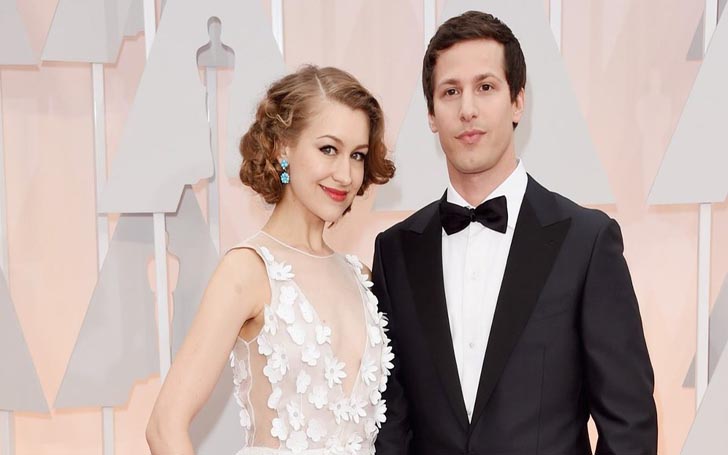 Andy Samberg, as most people probably know, is a 'Saturday Night Live' alum and like most other SNL cast members he created a comedic career outside of the show. From making his own music videos with his band members of The Lonely Island to starring in movies and TV shows. But the one thing he did after getting out of the show was he married the love of his life, singer Joanna Newsom.
They couldn't be on two different parts of the musical spectrum, and still, they were able to find a connection which blossomed into unbridled love.
Source: Mirror
Joanna Newsom was born on 18 January 1982 in Grass Valley California to parents who were both doctors by occupation but progressive-minded by thinking. Though not able to watch TV or movies of violent nature, she was exposed to music at an early age because her father was a guitar aficionado and her mother was not only a pianist but a classically trained one.
The future singer was only five years old when she asked her parents if she can learn to play the harp and after she was taught to play the harp, she became the acclaimed performer she is now. Her career started with a band called The Pleased, but it only lasted for a short period of time when she branched off on her own and started her solo music career.
Watch: Joanna Newsom on her highest selling album Divers
Joanna released her first album 'The Milk-Eyed Mender,' but the best sales of her career was in her comeback album after getting married to Andy Samberg with the collection Divers. The singer also branched out into acting, to bring a new facet to her acclaimed musical career. She was a part of Inherent Vice, and her performance was acclaimed by Peter Travers of Rolling Stones.
When Did Andy Samberg And His Wife Joanna Newsom Get Married?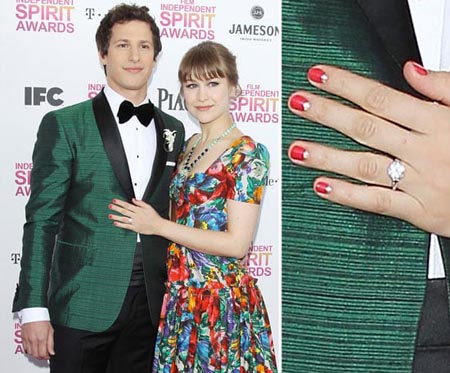 Joanna and Andy got married on 21 September 2013 in Big Sur in Post Ranch Inn, California. During the marriage ceremony, Zac Posen gown was in full display on the singer's body with a custom made earrings and tiara. The couple was trying to get away from the whole media circus, so they decided to go on a vacation to the Maldives where the couple to get away for a paparazzi, calm down and be with one another.
When the couple reemerged at the 2014 Golden Globes, they were rejuvenated and said, "It's fun. It's very, very hot and sweaty and a lot of awesome, fun, famous people and some interviews." But before the marriage and honeymoon, there was a sweet little love story between the two which blossomed over a five years period, and you will laugh when you hear how they first met.
The First Meeting And Ensuing Love Story Of Andy And Joanna
The year was 2008, Andy was still working for SNL, and he was a great fan of Joanna's music, and according to a friend, he was smitten by the singer and would go to her shows. But the first time Andy and Joanna met was through Fred Armisen who got him to her show. Joanna explained the first meeting to Set Meyers; she said, "Fred Armisen brought him to one of my shows, and I had just been with my band backstage, like an hour before, watching 'Just 2 Guyz.' He has a tiny part. He plays Steve the c—. So when I met him, he was kinda shy, and I said, 'Oh my god you're Steve the c—!' He always says he saw heart bubbles."
Talk about meeting the girl of your dreams; Andy found the woman who was calling him the name of his character than just referring his as Andy. He is a sweetheart, but the man also loves what he does, and when it comes to going after the woman of his dream, the actor got the one who dug his comedy.
Source: Good Housekeeping
There was an instant connection and what do you know the two started getting closer since 2008 and in February 2013 the actor got on one knee and popped the question. The couple got engaged, and soon the wedding bells were sounding, and the love birds got married in September of 2013.
They Bought The Moorcrest House For $6.25 Million
A couple needs a good house to rest their head, and it was the case for Andy and Joanna who were in search for a nice place they could call home and the exact right place came up when the newlyweds got their hands on Moorcrest. Built in the 1920s, Charlie Chaplin and Mary Astor called the place their home in the 20th century. The house was on the market for more than eight years when finally Andy and Joanna thought it was the right place for the couple to start a family and paid $6.25 million for the place.
Andy And Joanna's First Child
The love birds never really express their love out in the open most often, but when they do, it always feels like they are soo much in love. It is what a partner wants in their life, someone who loves and cares for them. But after two people get married, the obvious next step in the relationship is kids, and for years Andy said he would want kids. The actor said he would love to "have a baby someday" and the wish of Andy's came true when his wife got pregnant and gave birth to a daughter in August 2017.
The whole pregnancy was kept under wraps, and the couple informed the birth of their kid after she came into the world. To this date, the two are keeping the name of their daughter under wraps, and maybe it is the right thing to get her as far away from the public eye as possible.
Watch: The first photo of Andy Samberg's kid is hilarious
A chance meeting backstage during a concert was the place where it all began, and now the two are happily married for six years and in a relationship for almost eleven years also a parent of one daughter. The couple seems to be happy, and we hope nothing but health and blissful life for the whole family.
Stay tuned to get your daily dose of Entertainment and articles about Movies & TV Shows on Glamour Fame.
-->