Who is Annika Sörenstam's First Husband? Detail About her Marriage and Relationship.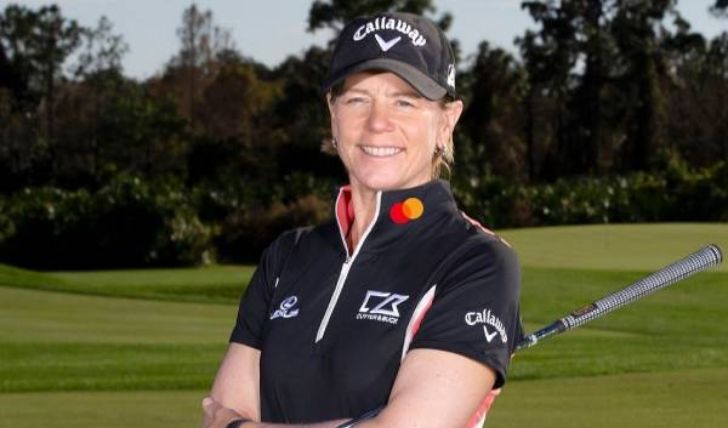 Annika Sörenstam has been married twice! The Swedish golfer is a mother of two kids! Learn about Sörenstam's first husband and more!
Annika Sörenstam needs no introduction to the sports world. But, for those who haven't been keeping tabs, she is regarded as the best female golfer in history. Sörenstam holds a record of over 90 international tournament wins; Sörenstam is still the leading name in golf, even though she retired from the sport in 2008. But did you know Annika was married twice? Find out about the former golfer's first husband and family!
Annika Charlotta Sörenstam was born on October 9, 1970, in Bro, Stockholm County. Her younger sister Charlotta Sörenstam is also a golf player. The two started their golf career around the same time. They are the first sisters to win $1 million on the LPGA tour. In December 2020, Annika took over as the president of the International Golf Federation. The Swedish gold player's personal life isn't quite picture-perfect like her immaculate career.
Who was Annika Sörenstam's first husband?
David Esch was the name of Annika Sörenstam's first husband. Moreover, Annika met Esch, her first spouse, at the beginning of her Hall of Fame career. Sörenstam was on the driving range at Moon Valley County when she encountered Esch in 1994.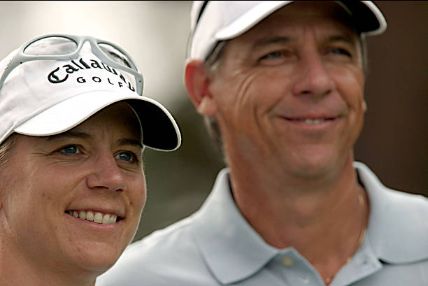 Annika and her partner, David, dated for a year before they took it to the next level. The following year, in 1995, Sörenstam and Esch got engaged. The golfer and her partner tied the knot in Lake Tahoe on January 4, 1997.
Don't Miss: Is Jared Leto Married as of 2021? Who is his Wife?
As Annika's career and romantic life flourished, David quit his job at Ping and joined Callaway. This provided Sörenstam's equipment. Esch catered to his wife's career for the next decade, often appearing on the sidelines as Annika competed in tournaments. Esch's gender-breaking attitude was an offense for the close-minded, and he was often teased as Sörenstam's wife.
Sörenstam's wedlock with her first husband started to deteriorate in 2004
Rumors of the couple's rocky marriage surfaced in 2004 when David Esch was frequently absent from his wife's game. Confirming the headlines of their split, Annika Sörenstam said, "I want to confirm that I have filed for divorce," further adding, "We are working toward an amicable resolution, and we appreciate the media's respect for our privacy."
By 2005 Annika and her first husband finalized their divorce. Despite Sörenstam's marriage with her first spouse lasting almost a decade, she and David never shared a kid. The golfer would later give birth to two kids with her second husband.
Annika and David started dating before the golfer found fame!
Annika and David started their relationship. Annika was untitled in the sport. Her stunning win in the US Open in 1995 brought their love life into the spotlight.
Esch had graduated from college when his romance with Sörenstam gained attention. As such, it made him a celebrity overnight. But Esch is far away from being a celebrity in real life. He was working for a golf club manufacturer company called Ping.
Annika Sörenstam married Mike McGee!
A year before Annika Sörenstam bid her playing career adieu, she met Mike McGee. Mike is the son of former PGA Tour player Jerry McGee. Sadly Jerry died on March 29, 2021. Also, he is the managing director of her brand ANNIKA.
Annika and her second partner got engaged in August 2007. The following year, Sörenstam played the last game in Dubai Ladies Masters on the Ladies European Tour in December 2008.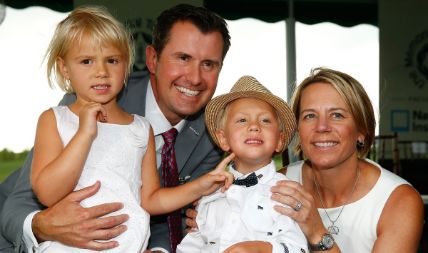 A month after she ended her professional career, Annika ventured into a new beginning. She got married to her second husband, Mike, in January 2009. The ceremony happened at Lake Nona Golf and Country Club and was attended by at least 125 guests.
Check Out: Who is Kyle Richards's Husband? All Details of Her Married Life are Here!
Annika wasn't a mother in her first wedlock with David Esch. But with her second husband, Mike, she welcomed two kids. Sörenstam gave birth to her firstborn, Ava Madelyn McGee, on September 1, 2009. Soon after, her second kid, William Nicholas McGee, was born on March 21, 2011.
Stay connected to Glamour Fame for more information and news on your favorite stars.
-->