Who is Ashley Bernon Engaged to? Find Out About Her Love Life
Ashley Bernon was a name undercover and away from the media only until now. Boston's businesswoman Bernon's name surfaced after the news of her husband or ex Paul Bernon shall we say was found out to be married to 'Real Housewives of New York City' star Bethenny Frankel.
Let's just say Paul isn't the only one moving on and planning a life with a significant partner. When you've got heart of lover, nothing's impossible, and just like that, Ashley also found her partner for rest of her life.
Follow the article to know more about the happening love life of Ashley Bernon.
Bernon is Engaged to Real Estate, Venture Capital Investor Kyle Miller
The gorgeous lady is officially tied up with philanthropic leader Kyle Miller. The lucky man, Miller, is a real estate and venture capital investor who gives most of his focus on educational initiatives like fiance Bernon. Together the pair likes to engage in philanthropic activities regarding health and educational services.
Kyle Miller, Ashley Bernon's fiance, is currently a Chairman of the Board of Trustees in Harlem.
Photo Source: BFA
Asides from that, Kyle is a past Chief Executive Officer, and President of New York based Hudson Castle Group, which was a financial service based firm that he sold in 2011. Being quite the business geek, he also served as a Business Head and Managing Director at Lehman Brothers in New York.
Love Story of Kyle and Ashley
The two personalities' love story is the perfect case of a cliche meeting. Both the couple stumbled upon one another through their involvement on the new Four Seasons One Dalton project in the Back Bay.
Kyle and Ashley met and fell in love through working together on a project.
Photo Source: Bill Brett Boston
The beautiful Benson was in charge of hosting several events that included introducing luxury residences to potential buyers, whereas Kyle was one of the early investors in the condominium units at the One Dalton. He was also working on his other hotel development projects in Boston.
You May Also Like: Janella Salvador - Some Interesting Facts About the Filipino Actress
Due to work issues and matters, the to-be couple had to meet up daily and work with each other. That very thing led Kyle to headfirst fall in love with Ashley as he proposed her at the Trinity Church in Copley Square. The couple is set to take things further and marry in New Orleans on 2020.
Ashley is Already Married To Paul Bernon and Shares Two Kids
Reportedly Ashley and Paul tied the knot way back about 14 years ago. From their marriage, the pair share, two kids named TuckerBernon and Skylar Bernon. There have been reports that the couple divorced back in September 2017.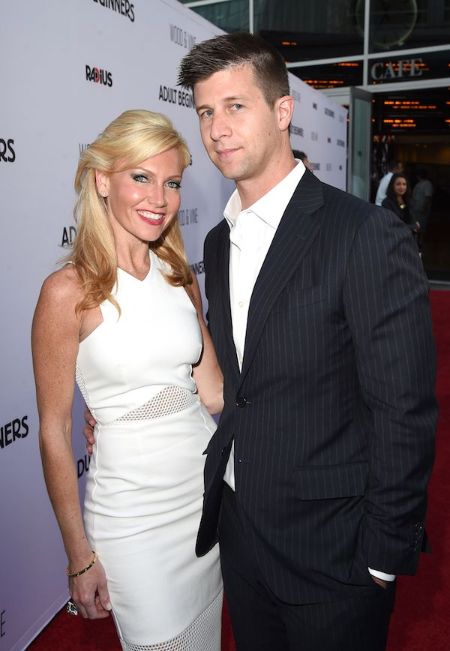 The couple parted ways after 14 years of marriage.
Photo Source: Inquisitr
Paul is a movie producer who is also involved in the real estate business. The movie junkie successfully produced movies like, 'Drinking Buddies,' and 'A Kid Like Jake.' Besides that, he is also a managing partner of the Rubicon Real Estate, LLC, which is a company based in Wellesley, Massachusetts.
Also See: Savannah Guthrie Weight Loss
Well looks like Ashley isn't the only one moving on in her life. Ex-husband Paul is currently involved with the contestant from 'The Real Housewives of New York City' Bethenny Frankel.
Hope you liked the article for more be sure to check out Glamour Fame.
-->