Bachelor alum Lauren Bushnell and Chris Lane are Engaged
Published Wed Jun 19 2019 By rhyss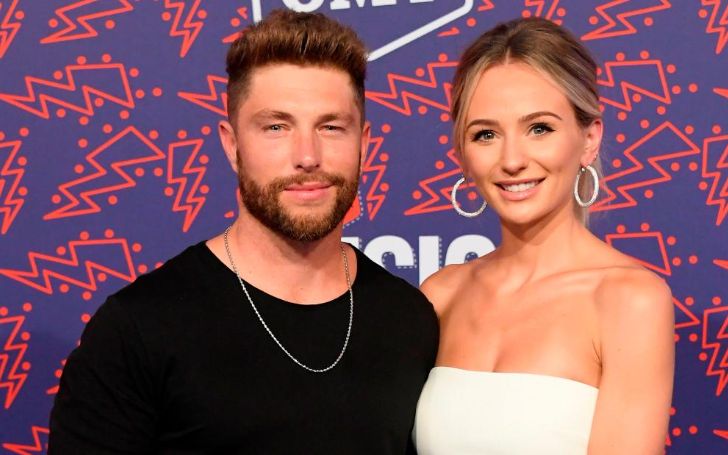 Country Music singer Chris Lane is happily engaged to former Bachelor star Lauren Bushnell!
Good news is coming all the way from Oregon. Finally! Chris, 34, proposed to his girlfriend of two years, Lauren Bushnell, 29. Now that they are engaged, don't be surprised to hear the wedding bells soon.
Chris knew Lauren wouldn't want some crazy proposal, he went down in his knees at her family's backyard in Oregon and apparently, Chris had it all planned out together with the help of Lauren's parents. Lane exclusively told People,
"I knew she wouldn't want some elaborate crazy proposal. So, I decided to keep it pretty casual. I asked her parents for different places in Portland I could potentially take her to, but after a lot of thought I decided doing it at the family cookout would be the most laid-back setting and that she'd appreciate the simplicity of me proposing to her in her parents' backyard."
At first, Chris was hesitant to propose on Father's Day but Lauren's dad insisted he should do on the very same day and it would add to his happiness.
No surprises here as every father wants to see their daughter happy and well!
Besides, the Bachelor alum is one lucky girl, to say the least! Why so?! Her fiance wrote down a song for her to surprise her a bit more than she already was. The song is titled "Big, Big Plans" and to be honest, the lyrics are pretty much straight forward and beautiful.
Upon hearing the song for the first time, Lauren started writing it all down in her head and soon knew what was gonna happen at her family backyard. The Take-Back Home Girl hitmaker also shared the big news on his Instagram account.
As for the ring, well, Chris went for a 3.5 carat, emerald-cut diamond ring. Ironically, Chris bought the extravagant ring together with Lauren, five months ago so it's safe to say, she likes the ring.
This is the second engagement for Lauren as previously she got engaged to Season 20 Bachelor, Ben Higgins back in 2016. The ex-flame even moved in together in April of the same year but fast forward one year and they called off their betrothment.
-->