Bachelor Nation's Raven Gates and Her Husband, Adam Gottschalk Expecting Second Child
Raven Gates is an American personality who rose to prominence by appearing in ABC's The Bachelor. She is a reality star who has amassed a huge fan following through her fabulous looks. Raven also appeared in season four of the Bachelor in Paradise.
Apart from that, Gates is a successful businesswoman. Raven runs her own business under the name Grey Suede. Now let's dig into her personal life and find some interesting facts about The Bachelorette below.
Bachelor Nation's Raven Gates and Her Husband, Adam Gottschalk, Expecting Second Child
Raven Gates and Adam Gottschalk are often in the limelight for their love life. This time the couple shook the internet with the announcement of a baby number two. The loving duo revealed the news through their respective social media. Raven uploaded a sweet picture of the couple and publicized the information.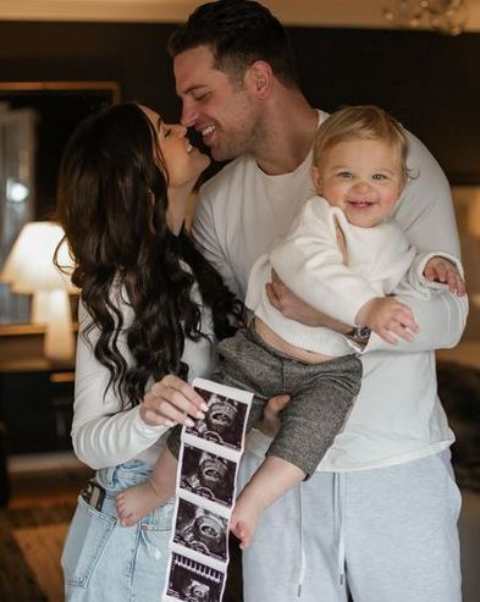 She captioned the picture, stating
"Baby #2 is due in July! Any tips on two under 2? Pray for us! … especially Adam.
People from all around the world saw the news on their social media. Several fans rushed into the comment section and congratulated the couple. Among them were celebrities like Tia Rachel and Jade Lizroper giving blessings and prayers to the pair.
A Beautiful Love Journey With Husband, Adam Gottschalk
Adam Gottschalk and Raven Gates are two famous reality stars couple who has amassed a large fan following. The duo encountered one another on the set of Bachelor in Paradise season four for the very first time.
With their beautiful chemistry in the show, Adam and Raven grew in their relationship. However, during the show, neither of them took the initiative. Why? Because Adam and Raven lived in different cities. Also, the producer didn't pressure the pair to get engaged during the final episode.
On May 31, 2019, Adam proposed to his love of life on a decorated rooftop by bending to his knee. Well, the answer was a big and tearful yes from Gates.
Gottschalk and Gates announced their engagement through their respective social media accounts. Which gathered massive responses from the people. The Bachelor star even shared pictures of her partner, and she captioned
"I'm keeping you forever and for always," Gates wrote on Instagram at the time. "We will be together all of our days Wanna wake up every morning to your sweet face...Always."
Wedding Ceremony During COVID
On April 16, 2021, after two years of engagement, Raven Gates and Adam Gottschalk finally accepted one another as lifelong partners. The beautiful wedding ceremony was held at The Olana near Dallas, where they reside.
Only family members and close friends attended the ceremony and blessed the couple. Raven and her husband kept the guest list short due to the COVID pandemic. The event was planned by the Engaged Events worker, Whitney Bailey, planned the event and looked very much outstanding. During the event, the newlywed pair looked stunning in their fabulous outfits.
The bride wore three princess gowns which the Watters designed, while the groom dashed in an Indochino tux. Following the ceremony, they had a great dinner and later danced to several hits from Emerald City Management's DJ. After that, they cut three-tiered Fancy Cakes by Lauren cake.
The Arrival of First Baby
Within three months of their marriage, Adam Gottschalk and Raven Gates announced their first baby. The celebrity couple took to social media and expressed their feelings. "It's so exciting," Raven said at the time.
"We found out right after the wedding. I've wanted to be a mom for a long time. And I always imagined creating a family with someone I love so much. And expanding my love with Adam into a human, I can't even imagine!"
On January 18, 2022, they finally welcomed their first baby boy. The couple named the boy Zev which means Wolf in Hebrew. It was also a tribute to their grandfather's name.
Despite being busy, they take good care of their offspring in every possible manner. Mr. and Mrs. Gottschalk are also double excited about their upcoming child.
How Rich is Raven Gates? Learn About Raven and her husband's Net Worth and Earnings
Raven Gates is undoubtedly a successful TV personality. From her involvement in reality series Gates has amassed both name and fame. Raven enjoys a net worth of $500,000, which she gained through her incredible career.
Most of her income is from her clothing brand Grey Suede and several other endorsements. Being a successful cast of The Bachelor, Raven also secured decent remuneration from the show. As estimated, her annual income is over $90,000 through her work. On the other hand, her husband, Adam, is also a good cast of The Bachelorette. He holds a net worth of $700,000 as of now.
Gottschalk is also a real estate agent who earns an immense income from his involvement. Adam's estimated annual revenue is over $95,000. The family of three, Raven, her husband, and their baby, live a happy and prosperous life together. They are currently residing in Dallas and enjoying their togetherness to the fullest.
Involvement in Social Media
Both Adam and Raven are highly active in the social media world. Gates has over 1.2 Million followers on her Instagram account and has shared hundreds of posts on it. They often share their daily deeds with the world and get a good response.
Raven's Twitter account has over 157 K followers, which she joined in 2009. Similarly, she owns a YouTube channel under her full name, which collected over 732K views and over 12K subscribers.
On the other hand, Adam is a little less user than his wife. His Instagram account has over 230K followers with 391 shared posts. The duo often uploads their travel videos on their social media accounts. They also share pictures of their son and spend quality time with him.
Stay Attached To Glamour Fame For More Content
-->