Hugh Jackman Starring "Bad Education" Won Emmy for Outstanding Television Movie
Published Sun Sep 20 2020 By Chester
Hugh Jackman Starring "Bad Education" Won Emmy for Outstanding Television Movie
As mentioned by our page earlier, Emmy's season has been started and it has been proved as a great time for some actors as well as movies. Talking about the Emmy Award, HBO's Hugh Jackman comedy-drama movie entitled "Bad Education" won the Award for Outstanding Television Movie. The voting had started on Television Academy and the supporters took the movie to the top with their love and support.
Recommended: Six Actors Are On Their Way to Breakthrough From The Emmy 2020 Nominees
The movie "Bad Education" is a film based on a true story about the Roslyn Union Free School District 2004 financial scandal which is shown as the largest public school embezzlement in the nation. Along with Hugh Jackman, the movie also casts Allison Janney. The chemistry between the two characters of Frank Tassone and Pam Gluckin is shown awesome who was accused of stealing some money from the District's budget. The story shows the up and down of their district school and struggling Jackman's character trying to balance the condition.
The Casts Of Bad Education
Image Source: CNN.com
The famous film producer of IndieWire, David Ehrlich also commented on the movie with his B+ review. The producer explained the character of the movie in his own way as,
"Here is someone who doesn't have the good sense to realize that he's the main character of a movie; someone who thinks that he's always just outside the eye of the storm. That misperception gives Jackman the space needed to be life-sized in a way that his 'bigger' roles seldom have. This is the most human performance he's ever given, wrapped in translucent vanity and cut with finely sliced layers of doubt and denial."
Other several movies like "Unbreakable Kimmy Schmidt: Kimmy vs. The Reverend, "American Son", "Dolly Parton's Heartstrings: These Old Bones" and El Camino: A Breaking Bad Movie" were also nominated for the award but "Bad Education" beat all of them and headed for the Award.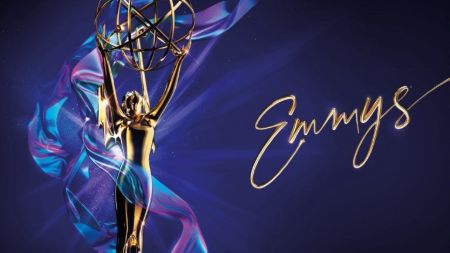 The Snippet of 72nd PrimeTime Emmys
Image Source: Medium
Further Award Ceremony will be shown on Sunday, September 20 at 8 pm ET. The show will be anchored by Jimmy Kimmel. Also, if you are eagerly waiting for some results, check out IndieWire's predictions about the 72nd Primetime Emmys.
We all hope the deserving movies and shows will grab the award. Stay tuned for recent award-winning and star's acceptance speech.
Related: Disney Plus Win the First Emmy Awards Because of 'The Mandalorian'? Know All the Details Here!!!
For more Celebrity News and Recent Events, Visit Glamour Fame.
-->