Beyonce And Jay Z Sit Courtside At NBA Finals While Metallica Performs Fiery National Anthem
Published Thu Jun 06 2019 By Andrew
Metallica performs fiery national anthem while Beyonce and Jay Z sit courtside.
Jay Z, 49, let the world in on his love for sports when he and wife Beyoncé, 37, made it to the courtside to support the team of Golden State Warriors Wednesday night. As a matter of fact, the game marks the 3rd game of the NBA Finals.
Prior to the on-court action, the power couple posed their way off to the cameras while also waving to the fans present in the game.
Jay-Z and Beyonce at the 3rd game of NBA finals.
SOURCE: Chico Enterprise-Record
Adding up to the hype of the already high energy platform, James Hetfield and Kirk Hammett of Metallica gave a kick start to the game from Oakland's Oracle Arena oozing high energy among the audience while singing the National Anthem, completed with pyrotechnics!
The two musicians brought out their electric guitars for the instrumental rendition of the American national anthem and wore t-shirts that supported the Warriors.
Drake, 32, was not present yet the Warriors took it upon themselves to poke fun at the rapper by playing Pusha T's music during the warmup session.
Fans of the musicians still remember their feud back in their heads. Their status as enemies surfaced back in the Pusha T, 42, diss track "The Story of Adidon" through which he accused Drake of fathering a secret child. Drake responded to the diss track with one of his own titled "March 14,". Through the rap song, Drake went on to acknowledge his son Adonis, whom he shares with adult film star Sophie Brussaux.
Drake made multiple headlines as he has been involved in some over-the-top support for the Raptors during various games of this year's season. In fact, his recent behaviors have been seen as quite weird as in one instance he gave Raptors head coach Nick Nurse a mid-game shoulder rub whilst in a game against the Milwaukee Bucks. His actions earned him quite a talking to from the NBA.
NBA commissioner Adam Silver told reporters before Game 1 of the finals series, according to ESPN,
"The league office had conversations directly with Drake and his manager, and I think we ended up in a good place,"
Not to miss the fact that Drake showed up to both Games 1 and 2, which took hold of all the basketball enthusiasts at the Raptors home base in Toronto at the Scotiabank Arena, and referred Draymond Green, a Warriors player as "trash" after Game 1.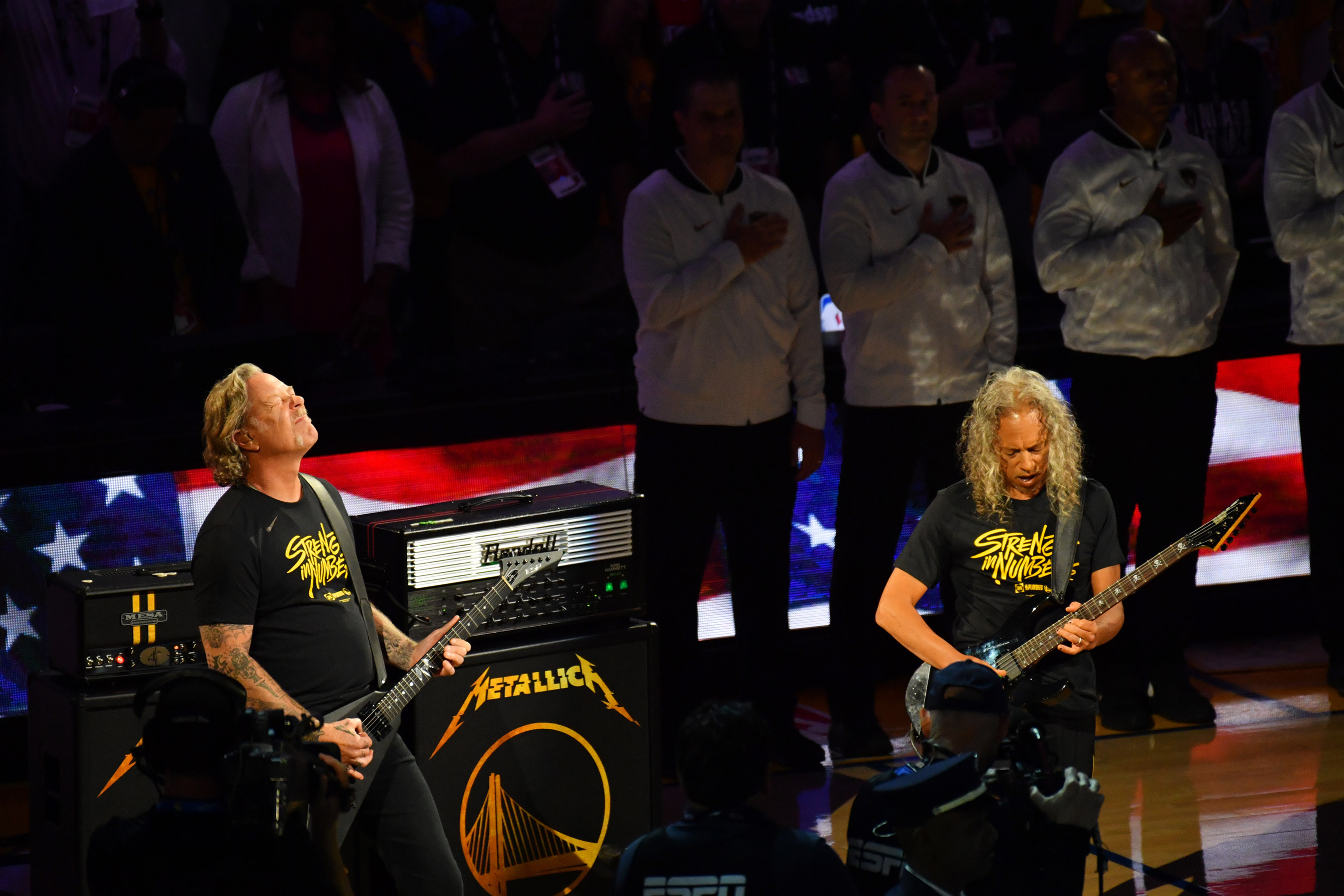 Metallica performing National Anthem.
SOURCE: People
The music stars aren't the only famous faces to make an appearance to witness the NBA finals. Former President Barack Obama also attended Game 2 in Toronto. In fact, the 57-year-old also received a standing ovation from fans in the crowd.
-->