Bo, the Obamas' Family Dog Dies Following Battle With Cancer
Obama Announced The Death of Family Dog, Bo; Complete Story Here!
In another grim news, on May 8, 2021, the first family of the United States, the Obamas, have announced the death of their beloved dog Bo, aged 12, often referred to as the "First dog." Bo held a special place in President Barack Obama's heart and his family. A Portuguese water dog breed, he was given to the family after months of speculations about his breed and identity.
Bo was Barack's promised gift to his daughters Sasha and Malia in return for their time spent on his presidential campaign. Shortly after the Obamas moved to the White House, they were joined by their true friend, Bo, who was with family during their stay in the House from 2009 to 2017.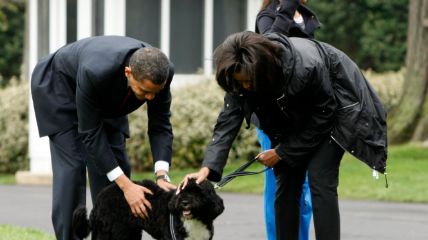 Barack and Michelle Obama announced the death of their 12-year-old dog Bo on Twitter.
Photo Source: USA Today
The former first lady Michelle Obama took to her Twitter this Saturday to announce Bo's unfortunate death. Michelle wrote, "This afternoon was a difficult one for our family. We said goodbye to our best friend —our dog, Bo — after a battle with cancer."
Don't Miss; What is Bill Gates' Net Worth in 2021? Find All the Details Here
Barack also penned an emotional note in memory of Bo. "Today our family lost a true friend and loyal companion, Bo "tolerated all the fuss that came with being in the White House, had a big bark but no bite, loved to jump in the pool in the summer, was unflappable with children, lived for scraps around the dinner table, and had great hair." wrote the former president.
Bo was a promised gift from Barack Obama to his daughters Sasha and Malia.
Photo Source: HITC
In "A Promised Land," Obama's memoir, he had written how Bo had brought a lot of happiness and pleasures during his first year in the White House. The Obamas are now left with another Portuguese water dog, Sunny, a female dog, who had joined the family shortly after Bo's arrival in the White House.
For more information and news on your favorite stars, stay connected to Glamourfame.
-->