Bree Klauser is Making Her Small Screen Debut as 'Matal' in 'See' - Her Career So Far!
Published Wed Sep 25 2019 By Sea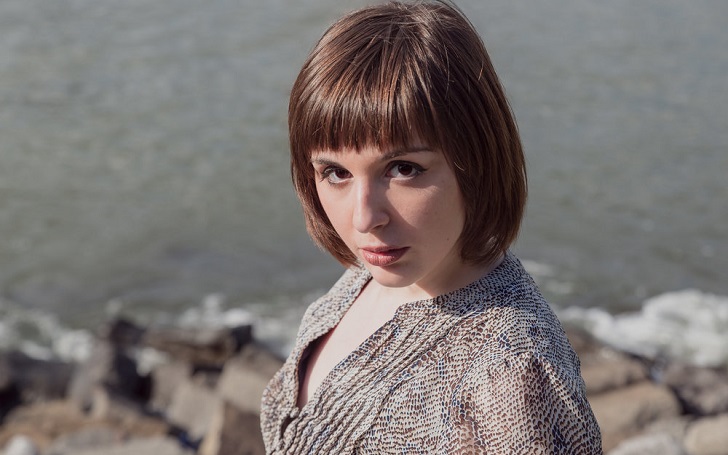 Bree Klauser is a new face in the on-screen acting industry, but she's been around a lot longer than you imagine. She built up quite the resume over the years as a theater artist and a musician.
Confused about what she is featuring on now? Apple TV+ is releasing 'SEE' on November 1, and Bree's got a part in it. It's not that small. We might see more of her in the series as she works with Jason Mamoa all the while.
Starting off with something odd about Bree - she is legally blind. Her role fits perfectly for a show about people who can't see. The leap from music to acting is a big thing for her, but it's not new.
Confirmation of Three Episodes That Will Feature Bree on 'See', Her First TV Credit
The singer/songwriter is set to make an appearance on Steven Knight's 'See' that will premiere in November with ten episodes. She got a recurring guest role of 'Matal' for three episodes. We'll see her on the very first episode. She will return for her role in the third and fourth episode as well.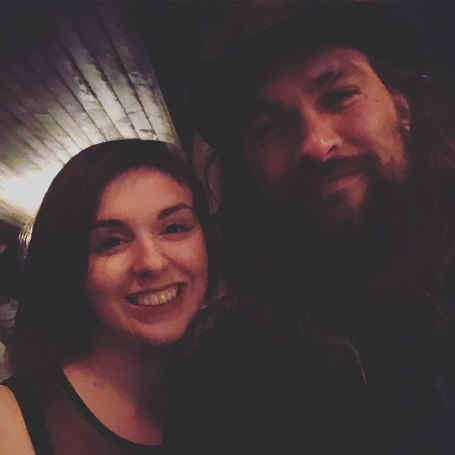 Not many can pose a selfie with Momoa.
Source: Bree Klauser, Instagram
Bree was with the crew when they began the production for the much-anticipated series in 2018 like everybody else. Her role has probably been fulfilled already, and she is back to making more music again.
Received BFA in Acting from Brooklyn College with an Extensive Theater Credit
Currently represented by Susan Wright of the Ann Wright Representatives, Inc., Bree studied in Brooklyn College after she moved to New York from where she was born (30 miles from NYC).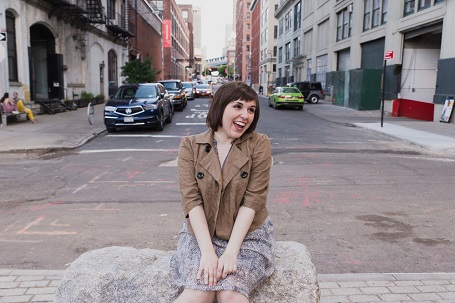 New York was a haven for Bree.
Source: Bree Klauser
The actress did several performances in the theater of the college, all of which were supporting roles. Such a minor thing was not an issue for her though. She got to study with various coaches and Broadway musical directors. She also worked extensively in the New York Theatre, while also being a member of the Off Broadway company 'Theatre Breaking Through Barriers'. She got several lead roles, including those at the prestigious TBTB and The Kraine Theatres.
Music (Singer, Songwriter) - The Love That Came Unannounced
While working in the musical theaters at her college, Bree got to work with several musicians and collaborate with them. She loved singing and later discovered her undivided interest in the Jazz greats of the '40s, '50s, and '60s. She was mentored by former Metropolitan Opera singer Francisco Casanova for the last several years.
As a songwriter, Bree got the chance to collaborate with musicians from Berkley College of Music and the producers with credits of Sean Lennon, Yoko Ono, Mary J. Blige, Gladys Knight, and Patty Smith. She was the alumnus of The Visionary Media Songwriters Collective which she was a part of from 2013 to 2016. She is also an affiliate on the UK based label/international artist Collective Montiel Records.
Personal Musical Work with the Band, 'Bree and the Whatevers', That Included Her Partner, Dan Kessler
'Bree and the Whatevers' was a band (more like a project) of hers that released her first self-produced music video of the song 'Homewrecker' in December 2017. It was a hit and received recognition on an international level. She's been the frontwoman and the chief songwriter of the project for all its existence now.
Watch: Bree and the Whatevers - Homewrecker
The group got the chance to play in several venues in NY including The HBO Theatre, The Bitter End, The Knitting factor, The New York Stock Exchange and The Triad. She also performed as backup lead vocals for cover bands, jazz trios cabarets at various parties, corporate and fundraising events.
What's more interesting is she collaborated on the project with her partner of over five years, Dan Kessler, keyboardist of Morricone Youth. The couple doesn't keep their relationship under the shadow and declare their love for each other often on social media.
Bree + Dan = Soulmates.
Source: Bree Klauser, Instagram
The group released more songs for their first EP with 'Homewrecker' as its title track and was released before the music video came out.
A Voiceover Artist & Other Studio Recordings
All her songs come under her studio recording list, and she is proud of it all. She also worked as a voiceover artist, previously taking on the supporting role of Ivy's Grandma on 'Global Problem Solvers', an animation by Ironbound Films.
A voiceover for the Audible original 'Phreaks' is the latest release.
Source: Bree Klauser, Instagram
Most recently, Bree completed the voiceover for the Audible original multicast audio drama, 'Phreaks', in which she voices the main character, 'Emma'. Shaina Feinberg is directing the drama.
And Then, Acting in Short Movies and Improv/Comedy
All the above works from Bree makes her sound much more eligible to be an actress on the screen business now, but that's not all. She's been a stand-up comedian at 'The EPIC Underground' as well as at the Tom Soter's Sunday Night Improv. She was a quarter-finalist at the 9th Annual Improv 3 on 3 organized in Upright Citizen's Brigade.
There's still more. Her stint on a short video is probably most impressive of all. She was in the Steven Schmidt-directed one-minute video, 'Work in the City' with Trevor Lyon, released by Six Legions Media. She was also a host/voter on 'Board of Election/ADA industrial' by J&J Media.
Bree also featured as a Hipster Woman on another short 'The Last OG: Second Chances' by CMS Productions/ TBS in its 'A Tribe Called Suburbia Pt1' branch. Another TV appearance of hers was on an episode (103) in ID Network's 'Hometown Homicides', directed by Andrea DeBrito.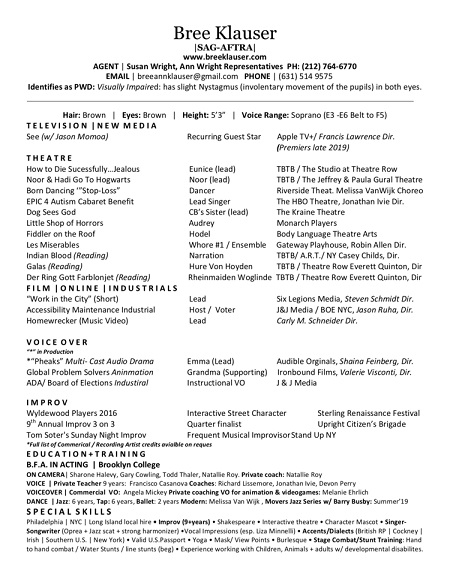 Check out Bree's extensive resume!
Source: Bree Klauser
Even if it took Bree too long to crack into the on-screen world, she is not going to be disappointing her fans looking forward to her appearance on 'See'. After she wraps this up, she has another go at a crime drama 'The Many Saints of Newark' which is under production right now and set to release exactly a year later on September 25, 2020. She will portray the character 'Goomar'.
Stay tuned and connected for more on Movies & TV Shows on GlamourFame.
-->