BTS Producer Pdogg Claimed The Top Prize For Making The Highest Earnings From Song Royalties
Published Mon Feb 18 2019 By Jessica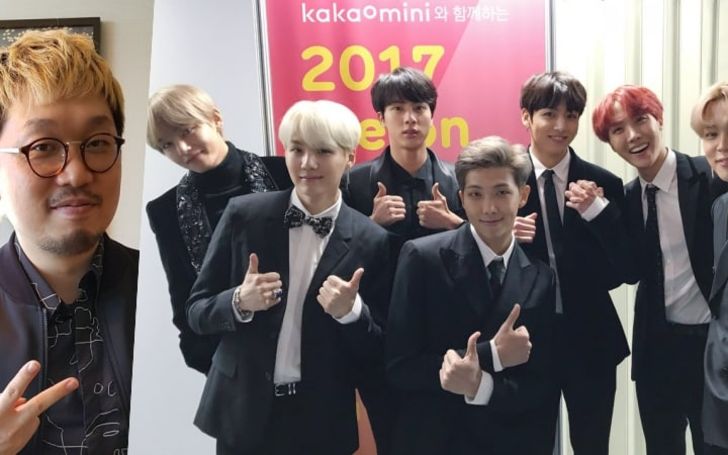 K-pop influential music group BTS' producer Pdogg claimed the title of the highest earnings from song royalties in 2018.
Pdogg, real name Kang Hyo-won, known for his long-running collaboration with famous K-pop boyband BTS claimed the award for the highest earnings from song royalties in 2018.
Involved with the Big Hit Entertainment as the company's producer, Pdogg won both Awards in the popular music category of the 'Best composer' and 'Lyricist'.
Pdogg collected his massive sum of earning from composing and mixing multiple hit songs for the group including 'Idol.', 'DNA' and 'Fake Love'.
BTS poses for a picture with producer Pdogg
SOURCE: aminoapps
BTS's hit 'Fake Love' towered on the Billboard Hot 100 securing its spot at No. 10. Another hit single 'Idol' reached Number 11.
You may also like: Jennifer Connelly "Excited" To Star Opposite Tom Cruise in The 'Top Gun' Sequel
The third studio album by the group 'Love Yourself: Tear' released in May 2018, that too produced by Pdogg reached the Billboard 200 albums chart and even received its nomination in the Grammy 2019 for the Best Recording Package category.
Last year, the producer also claimed three Best Producer Awards including Mnet Asian Music Awards, Asia Artists Awards and Gaon Chart Music Awards.
Moreover, Bolbbalgan4' producer Vanilla Man is selected as the recipient for the highest earning in the Music Arrangement category.
Likewise, Park Kyung Hoon claimed the traditional Korean music category, Lee So-young won the Children Music category and for classical music category, Kim Sung Gyun won the title.
Don't miss: Oscars Reverses Course: All Awards Set To Be Presented During Telecast
The Awards for the recipients of the Royalties Award were announced by the Korea Music Copyright Association (KOMCA), a non-profit copyright collective Awards for Korean musician's achievements which honor artists with the highest revenue.
The head of the organization, Hong Jin Young says:
"We hold these awards to not only celebrate the musicians who have captured the hearts of the people, but to also provide more motivation to the many musicians out there who are creating music."
The Awards show was founded in 1964 and its 2019 ceremony kicks off on 19th February, as per allkpop.
See more: Daniel Radcliffe Reveals He Met His girlfriend Erin Darke When They Filmed A Sex Scene Together
Congratulations to all the 2018 winners!
-->