Who is Charlie Zelenoff's Wife? Learn the Details of his Married Relationship!
Published Sat Nov 02 2019 By Sea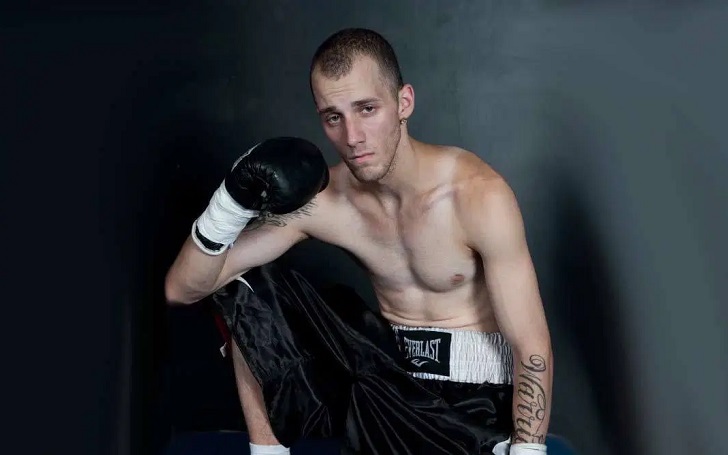 So, the boxing world is abuzz with this internet troll and his self-proclaimed fame. Charlie Peter Zelenoff, or Z-Money or whatever he likes to call himself, is a Russian-American personality who goes in around boxing gyms, challenging amateurs and claiming he won every one of those so-called records.
While some think he is a small-time bully or just plain delusional and the boxing community largely ignores him, there are some people who are happy with the way he is keeping track of his record. He is married, but according to various reports, he already divorced him in 2017. His parents think nothing less of his self-proclaimed title of 'UBF World Champion' (he seriously bought a belt to carry with him to call himself that).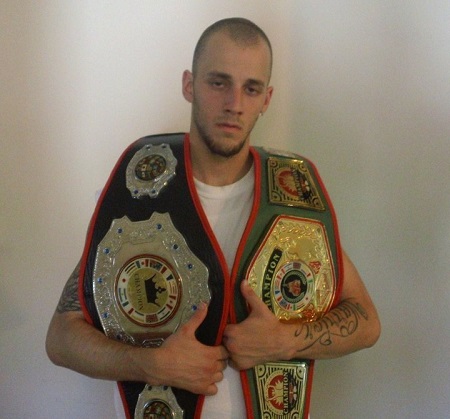 The belts are real or not is a matter better not discussed.
Source: Sherdog
Zelenoff did have quite the social media following and even earned a certain amount to his wealth via his videos on YouTube and Instagram, until both his YouTube accounts were taken down, of course. Over the last decade, he's been the topic of the talk among local gyms in West Hollywood. He's still doing it though, and trolls have been trolling this troll all the time.
Married but Wife Is Thought to Be a Mail Order Who Supported Him
The 31-year-old was, in fact, married to a Ukrainian Daria Zelenoff for a while. Reports have it they dated for a few years before the wedding, but his so-called she was just a mail-order by him to show that he's not delusional. The fact that he made a video to remind viewers of his "beautiful wife" could say something. And he has money to even pay fighters to spar against him. Could be, or could not.
By the looks of it, she was very supportive of his 'career'. And she did tell people his obsession to bully other boxers was not the cause they split up. Yes, they did. He mentioned that he was divorcing her back in December 2016 (and still winning fights??). Turns out it was for real. Court details say he filed the divorce from Daria.
Daria Was Not the Only Supporter for Him, His Stepfather Filmed Most of His Videos
After showcasing his (bought?) belts, people were calling him out for not really having any money. It's a fact that he lives with his parents, well, half his parents, plus one. His mother, Tanya, and stepfather, Eugene, are very supportive of him as well.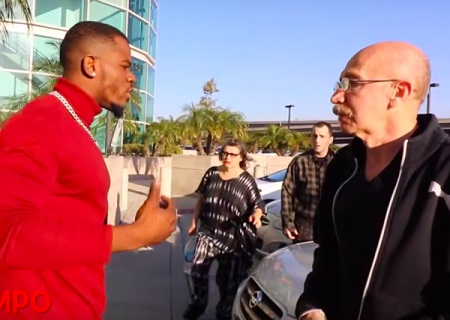 Crazy Tempo approached Eugene, Tanya and Charlie outside a courthouse.
Source: Crazy Tempo
The stepfather is said to be the one to have filmed some of his videos and believes he is the best fighter in the world. "Charlie is my son. Not only is he great fighter. He is great son," he responded to one of Zelenoff's critics on social media.
Besides those people, many of the followers seem to be 'haters', and possibly rightly so. There were real followers too, but they don't seem to pop up that frequently these days.
The Kim Kardashian Obsession Prompted a Change.org Petition; There Was Another Restraining Order
There were brushes with the law in the past for Zelenoff. And some involved love interests as well. But not the regular kind. The guy went off to chase Kim Kardashian of all people in 2011, only online that is. He went as far as to put up a petition on change.org titled 'Become Charlie Zelenoff's Girlfriend' which had like 10 supporters.
There were many, many photoshopped pictures made back then.
Source: Change.org
Everything failed for him after he made numerous attempts to book a date with the model and also photoshopped many photos on several social media pages dedicated to Kardashian. He made a video showing red high heels that he said he bought for her, as well. At another point in the video, his interest shifted to Nicki Minaj.
In August 2019, a restraining order was issued by a U.S. District Court judge after actress Jillian Bobinski reported of him harassing her.
It's crazy how he claims what he is doing is justice, but he goes around punching homeless people and pizza guys. He was arrested for the latter event. He was sentenced to 36 months of probation and 15 days of community service on a charge earlier in February 2019. Later that same month, he was charged with another 36 months of probation and 36 days of community service on a second one.
How He Wins His Matches Despite BoxRec Recording 0-1 for Him
When one hears a boxer's record of 240-0 or something more, they could concede that he would be the Greatest of all Time, aka G.O.A.T. But the official records have nothing on his self-proclaimed wins. The only match he had was with Andrew Hartley in the welterweight division, which he lost in 2008. After that was when his personalized streak started.
The trick to recording such streak is possible with his signature trick. He would invite someone for a sparring round with a camera involved, and while the invitation seemed modest, he would just go abrupt as soon as they touch gloves. At certain times, he would go at the opponent who is not even ready. He would claim victory by knockout then, and if they had enough, he would claim that too.
Watch: Floyd Mayweather Is 63 Years Old!!
Despite it all, he had been beaten multiple times, mostly when he would just back up and run out of the building. There was that incident with Floyd Mayweather Sr. as well. And the defeat to a 16-year-old has not put a hint of damper over his already disliked reputation.
Visit GlamourFame for more Entertainment content of your favorite stars.
-->