Chilling Adventures of Sabrina's Star Appears To Confirm The Show's Biggest Theory
Published Wed Apr 03 2019 By David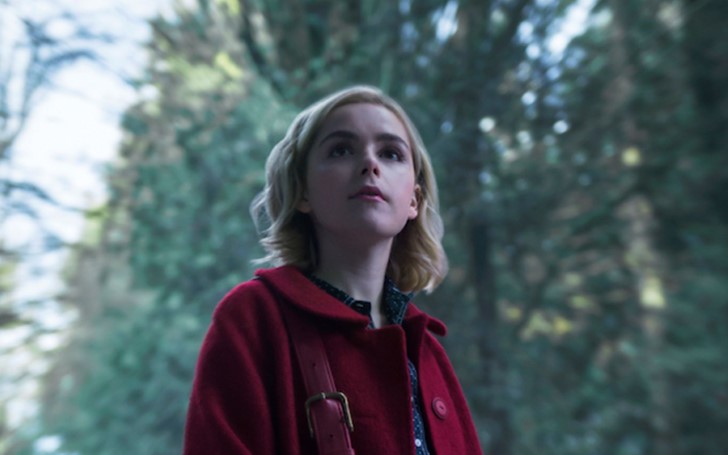 Chilling Adventures of Sabrina's stars seemingly affirms the show's biggest theory.
Starring Kiernan Shipka as the titular teen witch, this supernatural horror web series blew everyone away with its first run of 10 episodes and its equally haunting Christmas Special. With plenty of assumptions floating around, it's time to delve into the deep core of CAOS'.
Ever since Gavin Leatherwood joined the Sabrina as the mysterious Nick Scratch, everyone has been questioning about his motives. Nick quickly became close to Sabrina after the latter had just got herself recruited into the exclusive Academy of Unseen Arts.
Gavin Leatherwood's Nick Scratch might turn out to be the main villain in Chilling Adventures of Sabrina.
Source: Pop Buzz
When Digital Spy brought the idea, "Nick is the Devil," to Leatherwood, he responded by saying, "There definitely is a lot of mystery surrounding Nick, and the popularity surrounding him… he's a very well-liked guy at the Academy."
Gavin then went to add, "There's that quote, 'The Devil is a handsome man', or something like that. We're not really sure of his agenda, and that's something we definitely get to explore more and more in part two – where he's really coming from and if his intentions are good or evil."
Also Read: 'Game of Thrones' Star Maisie Williams Accidentally Drops a Major Spoiler on Jimmy Fallon Show
Elsewhere, the star also spoke about the importance of altering traditional norms in the show and moving forward in a progressive direction, as he said, "If you go back to the '50s, the dynamic between a man and a woman was so completely different. The fact that we're progressing in this direction is huge."
Recommended: The Big Bang Theory Broke an Incredible Television Record
Leatherwood further explained, "I really do feel that we honor the LGBTQ community and the transgender community by creating awareness around it, and by bringing it to light, and by approaching it with this non-judgemental, open-mindedness and an open heart. I think it's extremely important to be encouraged, especially among our demographic."
Watch Gavin Leatherwood in Chilling Adventures of Sabrina
Nick might have been nice to Sabrina, but does that mean he's really a good guy? As such we already have seen him effusing Sabrina with the text of her father's thereby trying to push the young witch down a darker road to face her family legacy.
The utmost confirmation is that "Old Nick" and "Mr. Scratch" are both historical names for the devil. Of course, it might be a little too obvious and we could see someone else take up the cloak of the show's primal villain, but for now, it at least sounds like Nick is indeed cooking up something really evil in the back.
Don't Miss: Netflix Unveils Four More French Originals Including Three Documentaries and a Feature Film
With the show, itself, returning for Part Two later this week, Leatherwood confirms filming for Part Three and Part Four will also commence in the May of this year.
"I know we're going to shoot part three and part four. That's the extent of what I know. I think our first day back is May 6, and we'll shoot for 10 months in Vancouver, Canada," said the Oregon-born actor.
-->