Clark Kellogg's Net Worth In 2021 - The Complete Breakdown
Published Sun Apr 04 2021 By Bran
How much is Clark Kellogg's net worth in 2021? Stay here to get all the details.
Clark Clifton Kellogg Jr., aka Clark Kellogg, is a popular figure in the American sports dimension as a former NBA player. The 59-year-old is retired from the sport but also contributes with his vital knowledge in basketball as a lead college basketball analyst for CBS Sports.
Clark Kellogg was the first-round pick in the 1982 NBA draft, which explains a lot about the stature of his talent. He spent his entire career for the Indiana Pacers until his retirement in 1987. The power forward previously worked at ESPN and WTTV before joining CBS.
Don't Miss: How Much Is Giovannie Reyna's Net Worth In 2021?
Stay right here as we bring you close to the details about the net worth and bank balance of Clark Kellogg.
Clark Kellogg's Whopping Net Worth
Clark Kellogg owns a net worth of $2 million as of 2021.
Photo Source: News-Herald
When it comes to income and money, Clark Kellogg has absolutely nothing to worry about, thanks to his diverse career, first as a player and then as a television analyst. Specifically, the sports commentator amasses a whopping net worth of $2 million as of April 2021.
Recommended: Natalie Halcro Net Worth - The Complete Breakdown.
Clark Kellogg's NBA statistics are amazing since he scored 4,916 points and 764 assists. The power forward also made a total of 2,482 rebounds, making him one of the very rare rookies to average 20 points and 10 rebounds in his debut season.
Following his retirement in 1987, Clark Kellogg joined ESPN as a basketball analyst three years later. His way of studying the game and analysis helped him make a great name for himself with a chance to work in the Big East Network and Prime Sports.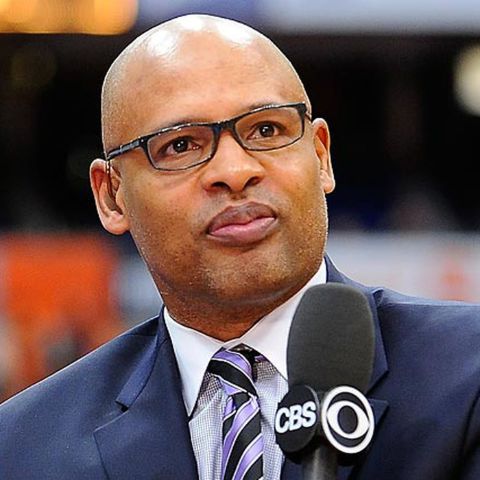 Clark Kellogg played for Indiana Pacers in NBA.
Photo Source: Rock Chalk
Kellogg joined CBS Sports in 1993, and ever since, he has featured in several shows under the network. You would be surprised to know how he even played a game of H.O.R.S.E. against US President Barack Obama. in 2010.
Clark Kellogg's Salary And Career
As per several estimates, Clark Kellogg makes a massive salary of around $400,000 per year. Such a six-figured bank balance helps him to live a luxurious lifestyle around all sorts of modern-day amenities. In fact, he is also the Vice President of the Player relations for the Indiana Pacers in the NBA.
Clark Kellogg is a basketball analyst at CBS who worked for ESPN and Prime Network in the past.
Photo Source: Land Grant Holy
When Clark Kellogg was a player, he managed to sign endorsement deals for top brands like Converse, allowing them to release his own special shoe named 'Special K.' Unfortunately, he only played three full seasons as knee injuries forced him to retire in 1987.
Also See: Andi Sullivan's Net Worth In 2021 - All The Details Here.
For more news and updates about your favorite stars, please stay connected with us at Glamour Fame.
-->