Dave Chappelle Relationship with Wife Elaine Chappelle - When Did They Get Married?
Published Sun Oct 13 2019 By Sea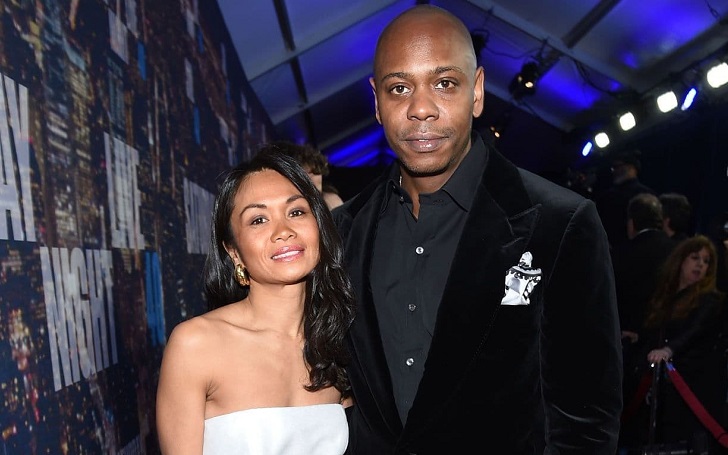 Everyone in the comedy world knows of Dave Chappelle. His funny, albeit controversial, comedy sketches often come off as offensive to some, and critics have a way of, well, criticizing the use of his words on sensitive topics. But it is not difficult to see how brilliant he is with his critically acclaimed Comedy Central stand-up special, 'Chappelle's Show' that won him three of each BET Awards and NAMIC Vision Awards. Catch his latest 'Sticks & Stones' comedy special on Netflix; it was absolutely exalted by the stars in the industry, as is often the case, as well as by many of his critics.
Despite the success pool Dave is swimming in (while being vocal about so many issues), there are certain things he doesn't often talk about. Of course, there is the religion he converted to, back in 1998 (Islam), but he also doesn't seem to let the world know too much of his wife either. Many didn't even know she existed.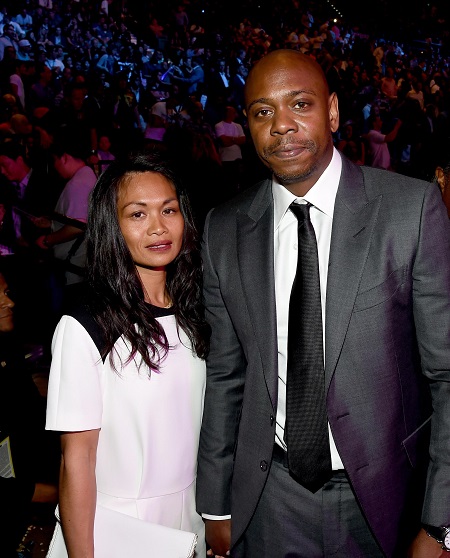 Dave doesn't want to be a show-off at any level.
Source: Ethan Miller, Getty Images North America
The 46-year-old multi-talented personality is married to one Elaine Mendoza Chappelle (née Erfe), and they live on a farm near Yellow Springs, Ohio, together with their three kids. He is one of those few American celebrities whose married life is somewhat of a fairy-tale, going on for almost two decades now.
Elaine Has a Filipino Root and Is a Devout Christian
Elaine was born and raised in Brooklyn, New York. Her parents moved to the States from the Philippines, a country that has a vast majority of Christians in comparison to others in Asia. And she is one too, with a biracial background.
Despite being surrounded by Americans all her life, she still has her fondness for her root race. She attended the American-Philippines picnic in Dayton, Ohio, back in 2010 with Dave.
Watch: Dave Chappelle and Kids at the Annual Philippines-American Picnic
Dave, on the other hand, was raised by a Unitarian Universalist minister mother. He converted to Islam, much to everyone's surprise. You'd think Elaine would too, since being married to him. But she is firm about her faith and refused to convert. It is the only thing she contests Dave about. She's been supportive of him in every step on his way, even with the controversial shows.
The Couple Got Married in 2001 in Private
The pair met in Elaine's hometown, but it wasn't a fairy-tale beginning, unlike their married life. It's tabloid rumors of course, but it is said that Elaine was not that interested in Dave the first time they acquainted, while he was head-over-heels over her. They've never told anyone in public about their first meeting (perhaps they forgot?), but he was the kind of person she initially liked to avoid.
Watch: Dave Chappelle Talks About Elaine
Dave had a strong personality, and she'd only seen that side of him. All the glitter, fame and controversies were something she would've liked to have nothing to do with. But as she got to learn Dave's charming side, she fell hard for him. She never thought she'd be dating someone who had a life to maintain in public, but who can avoid the inevitable! Dave's contrasting personality in real life to that on the stage attracted her the most.
Elaine's repel against fame can be witnessed with her decision not to be on social media. Plus, she is rarely seen in public with her husband. She likes to fend off public appearances, but she does appear with him where it matters. With her influence, Dave is also very inactive on social media.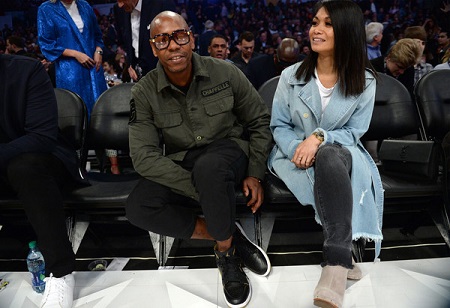 One of Elaine's public appearance was at NBA All-Star Game 2018 at Staples Center.
Source: Kevork Djansezian, Getty Images North America
After a stint of dating life, the two got married in 2001 with a closed wedding. It is difficult to imagine how the wedding tradition well, because they are, of course, committed to different religions. But that doesn't seem to matter in the grand scheme of things. They are just lovely together.
Elaine Wanted to Be a Pro-Chef, but the Blessing of Three Children Made Her Forget It
The private life is, as thought, extremely private with the duo never revealing their kids to the public. However, they have made appearances on several occasions on-camera. Their oldest is a son, Sulayman Chappelle. The second child is also a son, Ibrahim Chappelle, while the youngest is a daughter named, Sonal Chappelle.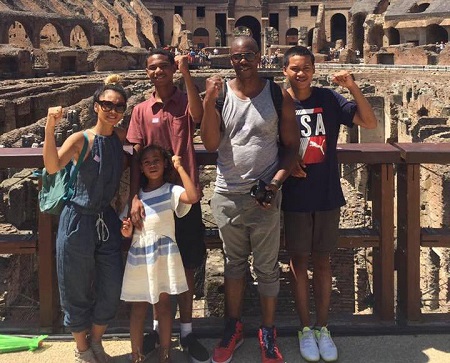 One big, happy family.
Source: Pinterest
On talking about his children, Dave once joked about them at one of his performances at the Radio City Music Hall in 2014. "My wife is Asian, and my kids have somehow turned out to be Puerto Rican." It was one of those rare references he made to his family, who were also present in the spectators' seats during the performance.
In one of his 2017 Netflix special, he revealed his shock at his oldest smoking weed with laughter. "That s**t broke my heart," he said.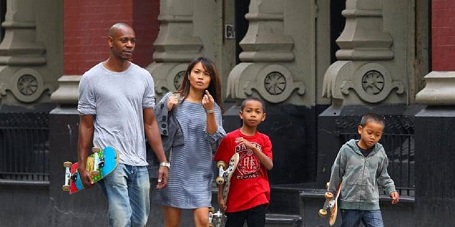 The public do get glimpses of the kids sometimes.
Source: Pinterest
Elaine was determined to make it as a successful professional chef from her early years. We all know that didn't happen of course, but she is the chef of the house. After the birth of the kids, she decided she had to be strong-willed as the woman of the house and is always caring for the kids.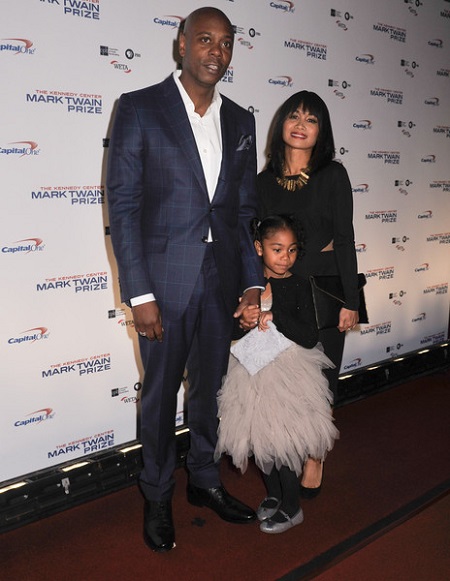 Family life is everything that matters in the end.
Source: Kris Connor, Getty Images North America
Dave is also thankful that she is their own private pro-chef as her culinary skills are heavenly, according to him. He hasn't hesitated to praise her for that, "She doesn't work as a professional chef, [but the kids] regularly eat like kings at home, thanks to her excellent culinary skills."
Despite Their $47 Million Net Worth, The Duo Lives Away From Hollywood in Ohio
Dave is one of the richest comedians around with a net worth of around $47 million [Forbes, 2017]. Since they both love a quiet life, the duo moved to Dave's home state of Ohio in 2005 to live in a quiet little town of Yellow Springs with a population of only a few thousand. They've settled down there partly due to their reception from the locals when they moved in.
Dave Chappelle's modest 65-acre farm in Yellow Springs, Ohio.
Source: Google Maps
At a Jazz Festival in September 2006, he told the Yellow Springs residents, "Turns out you don't need $50 million to live around these parts, just a nice smile and a kind way about you. You guys are the best neighbors ever. That's why I came back, and that's why I'm staying."
The house they live in is near Antioch College, where Dave's father had taught music. "I love Ohio. ... Being famous is great, it's not like bad or horrible or anything. But it has nothing to do with who you actually are. And that's a real important lesson to learn, because I'm telling you, this can be overwhelming. So I like Ohio because it reminds me of that," he told MTV upon returning from his break in the comedy world in 2005.
Living in a small village doesn't mean they're living it small. They've got a 65-acre farm at their mansion while also owning several houses in Xenia. The mansion spreads over 3000 square feet with three bedrooms.
The comedian/writer/actor/producer is, little by little, beginning to be open about his family as he moves further into the world of comedy. After his 'Sticks & Stones' special touching the cancel culture (among numerous other things), it is hard to say what he is planning next. But we probably won't stop getting performances for a long while. Because, with his brain and mouth alike, anything could be spouted out.
Visit GlamourFame for more such contents of your favorite celebrities in the Entertainment section.
-->