Denise Milani and Husband Jerry Trlica - Are They Still Together?
Published Thu Jan 23 2020 By Sea
Winner of Miss Bikini World 2007 brings about a specific attraction among people. But with life-like Denise Milani, there are bound to be controversies surrounding someone.
The Czech fitness model claims her body grew unnaturally in her teens, despite several speculations about undergoing breast enhancement plastic surgery. But that made her swerve from her desire to be a physical therapist to a career as a model.
There's a Lot of Confusion As to Who Denise Milani Is Married To
After moving from her hometown of Frýdek-Místek to Prague and then Los Angeles, she became an internet model for Sports by Brooks and Pin Up Glam. Since then, she's had a lot of fans following but was caught up in a nasty drug case as well.
That's part of why she wants to keep her personal life close to herself and not let anything slip to the public. However, she was known to have a child and living with a husband in Los Angeles in 2013, when she was accused of being involved in a scam with a British physicist, Paul Frampton.
The husband was unnamed, but the son, Jacoby, was said to be 12 years old at the time. Cross-checking shows he is now, thus, 19 years old.
Denise's Name Was Said to Originally Be Denise Trlica, But she Married Czech Carpenter Jerry Trlica.
Several records show her birth name was Denise Krajickova Trlica, born on April 24, 1976. She later changed her last name to Milani after a relationship (more below) when she was 20 in Prague.
On the other hand, official records got she married a Czech carpenter, Jerry Trlica. Jerry is in his mid-60s (b. 1956) and has owned an antique furniture restoration service home, JLT Restoration, in Pasadena, California, since establishing it in 1980.
Some of JLT Restoration's works.
Source: JLT Restoration
There's also a record of the two getting married when Denise was only 19 years old, and that he was the one to get her to be able to enter and settle in the US. They now live in Glendora, California.
WhosDatedWho states the two are separated, which aligns with the rumors that were already there a few years ago. Also, in 2010, she said she was "focused on my career and learning. I am going to business classes and getting a fitness certification," when interviewed.
She did get that certification Equinox, though, and opened her website named Denise Milani Lifestyle, which is down despite being open about eight years ago. She's constantly giving out her workout routines on social media.
It might be true that she married Jerry in 1995, gave birth to their son in 2000, and separated before 2010. But the claimed birth-last name of Denise makes it all crazy. But that's not all.
Is Denise Milani Bisexual? Her Past "Wife" Means Something
If there was any concrete proof, or if she ever said anything on video or her social media accounts, we would have obtained a confirmed relationship with the 43-year-old. Sadly, all there are, are reports.
There's something about her being in a relationship with a woman named Kara Milani while in Prague. That's how the last name Milani aligns with.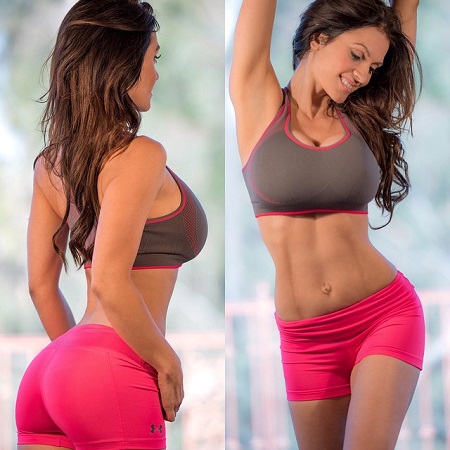 Reportedly, she formed a relationship with Kara, the daughter of a Czech mob boss Deandre Milani, when she was doing odd jobs at 20 years of age. After becoming friends and then a couple, they allegedly got married, and she legally changed her name to Denise Milani.
That's everything about Kara; no signs of breakup or being together at all. However, she did move to LA after the alleged wedding and might have met Jerry.
As of now, it seems she is single and is still following her fitness & modeling career. Her Instagram feed shows a happy life with immense love for her dog, Lukita. However, there are no signs of a son or a husband/wife.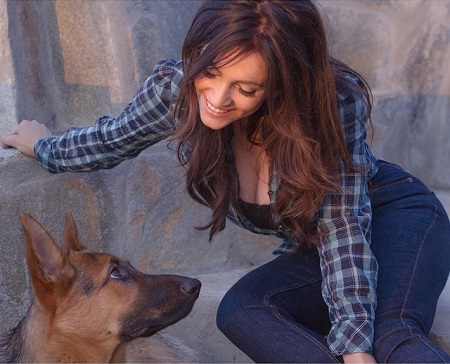 Lukita makes quite an appearance on Denise's Instagram page.
Source: Denise Milani, Instagram
With more digging, the Spanish Wikipedia mentions her birth name as Denise Jacobi. At the same time, she also goes by the names Denise Milani, Denisa Milani, Denise Trlica, and Denisa Krajíčková as aliases or alternatives. There's a chance both the stories are true, and it's just a case of messed-up timeline records.
It's all so mysterious since even her Instagram account is not verified. Whatever the truth, keeping one's private life is alright, and there's no need to stalk her to know about it. Respect.
There are other beautiful stories you need to know. Check them out. Stay tuned and connected to GlamourFame for more Entertainment content.
-->