Drake Unfollowed Kim Kardashian's Instagram After Kanye West Called Him Out
Published Sun Jan 06 2019 By Jessica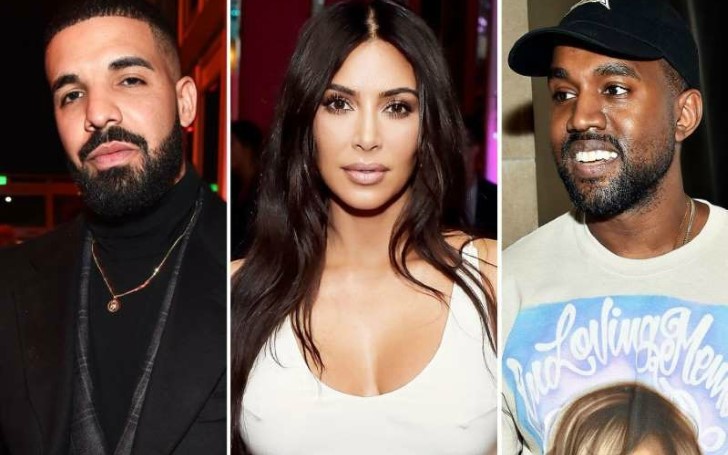 Drake unfollowed reality TV star Kim Kardashian on Instagram after her husband Kanye West kept calling him out on Twitter.
It seems like Rapper Drake got fed up with Kanye West's constant rant against him on Twitter. Drake, also known as Drizzy reportedly took Kanye's wish and unfollowed his wife Kim Kardashian on Instagram.
Last year since December, Kanye kept calling out Drake in his tweets demanding an apology from him. And recently, he publicly expressed his annoyance after finding out Drake followed Kim on Instagram.
Husband and wife Kanye West and Kim Kardashian
SOURCE: NY Daily News
When fans searched over the following list of the Drake on his Instagram, Kim Kardashian's account didn't show up there.
You may also like: Beyonce Wore The Thelma Gown With Her Husband Jay-Z
But it's alright losing one follower for Kim though since her followers count to more than 124 million.
Prior to Kanye's constant Twitter drama, it appears that Kanye was jealous of Drake following his wife on Instagram.
Also read: Miley Cyrus and Liam Hemsworth Opened Up About Their Secret Wedding And Their Honeymoon
He clearly mentioned in one of his tweets:
"I never knew till this morning that Drake followed my wife on Instagram back in September."
The Heartless singer felt no hesitation to diss him again:
"Imagine having a problem with somebody and they follow your wife on Instagram.
Poor Drake, exhausted with Kanye, he granted his wish and sincerely unfollowed his wife on Instagram.
See as well: Congresswoman Nancy Pelosi Jokes About Paying $1 For President Trump's Border Wall
As a matter of fact, one of the reasons behind the Grammy Awards winner unfollowing Kardashian is herself too.
Kim tweeted defending her husband against Drake on Twitter. She mentioned:
"@drake Never threaten my husband or our family. He paved the way for there to be a Drake."
Besides the defense, Kim continued her tweets towards Kanye, calling him inspiring and genius. She added:
"My husband is the most brilliant person, the most genius person that I know. He has broken so many boundaries, everything from music, stage design, fashion and culture and will continue to change the world."
However, despite the feud between two, Kanye's in-law family seems to still maintain a smooth relationship with Drake as the Kardashian clan reportedly attended one of Drake's recent shows.
And on the other side of the story, Drake who has not made a single public comment is still silent on the matter.
-->