Eden Hazard's Childhood Sweetheart Turned Wife Natacha Van Honacker - 5 Facts You Might Not Know!
Published Mon Sep 16 2019 By Travis
When we say, football players' wives the obvious thinking people go into is the slender figure, jewel wearing, red carpet walking Instagram celebrity. Most of the time, the whole mentality or thinking would be correct, many of the celebrity wives and girlfriends and stars in their own rights or become stars when they are seen out an about a talented sports player.
Natacha Van Honacker, on the other hand, is on a whole different playing field when it comes to footballer wives. Rarely seen on the red carpet, always there to support her husband but equally camera-shy, the thing is if it weren't for the player getting all of the family on the pitch when they win the title then no one would've known if Eden Hazard was even married.
Source: Height Line
Natacha is an incredibly shy person and someone who enjoys staying at home and cooking pizza then going out and becoming a celebrity on social media. The whole thing is endearing and lovely to think there is a celebrity wife who just doesn't want to be in the limelight. So, here are five facts you should know about the mother of there and wife of Eden Hazard.
5. She Almost Got Him To PSG From Chelsea
Eden loves his wife and his family, and the thing is there is nothing he would do without his wife getting her say. The prolific playmaker even went on to say he would go to PSG if his wife wanted to. After the first few seasons at Chelsea, Hazard was asked if he would be okay going to France and playing for PSG and he said Natacha would get a huge say in what happens with his career. Thank god for Chelsea fans Natacha didn't want to leave London and Chelsea; otherwise, history would've taken a different turn for both the English and French clubs.
4. Natacha Keeps Him Grounded
The life of a rich person is full of distractions; there are people who are pulling the person in every direction, and the avenues for an unmarried man to lose themselves are in abundance. But Natacha was the person who always made sure Eden came home after he was done playing football. He himself said if he weren't married, he would've been out and about with friends and doing things which were not in the best interest for his career. A man needs a rock to anchor themselves to, and Natacha provided the anchor point for an up and coming athlete, and the effect of her decision making is the reason why the footballer is now considered one of the greats, instead of partying he worked on his game, and now the talent is for all to see in Real Madrid, all because of Natacha.
3. The Wife Of Eden Hazard Was Also A Football Player
People in the same professions are likely to catch feelings, and you've probably seen this all over the world when two people are peers, they are more likely to fall in love. It was the case for Natacha and Eden, the two met, but it was similar passions which caused them to fall hard for one another. Love of football probably was one of the driving factors for the love birds to form a long lasting bond which is still going strong.
2. Natacha Met Her Future Husband When She Was 14 Years Old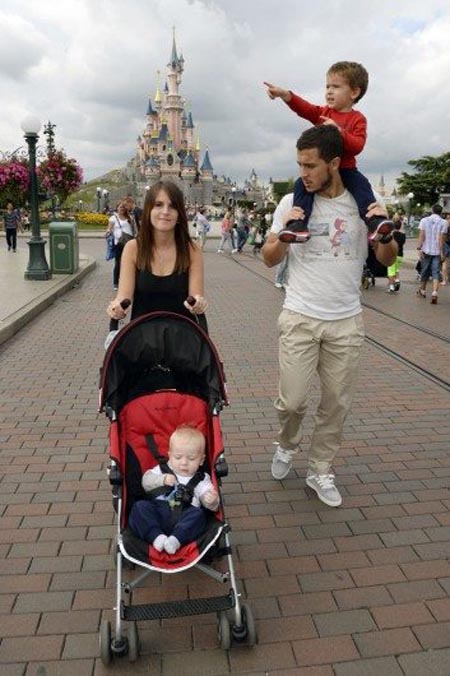 Natacha was able to find true love pretty early in her life when she was only 14 years old. They met through a mutual friend, and because of her shy nature, she was not able to talk to Eden much. But the shyness was the thing which attracted the Real Madrid player, even more, he was able to talk to her, and the love blossomed pretty much then. But it is also the testament to their love, the fact she was only 14 years old when the two met and still to this date the parent of three are head over heels for each other. Rarely, does teenage love last, and this one didn't only stand the test of time but grew stronger with each passing day.
1. Her First Son Was Born While She Was Still In High School
The attraction for the two started from a pretty young age, and while the relationship turned serious, the career of Eden was also taking off in the right direction. Then on 19 December 2010, Natacha gave birth to Yannis, the couple's first child. She was still in school when she gave birth, and the couple got married on April 2012, a few months removed from her graduation. Then it was all smooth sailing for the couple with Natacha moving in with her husband and soon giving birth to the couple's second child, Leo, in February of 2013 and Sammy in September 2015. The couple, it seems, are happy with three sons and also with their married life.
Though not seen in the limelight, Natacha is always there when she can to cheer on her husband when he is playing an important game. For someone who people would want to know about, for her to just stand behind her husband and let him do his job while she takes care of the children and the house, is both beautiful and noteworthy.
Head on over to our Movies & TV Shows section to find something you love and also don't forget to check out Glamour Fame for more news and information on the stars you love.
-->