Is Erica Herman Responsible For Tiger Woods' Comeback?
Published Tue May 14 2019 By Chester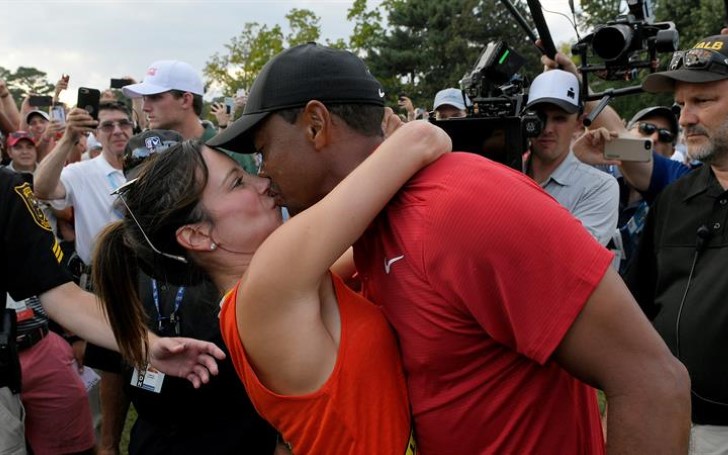 Is Erica Herman the reason behind the revival of The golf king Tiger Woods?
Even if you're an infrequent sports fan, you must have heard about this year's greatest comeback.
Yes, we are talking about the professional Golf star Tiger Woods' victory at the masters after a challenging professional and personal setback.
Tiger Woods has won 14 major championships and 18 World Golf Championship Victories.
Well, if you are unconcerned about the news then Tiger battled from a series of scandals that made his reputation bad all over the media.
Check out: Former Football Player Jamie Redknapp Dating British model Lizzie Bowden
During the depressing phase of Woods's life, his partner Erica Herman supported him in the time of ups and downs helping him to reach the top spot again.
Erica Herman, Tiger Woods' mysterious girlfriend who was at the Masters to celebrate his win.

SOURCE: News
The power couple has been enjoying each other company and sharing love with each other since 2017. But their relationship precisely came into limelight after Tiger's recent game-changing victory at the Masters.
You may like: Cristiano Ronaldo's Girlfriend Georgina Rodriguez is "Feeling Confident" In Her First Yamamay Campaign
Woods' longtime friend Arjun Atwal tells Page Six,
"She's been 100 percent supportive when he was down with his health and all that stuff."
Well, Woods was at the peak of his height with both name and fame in the year 2009 until the National Enquirer revealed that he was looking around with other girls besides having a wife Elin Nordegren.
Tiger and Model ended their six years of relationship on 2010 following Tigers cheating scandals.
SOURCE: News
Following the scandal Swedish model, Elin chased Woods and found him dirty with model Rachel Uchitel.
It was a devastating and frustrating moment in his life filled with depression and regrets. His wife filed a divorce and his career fell like an egg from Empire State Building.
The 43-years-old golfer even started facing back pain issues resulting in numerous surgeries. It was one of those frustrating moments for him that made him feel as his career was over.
Luckily for Tiger, his life turned for the better in the form of Erica Herman. The duo initially met each other from Woods restaurant in 2015 where Erica was appointed as his general manager.
Cristiano Ronaldo's Girlfriend Georgina Rodriguez Cries Tears of Joy after His Sensational Hat-trick Takes Juventus >>>
Slowly the two started to become close to each other as Woods finally found someone to share his story and rely on. Subsequently, Tiger's story started to gravitate good part, thanks to his partner Herman.
-->