EURO 2020 Round of 16 Starts Today; Matchups And Favorites?
Published Sat Jun 26 2021 By Danile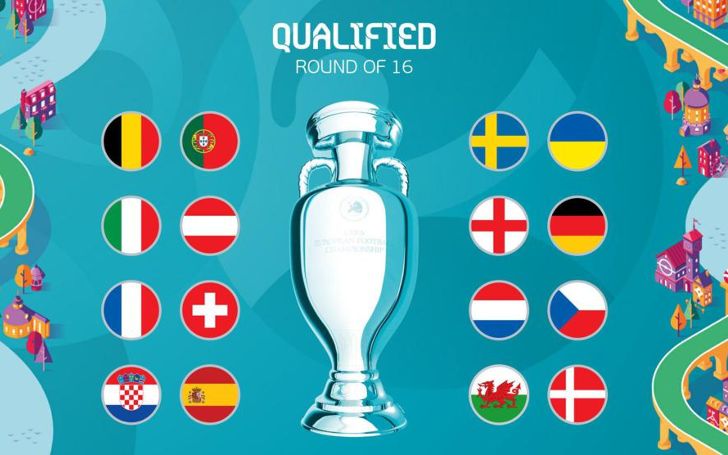 The knock-out stage has some mouth-watering games for football fans worldwide.
European Championship's round of 16 fixtures will begin today, and it's fair to say the competition is reaching its climax.
There will be a total of eight matches with two games played each evening, one at 18:00 CEST and another at 21:00 CEST from Saturday to Tuesday.
Today's first match-up is Wales vs. Denmark which will kick-off in Amsterdam, and the second is Italy vs. Austria in London.
On Sunday, it is the Netherlands vs. the Czech Republic in Budapest and the epic Belgium vs. Portugal in Seville.
Similarly, on Monday, it is Croatia vs. Spain, and later in the evening, it will be France vs. Switzerland.
Finally, the round of 16 will conclude its final matches on Tuesday, with England facing off Germany in London while Sweden will go against Ukraine in Glasgow.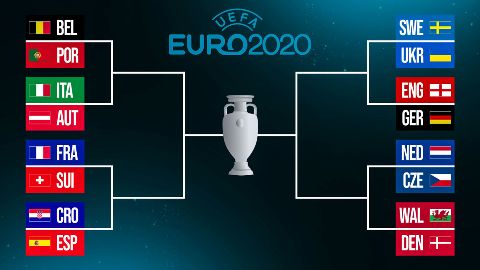 Euro 2020 Knockout stage tree chart.
Photo Source: Sports Illustrated
With the games witnessed so far in the tournament, predicting the outcome of a match before it is played is anything but easy. Having said that, there are always favorites to win a match.
Between Wales and Denmark, Wales are favorites to win that match judging by their decent performance in the group stage.
Having yet to concede in their group stage, Italy are clear favorites against Austria. Moreover, they are currently on a 30-match unbeaten streak, a joint longest unbeaten runs in history with France and Italy themselves set in 1939.
You May Also Like to Read: List of Clubs Ready Bring Erling Haaland!
The Netherlands are front-runners against the Czech Republic while the FIFA number 1 ranked Belgium are tipped to win against the reigning champions Portugal. However, it's hard to predict the latter's outcome as Portugal has an almost equal chance to win the match, especially with Cristiano Ronaldo, who has been firing in this tournament, leading them.
In Spain vs. Croatia, the former world champions are in the pole position to win the game despite their finishing problem in the first two matches.
France are not only an undisputed choice advancing into the next round against Switzerland, but they are also the favorites to lift the trophy.
England vs. Germany is somewhat hard to predict the result. Germany have not been that convincing in both attacking and defending in this tournament, but they are expected to get the job done.
England are playing on their home soil which is a plus for them, and they will need all the support they can in this match. In the last tie, Sweden are faves to win against Ukraine.
EURO 2020 has been fun to watch so far, with anticipation high among the viewers that there will be more in the coming games.
Read more articles to find more interesting celebrity news and updates at Glamour Fame!
-->