Facts about Disgraced New Zealand Investor Sir Ron Brierley
Published Wed Dec 18 2019 By Sea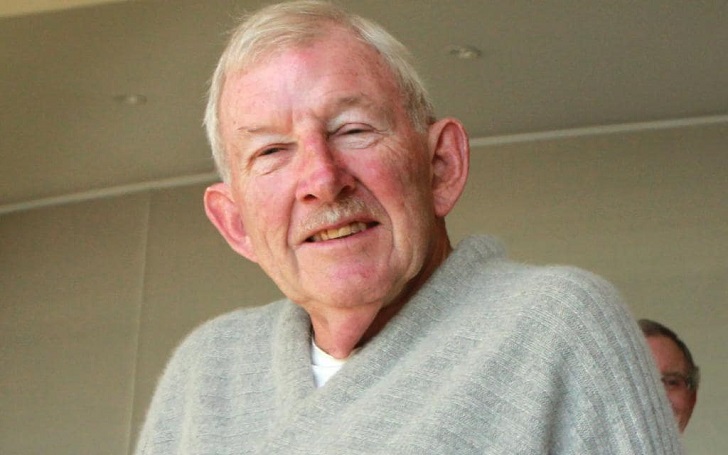 Founding 'R. A. Brierley Investments' (BIL) with absolutely no capital was impressive. But it doesn't measure up to the disgrace the founder Sir Ronald Brierley brought upon himself after being caught with loads of child abuse materials suggesting child pornography on his laptop and electronic storage devices, allegedly.
It's pretty sure the title of 'Sir' would be dropped from the investor's name. He was stopped at the Sydney international airport on Tuesday, December 17, by the by Australian Border Force officials. He is charged with six counts of possessing child abuse material, but with conditional bail approved, he is set to appear at Downing Centre local court on 10 February 2020.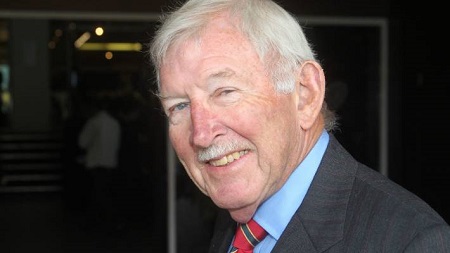 Sir Ronald Brierley was arrested for allegedly possessing child abuse material on December 17, 2019.
Source: John Selkirk, Stuff
Originally starting from his home country, New Zealand, he moved up to Australia in the 1960s, and BIL became the largest company in New Zealand by market capitalization by 1984. Prior to the arrest, he was a fierce corporate raider and served as the chairman and director of several companies in Australia, New Zealand and the UK.
Ron Brierley's First Business Venture of Selling Stamps and a Stock Tips Newsletter Funded BIL's Establishment
When Brierley was studying at the Wellington University, he registered for the New Stamp Dealers Federation at the college and sold stamps all around the university premises, to students and teachers. That was his first entry into business ventures.
In the mid-1950s, he became a clerk at the Sun Alliance Company Ltd and studied accountancy part-time, dropping out soon after, at the university. After that, he formed his share-market tipsheet, 'New Zealand Stocks and Shares' in November 1956, and published a horse racing tip sheet.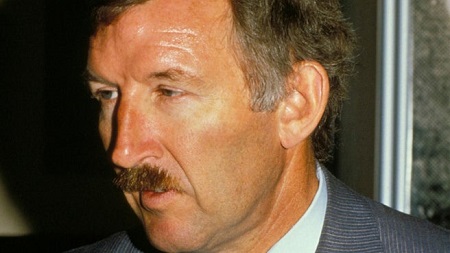 The tycoon didn't have any capital for his first investment company.
Source: Getty Images
The first investment company, Investment Funds New Zealand Ltd, was formed in 1959 and he also made an unsuccessful attempt at the Hallenstein board the next year, at the age of 23.
While the tipsheet was not particularly generating a decent revenue (his assertion of being a successful share market analyst and tipster was not entirely true), he was learning business and share-market quickly. Then using the little money from the tipsheet, BIL was established in March 1961, with no capital remaining whatsoever.
The tycoon then moved to Australia in 1964 and started his investment with a holding in Industrial Equity Ltd, then cementing BIL there as well. While the 1960s was a relatively struggling phase for BIL, the 1970s and 80s became the peak years of the establishment for raising it to the level it is now.
Recognized as the 'Lionheart', he still was one of the biggest buyers and sellers of stamps in the world. He was a Trustee of the Sydney Cricket & Sports Ground Trust in 1988-96, and the President of New Zealand Cricket in 1995.
Made a Knight Bachelor by Governor-General, Sir Paul Reeves
BIL became the largest company in New Zealand by market capitalization in 1984. By that time, he already was a dominant shareholder in many-blue chip companies like Air NZ Ltd, Ansett NZ Ltd , Whitcoulls Ltd. and Magnum Corporation Ltd. His investments reached far and wide to the USA, the UK and Asia.
The huge success with the investment company and his contribution to the business wasn't gone unnoticed. He was knighted in New Zealand as 'Knight Bachelor' by the Governor-General of New Zealand, Sir Paul Reeves, at a investiture ceremony in the 1988 New Year Honours, May 1988.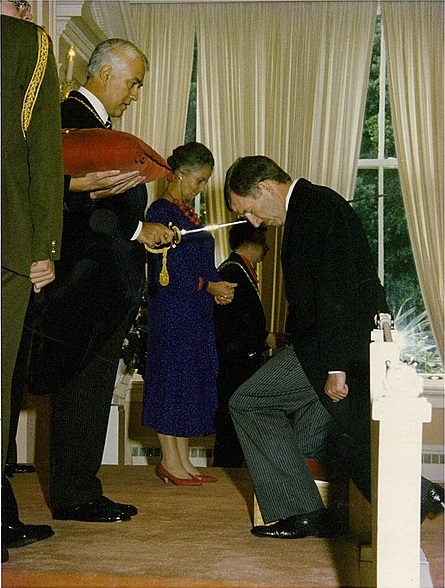 Ron Brierley being knighted by Sir Paul Reeves in 1988.
Source: New Zealand Government/Wikipedia Commons
The knighthood was provided for his services to business management and the community. But with the recent allegations and possible jail time, it might be stripped away from him with a 'Degradation'. There have been prominent cases of it in the past.
Brierley's Fierce & Aggressive Business Attitude Was a Big Factor for His Success
It's not easy to distinguish his tactics of investment was as something good or horrible. While his fierce attitude might come to some as bullying, he did show "an individual can build an empire through hard work and astute judgment."
The reason for his fierce nature might have also been because of the largely family-controlled, inefficient, with lazy balance sheets, complacent management and surplus assets in companies all across New Zealand and Australia. That's why the 'Finance Corporation' and the 'Southern Cross Building Society' of New Zealand, the 'Southern Farmers Co-operative Ltd.' and 'Citizens & Graziers' in Australia were under his target in his early years.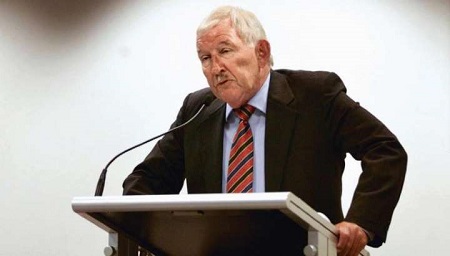 His fierce nature is what got him to where he was before the arrest.
Source: Getty Images
Brierley was good at exploiting loopholes to get his way and publicly attacked several companies before his retirement earlier this year in June. After being appointed the chairman of his investment holding company Guinness Peat Group, in March 1990, he defeated the plans for merge of the London Stock Exchange with Deutsche Börse in 2001.
In December 2015, he launched a takeover bid for the Australian shipping company 'Richfield International'. Takeovers and mergers were a normal thing for Brierley, so why not? But the company's board unanimously urged the shareholders to reject the offer in January the next year.
While his legacy may be all true and impressionable, the current arrest surely wipes all the reputation he's built up throughout his career. Time will tell, what is in store for the 82-year-old.
Stay tuned and connected to GlamourFame for updates on this and several other stories. They need to be heard.
-->