Fashion Blogger, Lauren Scruggs and Her Husband, Jason Kennedy Are Expecting Baby Number Two
Lauren Scruggs is a known name in the world of fashion. She is an American fashion blogger and model with a huge fan following. Not only that, Lauren is an author who published her first book in 2012. Recently she and her husband announced the pregnancy find out all the details below.
Apart from all of this, the fashion blogger is also the founder of the Lauren Scruggs Kennedy Foundation. Now let's dig into the details on Lauren and find out more facts. Here are all the things you need to know about the woman who survives a plane accident.
Lauren Scruggs Happily Married Her Husband, Jason Kennedy!
The beautiful young lady, Lauren Scruggs, is a happily married woman. She exchanged the wedding vows with her husband, Jason Kennedy, an American TV personality. The celebrity duo started their sweet romance back in 2013.
After that, they frequently started in public places jointly while sharing a glimpse of their love. Within a year of beautiful memories, Lauren and Kason took their relationship one step ahead.
On May 30th, 2014, Jason proposed to his love of life in her hometown among close friends and family. With a diamond wedding band, he asked the big question, "Will you marry me." To which the author responded with a big emotional yes.
The Beautiful Wedding In Dallas, Texas
On 12th December 2014, they finally walked down an aisle in Dallas, Texas. The event was held at Club Dallas and Four Seasons Resort, where limited guests witnessed the ceremony.
During the wedding, the bride wore a Romona Keveza dress. Not one to be outdone, the groom stunned the crowd with his Tom Ford suit look.
Also, When did Kyle Mooney marry his wife?
The pair uploaded several pictures from the event to their social media accounts. Their fans and followers all congratulate Jason and his wife on the new beginning of life.
Lauren Scruggs and Jason Kennedy Are Expecting Baby Number Two
Mr. and Mrs. Kenney are excited after they discovered Lauren is pregnant. Lauren's second baby is on the way.
The pair took their joint Instagram account and shared the news with the world. They uploaded a video alongside their first child and gave a happy announcement.
Find out if Deon Cole has a kid or not!
Several people rushed to the comment section to congratulate the pair. Many famed celebs also showered sweet notes to Lauren and her husband in their messages.
Struggle With Fertility and Birth of First Child
Well, it is happy news for the young couple. Scruggs and Kennedy are now bounded in nuptial vows for almost a decade. Their love and romance with one another are unbelievable, which we can see on social media.
Despite struggling with IVF, they finally became parents in 2022. They welcomed their one-year-old son Ryver Rhodes on April 3rd. Since then, the pair have been blessed, and now, their happiness is doubled with the second baby on the way.
It is for sure that Mr. and Mrs. Kennedy will be great parents. They have already proven to the world with Ryver's upbringing.
Who is Lauren Scruggs's Husband, Jason Kennedy?
Like Lauren, Jason Kennedy has also contributed to the entertainment world. He is an American journalist and a host of the Live from E! and E! News. Also, he is a contributor to the NBC Today Show.
Jason was born on 11 December 1981 in Florida, United States, with the name Robert Jason Kennedy. From the University of Miami, he earned his graduation in journalism. Following that, the news presenter even achieved several titles and awards for his work.
Soon he started his career anchoring for the TV Guide Channel, Open Call. After the mesmerizing performance, there is no looking back for him.
Life of Lauren Scruggs Before and After Plane Accident
Lauren Scruggs has reached the world with her creative ideas. However, after the 2011 December 3 incident, her popularity doubled and gathered international media attention. The event took place on a beautiful night of winter.
The fashion blogger had been flying in the single-engine plane alongside her friends to view Christmas lights. During the night of the incident, she exited the plane and walked in front of the spinning blades.
That led to her left eye being removed and her left hand getting cut. The accident had a tremendous impact on her life. But Lauren fights for it and is gathering a remarkable recovery.
Within a year, she wrote a book, Still LoLo: A Spinning Propeller, a Horrific Accident, and a Family's Journey of Hope. Following the incident, Scruggs appeared in several interviews explaining and sharing her journey.
Net Worth of Lauren Scruggs in 2023
Despite the horrific plane accident, Lauren Scruggs has a great career. The incident even doubled her popularity for sure despite the injury.
As of 2023, the Fashion journalist is enjoying a net worth of $1 Million. Being a well-known fashion designer, she makes a decent amount of fortune. On average, a Fashion journalist makes an annual salary of $51,194.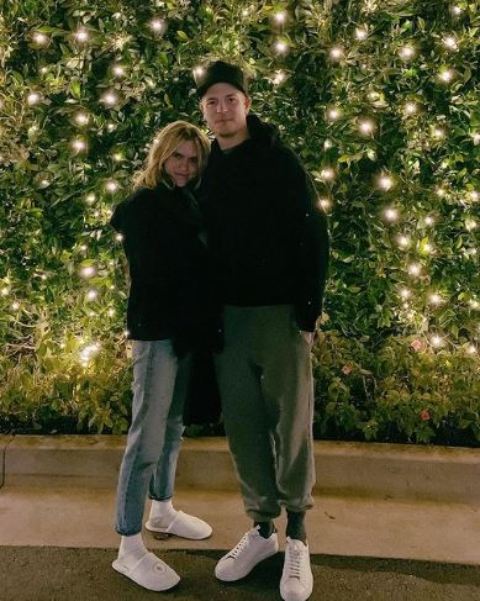 Also, Scruggs is the author of the two books sold worldwide. With her incredible stories, the book is loved by every reader and has gathered almost five stars on Amazon and other websites.
From her overall work and involvement, Lauren is making over $80,000 annually. Currently, she and her family are living a comfortable life.
Lauren Scruggs is Also Instagram Star
The gorgeous model Lauren Scruggs is a massive user of social media. She often shares her daily deeds and lifestyle in the internet world.
Lauren's most used social site is Instagram. On IG, she has served over 373K followers. To date, she has shared 2.6K posts in them. Her other frequently used app is Facebook, where she has 8.5K followers.
Stay Connected To Glamour Fame For More Contents
-->