Father of Ashad Dj Khalid and Wife Nicole Tuck Is Soon Welcoming Second Child
Published Sat Sep 14 2019 By Chester
Dj Khalid is soon to be the daddy of the second son as confirmed by the music producer on Instagram.
Platinum hit record producer Dj Khalid who shares a 2-year-old son with wife Nicole Tuck is soon expecting their second child.
Khaled Mohamed Khaled is a true believer of god and destiny as we often hear him taking the lord name and this time on auspicious occasion he didn't miss to thank Allah as he wrote 'God is the greatest.' The 'I'm the One' hitmaker took to his Instagram and shared the jolly news on Friday the 13th.
'No Brainer' producer cited up some beautiful incident taking to his Instagram from his first time being a father. "Almost three years ago, when I found out my queen was expecting our son Asahd I knew my life would change forever and that OUR legacy would soon be on the way."
After that 'The Four' musical show judge shares he was blessed and released some of his biggest albums to date (Grateful and Father Of Asahd) inspired by his greatness.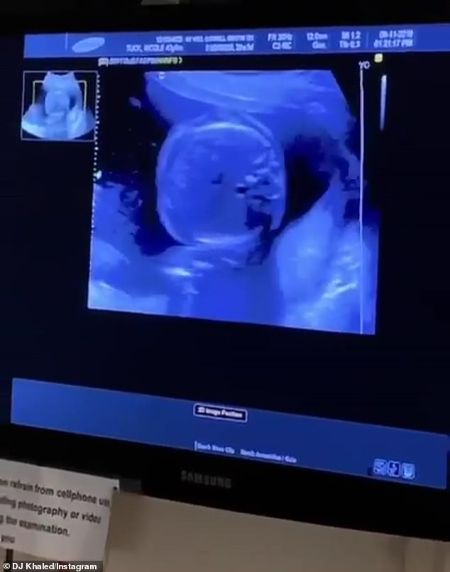 The Wild Thoughts hitmaker posted to Instagram of Nicole undergoing her ultrasound scan.
(SOURCE: Instagram)
No, this is not a fake news pregnancy news like his fellow artist Justin Beiber pulled with wifey Hailey Baldwin on April fool's day.
The producer also thanks his fans for all the love and blessings they embrace his family with through his Instagram handle, @djkhaled.
Lastly, the producer expressed his love for the Mama Asahd and baby saying,
ASAHD I LOVE YOU SO MUCH !
And to the little boy in my QUEEN'S BELLY 🙏🏽🤲🏽🙏🏽🦁🦁🤰😀❤️🎉
I LOVE YOU SO MUCH !
#WETHEBEST !
We congratulate Khalid for the cherry news and pray for the sound health of the baby. Stay tuned and connected to find updates on the news.
-->