Fitness Model Rosa Acosta - Everything You Need to Know About her Here!
Published Wed Nov 13 2019 By Travis
Rosa Acosta is now a Instagram celebrity, someone who made her career elsewhere, but the rise of social media platforms gave them another way to express themselves and reach a wider audience. With over 1.6 million followers of Instagram and over 6,000 posts, Rosa is highly active on the image-sharing platform.
The "last of the video vixens" was born on 30 April 1984 in the Dominican Republic to her parents, and she stayed in the Dominican Republic for a little while and then moving on to America with her family. From a young age, dancing was the one thing, which piqued the interest of young Rosa, and she learned how to dance in different forms.
Source: Instagram
Rosa's dancing was the reason why she would become famous later on in her life, but back then, she was just doing it because she loved it. When she arrived in America, she started to think of dancing as a profession, and she started appearing in music videos, which is how she met Kanye West and Drake and brought her a lot of notoriety and recognition.
Meeting Kanye West and Appearing in Drake's 'Best I Ever Had'
Rosa was only finding her footing in the music video industry in the mid to late 2000s when one of the directors she worked with called her and spoke about a man who wants to meet her about a prospective business opportunity. The person told Rosa, a man named "Kenny" wanted to meet her and she went to the meeting.
The dancer was not so proficient in English back in the day, and when she met "Kenny," it turns out the man is Kanye West, rapper, and producers extraordinaire. People confused Kanye a lot back in the day, now he is a household name, but back in the day hip hop heads were the only ones who heard of the rapper and knew how to pronounce his name.
Source: Instagram
Long story short, Kanye talked with her about appearing in a music video and him wanting to collaborate with her. Two months later, he called her again, and she arrived on the set of 'Best I Ever Had' music video shoot, which Kanye was directing for the new up-and-coming rapper Drake.
'Best I Ever Had' was one of the songs from the game-changing mixtape 'So Far Gone' by Drake, which announced the arrival of a new type of rapper in the scene. Rosa was hired to appear as one of the members of the basketball team, and this appearance was the reason for her early success and fame.
Watch: The music video for 'Best I Ever Had' from Drake and directed by Kanye West
Drake became a superstar, and 'Best I Ever Had' became a MTV staple, allowing more and more eyeballs on the dancer. This was the first and only time Kanye, Drake, and Rosa collaborated, but this was a massive boost for Rosa's career moving forward.
Appearing in Love & Hip Hop: Hollywood, Becoming a Personal Trainer as well as Starting Her Clothing Brand
After the fame of 'Best I Ever Had,' Rosa appeared in various different music videos, and in 2016 she was hired as a cast member for the third season of 'Love & Hip Hop: Hollywood.' She appeared in 7 episodes of the series in 2016 and left the show after one season to further recognition and fan following.
Rosa also started appearing in movies while also appearing as a love interest to Rob Kardashian in E! reality series 'Khloe & Lamar,' but her main source of income became her Instagram profile where she was doing everything to monetize her presence.
Soon Rosa became a personal trainer, and she also her clothing line called Body by Rosa Costa, which is a activewear brand made in Colombia and the USA. The Instagram account of the page links to the site COSSAMIA where the activewear clothes are sold for over $60.
Rosa is Openly Bisexual; Was She Ever Involved with Drake or Kanye West?
Rosa calls herself "the last of the video vixens," ladies who appeared in the music videos of the rap songs of the past. Throughout her career, she said, she was always treated with respect, and there was never one instance where some tried something inappropriate with her. In an interview, she said she was lucky in the sense people saw her respecting herself, which in turn meant they respected her.
The music video dancer also talked about being openly bisexual, and she was once rumored to be in a relationship with Amber Rose. She also once dated Nikki Mudarris during her time one 'Love & Hip Hop: Hollywood,' but the romance was dead on the water when Rosa found out Nikki was dating Safaree behind her back.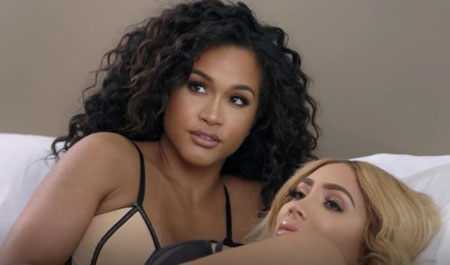 Source: Instagram
During another interview, Rosa was asked about her relationship with Kanye and Drake and if she was ever involved with any one of them after they worked together. Rosa said they never made a pass at her, and everyone was professional at work, and after the video shoot was done, she met Drake and Kanye maybe two or three more times, and they were never romantically involved.
Before you leave, make sure to head on over to our Entertainment section for all the latest news and gossip on your favorite celebrities. Also, do not forget to visit Glamour Fame to be in the know of all the happenings in the world of show business.
-->