Five Things You Must Do When You Are In Paris!
You obviously have heard of the seductive charms of the city, Paris, and that all have good reasons, inviting sidewalk cafes, gleaming boutiques, world-class museums, and a fabled restaurant scene make Paris the runway model of the cities.
If you are planning a trip to Paris, make sure you got plenty of time in your hands, at least seven days, because the city is huge and offers so much to see and do. Even if you only see the most popular things, it takes a week not to drive yourself crazy.
But still you made plans, and your plans allow only limited time to explore the city, here we have rounded up five 'Must do' or see things for your convenience.
5. Cruise The Seine River On A Boat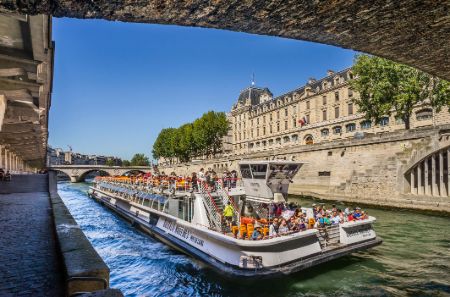 The one-hour long cruise will cost you only $34, which not only be cruising on a boat in Paris but promises you the sight of most of the famous places like Louvre, Eiffel Tower, etc.
Also Check: 10 Best Places To Visit In Nepal Before You Die!
Tips: It is preferably better if you take the daytime cruise if you want to catch a glimpse of all famous sites, or take the evening cruise when everything lights up including, the sparkling Eiffel Tower if you're going to get all cozy with your partner. Don't forget to take some snacks with you, which will make everything even better.
4. Climb The Eiffel Tower
Well, this one, you must include in your list. At least, make plans to go see the place as everyone who goes to Paris does. However, if you want to go to the top, there's one downside to it. You really have to wait long in a line, but once you reach at the top, the views are breathtakingly beautiful, and every minute you waited, you will feel, was worth it!
Also Read: 10 Best Honeymoon Destinations!
Tips: Every evening 5 minutes after a full hour, the tower sparkle, if you miss it, then you have to wait for another 55 minutes for the next one, just don't miss that one!
3. Try Pastries, As Much As You Can!
Not much of a sweet-tooth you say, well, just wait till you get to Paris, this city will completely change you. The people of France consider pastries as a form of art, and how can you say no to art?
Tips: Don't just go for some regular chocolate eclairs in a regular bakeries/patisseries, go try L'Eclair de Genie and Pierre Herme.
2. Climb On Top Of The Arc De Triomphe De L'Etoile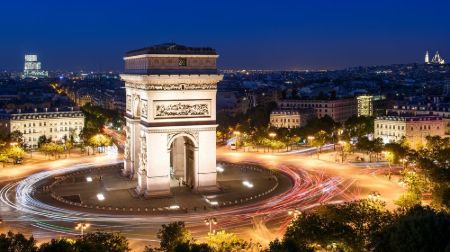 If you want to take pictures of Eiffel Tower and Parisian streets, climb on top of the Arc De Triomphe De L'Etoile which promise you the best views. You will be able to catch every detail from the top, how the streets are built with a ruler, from the Arc like the legs of a star. But be careful, you might get dizzy on the way up.
Tips: We prefer you to go in the morning or evening when the sun is not too intense.
1. Walk down Boulevard Saint-Germain
Boulevard Saint-Germain, one of the major streets on the Left Bank of Seine River, runs through the historic Saint-Germain-des-Pres quarter of Paris. The street is filled with cafes, plenty of bookshops, galleries. The walk on this street is not just lovely but gives you a true experience of Paris.
Tips: Take a walk in the morning and grab some breakfast for yourself, or simply go for an afternoon coffee in one of the most famous cafes in Paris such as Les Deux Magots or Cafe de Flore.
-->