Full Details of Ariana Grande Tattoos
Published Thu Nov 21 2019 By Sea
Ariana Grande seems to have found the obsession for inking her body after dating Pete Davidson in 2018. But even after the breakup from him, she still continues to cover (per se) her body with tattoos.
The singer has gotten so many tattoos in the last couple of years, which is really difficult to keep track of, especially considering the majority of them are so small to been seen easily. Still, the way she dresses and actually tries to show them makes them visible quite every so often.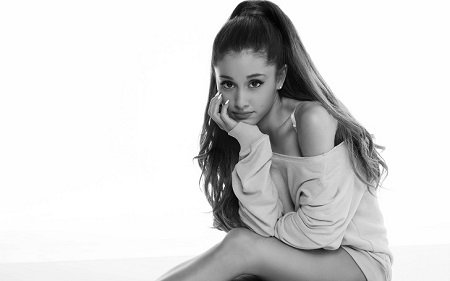 It's like she doesn't get tired of getting tattoos.
Source: Getty Images
As of now, she has 47 tattoos all over her body, and you can bet she will extend the tattoo collection further in 2020; 32 of them were made in 2018 and 2019. It's not like every one of them has stayed all this time in her body.
Though there are plenty of places she is yet to ink, she has replaced a bunch of them. Many have been removed due to sentimental reasons, some just to expand. Here it goes, tattoos on Ariana Grande's body and their meaning lightly explained.
Debut Tattoo for a Debut Album; Heart Outline for 'Yours Truly'
Before Grande was a rising sensation, she already was in the music business with Broadway shows and singing cover songs of other artists. The early 2010s gave way for her in the creative music industry. Then in 2013, she released her first studio album, 'Yours truly'.
Along with the commercial success of the first album, she brought a tattoo artist into her own music studio and got her very first tattoo, an outline of a heart, on her right toe and titled it 'Tattooed Heart', which, of course, was also a song on the album. It was all filmed as well and put up on YouTube by herself.
Watch: Inking the 'Tattooed Heart'
She has the same tattoo on the outside of her right-hand ring finger. Another tattoo related to the album is the word 'Honeymoon' inked on the side of her right middle finger in cursive writing, which fans noticed only when she was on 'The Honeymoon Tour' in early 2015. There's a song titled 'Honeymoon Avenue' in 'Yours Truly'.
Tattoos Dedicated to Friends and Family
In 2016, Grande went on to snapchat to release a new video to announce that she'd gotten a new tattoo on the outside of her right-hand thumb, the letter 'A' (in capital). She mentioned she did it for her best friend, Alexa Luria, also since it was her own initial as well. Luria is friends with her since they were 10 years old and is featured in a couple of her videos.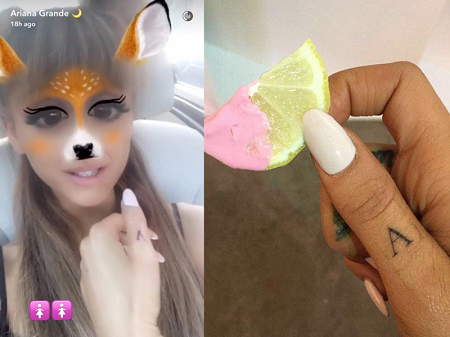 The initial 'A' for her and her friend.
Source: Ariana Grande, Snapchat
There's also the word 'Court' tattooed on over her left knee. It is short for Courtney, in honor of Courtney Chipolone. It is also one of those that is rarely seen, much like the one in her left thigh, which no one seems to quite understand the words of.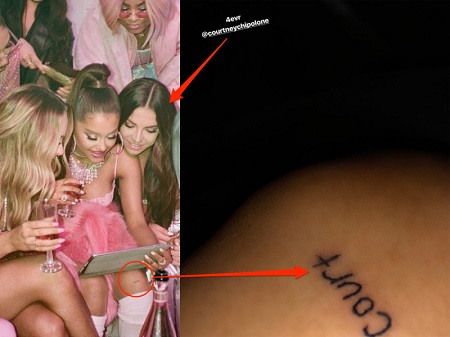 Best friends forever.
Source: Ariana Grande, Instagram Story
The crescent moon tattoo below her left ear was also hidden for quite a while until 2015. One of her friends and backup dancers, Brian Nicholson, has the matching tattoo. Extending her love for the moon and stars, the crescent moon and stars were also seen in her left foot in her music video for 'Breathin.'
Another tattoo on her right middle finger popped up in one of her Instagram photos. The words 'BABY DOLL' were written on the opposite side of the 'Honeymoon' tattoo. It is supposedly a nickname given to her by her maternal grandma. She also tattooed 'Toulouse', her dog's name, in her left hand.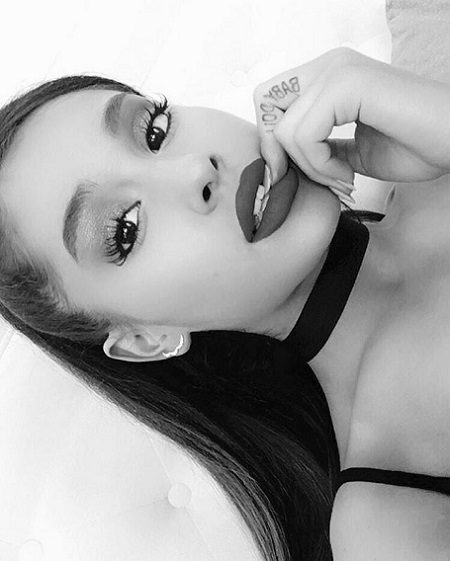 'Baby Doll' was apparently a nickname.
Source: Ariana Grande, Instagram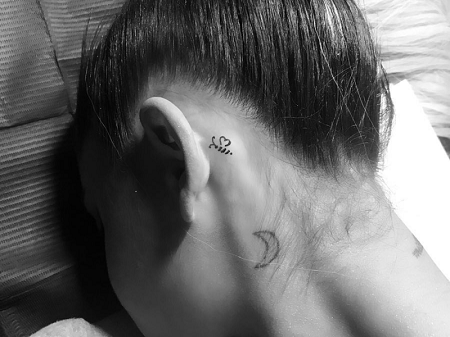 An Instagram post from May 24, 2018, with the bee and the crescent moon.
Source: Ariana Grande, Instagram
In the memory of the Manchester citizens who were affected by the bombing at one of her concerts, she made a permanent tribute with a worker bee tattoo above the crescent moon tattoo, behind her left ear. She was one of many to have done so.
Special Tattoos in Other Languages, But She Should Be Careful with the Symbols
Added to her dedicated tattoos include the word 'bellissima' written on her ribcage, which means 'beautiful' in Italian, a word that her late grandfather often called her, according to sources. Meanwhile, there are also the words 'mille tendresse' imprinted on the back of her neck. It means 'one thousand tenderness' in French. It's from 'Breakfast at Tiffany's', the movies that she considers as her 'all-time favorite'.
It's Blurry, but there is the 'bellissima'.
Source: Ariana Grande, Instagram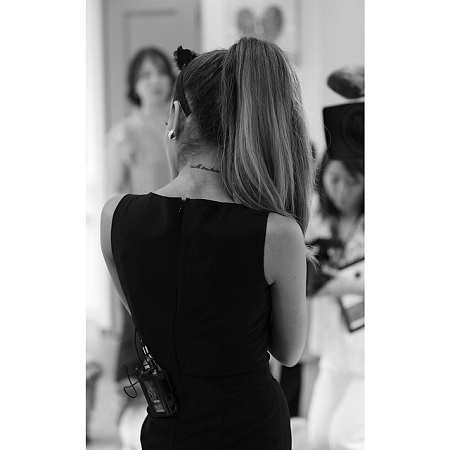 On the back of her neck, 'mille tendresse'.
Source: Ariana Grande, Instagram
Foreign words are quite common in her body. Again, on the inside of her right-hand ring finger, 'אלד' is written, which is Hebrew for 'guarding and protecting' from 'the evil eye and from envy'. It came on due to her sentiment of how Catholic Churches treat homosexuality and her transition to follow the Kabbalah sect of Judaism.
Japan is another favorite country of Grande, for which she's already learned the language as well, starting in 2015. She has the words 'うたいましょう' in Japanese written just above her left elbow. It translates to 'Let's Sing'.
There's also the issue of her left palm tattoo, which caused waves of controversy earlier in January 2019. She inked '七輪' on the upper part of her left palm, which directly means '7 Rings', for her song of the same name. But she did not get the reaction she had initially expected.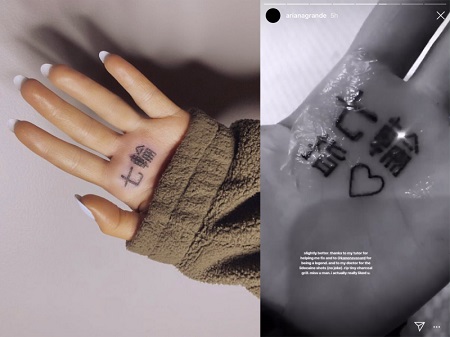 It was still considered the opposite to the intended meaning.
Source: Ariana Grande, Instagram
People started noticing it spelled out 'shichirin', meaning a Japanese charcoal grill, when the two separate Kanji characters were put together. Critics accused her of disrespecting the 'language for the aesthetic, despite her best intentions and the explanation that she couldn't handle the pain of completing the tattoo for a proper translation.
She went back to Kane Navasard to get it right and add the word '指' below the previous words with a heart outline on the side. But according to experts, it still wasn't right. She just inked it in the wrong place, and it now translates to 'Japanese BBQ finger'. She really wanted to say 'Seven Finger Ring', but should have written it above the two words. She's confident it'll not last though.
More Tattoos from Japan, She Loves Anime Characters
It's not all anime characters in general. She was taken aback by the character from 'Spirit World' named 'Chihiro', so she just encrypted the character on her left arm. It was inked by Mira Mariah like she did many if Grande's other tattoos.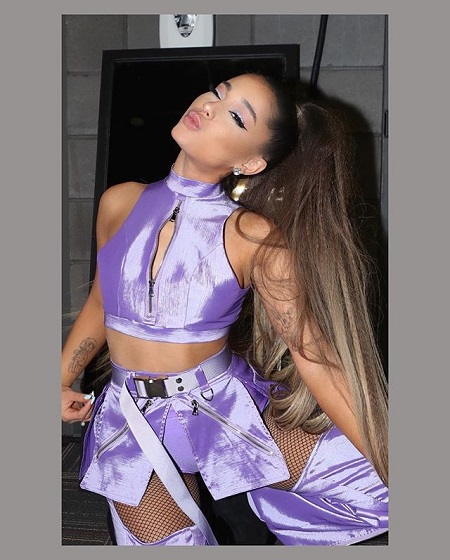 The two anime characters on the two arms.
Source: Ariana Grande, Instagram
It probably shows the cutest side of her as she tattooed her long-desired 'Pokémon' character, 'Eevee' on her left arm. This one was done by Navasard again.
The Whole Ex-Fiancé, Pete Davidson, Fiasco Had a Whole Lot of Tattoo Alterations
Ariana Grande started dating Pete Davidson from around May 2018, after her relationship with Mac Miller ended and his with Cazzie David was over. They got engaged in June that year, but the relationship ended later in October.
Davidson himself is known to have a lot of tattoos, and the relationship may have influenced Grande to get a lot of it too, with 32 already since 2018.
She has the spell, 'Lumos' from the 'Harry Potter' series on her right hand. It's a spell for producing light, and she did around the time they started dating. It's no secret they both love 'Harry Potter'.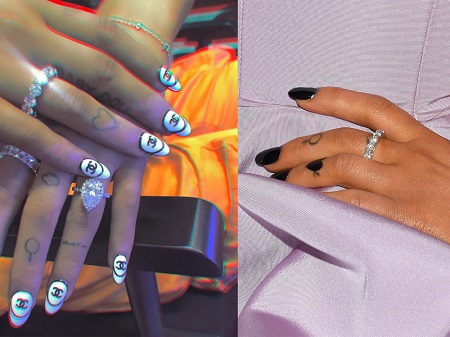 The Venus, cloud, 'Pete' written first, second heart outline, and the black heart tattoos.
Source: Ariana Grande, Instagram
She and Davidson also had new cloud tattoos on both their left-hand middle fingers before than they came out with the relationship publicly. She also had another tattoo reading 'Pete' in the engagement finger right above the ring. But after the end of their dating and engaged stint, she covered it with a black heart, with an arrow seemingly going through it. The cloud remained though.
Davidson had the number '8418', the badge number of his father Scott, tattooed on his forearm on bold. One day on their day out, fans noticed the number on Grande's foot as well, in one of the photographs. It was located in the position of the later-inked stars and moon on her left foot.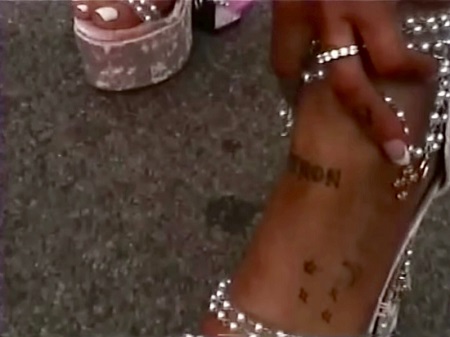 The second crescent moon and stars with the word 'MYRON' partly not seen.
Source: YouTube
However, following the split, there seems to be another word imprinted over the same position. Now it reads 'Myron', the name of Miller's 2017-adopted dog. She did it around the time she also did the moon and stars tattoos. There is also another tattoo related to Miller, a 'Venus' symbol on her left-hand middle finger that she got when accompanied by him to Doctor Woo's who did the tattoo.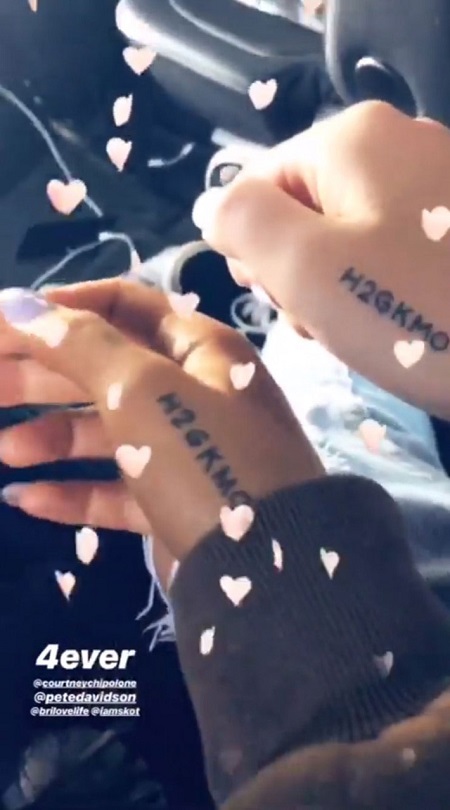 Grande and Chipolone's hands.
Source: Ariana Grande, Instagram Story
Grande also coined the acronym 'H2GKMO' by inking it to her right hand. It stands for 'Honest to God Knock Me Out', which Davidson also had in his hand along with Chipolone.
Along with Stars and Moon, She Seems to Love Leaves
There was a 'REBORN' tattoo that she had on her left hand that she got when dating Davidson, but it seems it was covered by some kind of plant, which many believe it to be an olive branch. A Saturn tattoo and more leaves were included in her left hand below the already existing Sun, Stars and Moon (with a face) tattoos which is accompanied by 'Toulouse'.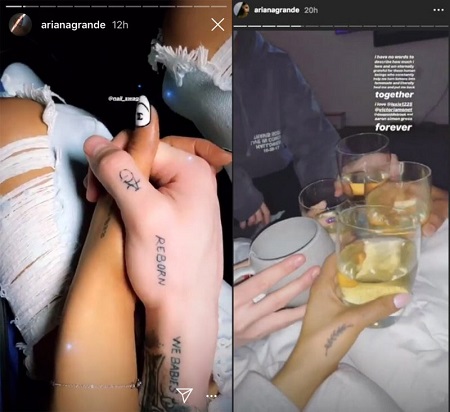 The hand on the right of the left photo is Pete's.
Source: Ariana Grande, Instagram Story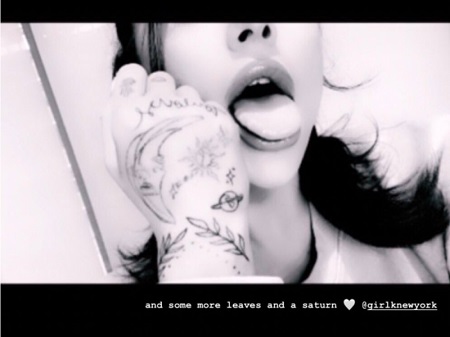 The left hand with a bunch of tattoos. 'Toulouse', Saturn, Leaves, Crescent moon, stars and sun.
Source: Ariana Grande, Instagram Story
The latest relationship also got her an 'always' tattoo on her ribcage, just above the Kidney area, with Davidson getting it on his upper back area. But it seems she re-stylized the tattoo with a whole bunch of leaves after the breakup. One leaf surrounds the 'always' word.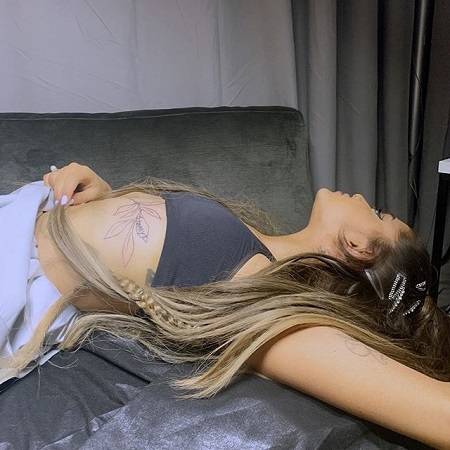 At least, she didn't remove the 'always'.
Source: Ariana Grande, Instagram
Another plant tattoo was designed by Mariah on Grande's right index finger. A leaf was also noticed on her left pinky finger along with an abstract one on her left ring finger. The black rectangle now covers the black heart she covered 'Pete' with before.
Other Tattoos
There was a 'hi' tattoo on one of her left toes that she got when dating Ricky Alvarez in 2015. She posted a photo of the matching ones the two had in June 2015 on Snapchat.
It seems the separation from Pete was a pretty heavy one for her though. A tattoo of what looks to be a 'Crying Eye', an eye with three teardrops falling from it and two Chevron lines both on the left index finger. No one is sure when she got it. She got the lines in the left hand as well, just below the Sun, Stars, Moon tattoos.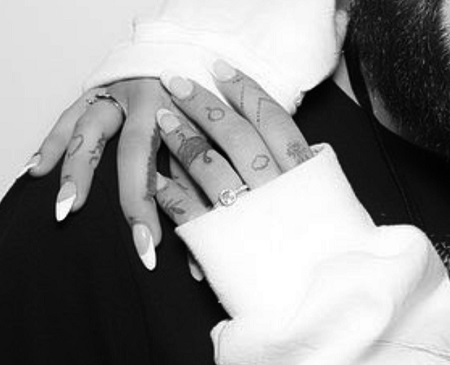 The situation of her hands after the breakup from Davidson.
Source: Ariana Grande
Earlier in August, fans also noticed an angel wing tattoo on the inside of her left ear, which may be in line with her song 'Don't Call Me Angel' in collaboration with Miley Cyrus and Lana Del Rey.
On the other side, she has three tattoos behind her right ear — a lightning bolt (a possible reference to 'Harry Potter'), a black heart symbol and the acronym 'R.E.M.' (related to her favorite song from her fourth album, 'Sweetener'). There also used to be an unrecognized number on her right index finger. On that note, her old area code, '561', exists on her left thumb.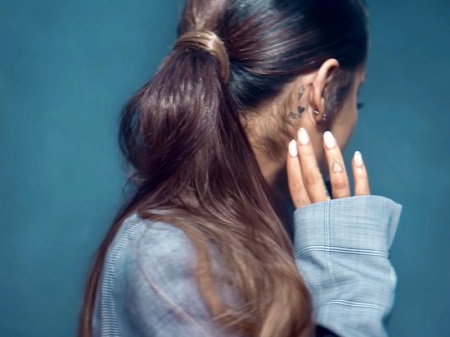 The three tattoos on the back of her right ear.
Source: Ariana Grande, YouTube
And finally, in June this year, she announced on Instagram Story that she got the exact same quote tattoo as Chipolone, but upside down. The tattoo is one of Jim Carrey's most iconic lines from the 1998 movie 'The Truman Show.' It reads, "In case I don't see ya good afternoon good evening and good night!", and just as she said, it is upside down.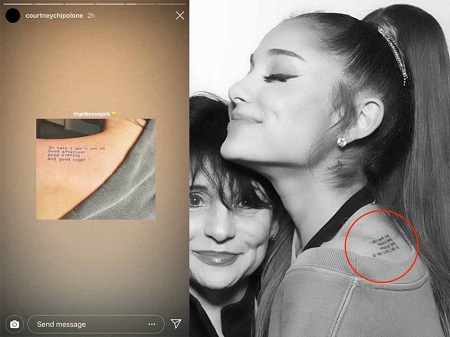 She really did ink in upside down.
Source: Ariana Grande, Instagram Story
It's not the end of the road for tattoos on Ariana Grande's body. While she may not look it, she does have a lot of them.
Stay tuned and connected to GlamourFame for more Celebrity Tattoo updates.
-->