Full Story on Miranda Simms Weight Loss
Published Fri Dec 13 2019 By Sea
Miranda Simms underwent a tremendous weight loss change. Know all about it!
Despite what you may think about Miranda Simms (née Patterson), she does care about the twins of her husband Corey Simms, even though they're not her own. While Aleeah Simms and Aliannah Simms, from Corey's past relationship with 'Teen Mom 2' star Leah Messer, are older than her own child Remington Simms, she has no hesitation towards taking care of all of them equally. Of course, with Remington still being a very young girl, she deserves more attention.
While Miranda was not, technically, a teen mom, she did appear on the 'Teen Mom 2' show on numerous occasions. Of course, Leah was a teen mom, which prompted Corey on the show. And since being the mother of Corey's child too, Miranda also got plenty of screen time for herself.
In that regard, people have seen her enough to notice things that change in her look. It's exactly what fans saw in her last year when one photo prompted a discussion about her losing weight. She seemed to have lost quite a lot.
One Corey Simms Twitter Post in June 2018 and Congratulations Flew in for Miranda Losing Weight
It wasn't anything to discuss. Miranda has always been a not-so-fat woman before. But when her husband posted a 5-year wedding anniversary photo on Twitter last year, it seems fans really got a glimpse of her slimming down even more.
People are falling in love with Miranda over and over again.
Source: Miranda Bridget, Twitter
On June 7, 2018, Corey posted a photo of the two taking a selfie in a car. The top comments show many people noticing her changing facial structure. With comments from "Wow she looks different" to "Wow! She lost some weight!! Do tell your secret!!", fans were extra happy with the way she looked.
"Whoa. She lost a ton of weight. Way to go!" and "Damn she looks tiny" were other responses over on Twitter. Yes, the discussion went somewhere else too.
The Photo Shared to Reddit Had Mixed Responses Regarding Her Weight — What Change They Saw
On the same day of Corey's anniversary post, someone also started a thread on Reddit to share their surprise. The comment section was still filled with weight-related discussion.
People didn't even recognize the wife at first, seeing the changes in her jawline, and one person even though she was Sarah Rice or even Julie Bowen from 'Modern Family.' "Damn 🔥🔥 I forgot what it's like to have a jawline," one wrote, while another one said, "At first glance, I thought this was Sarah Rice..."
Does she look like her chin's a little fuller before 2018?
Source: Corey Simms
It was not all positive, though. Although people saw her chin was a lot less full, some did point out that they missed when she was a little fuller. The bone structure was a little too much of some. But is she a cop? Everyone wants her to be the one to catch them when driving over the speed limit.
More Reddit Comment Discussions Regarding Miranda's Look and Figure
Of course, people didn't want to stop talking about how beautiful Miranda was — they were in love with her. While some people didn't exactly understand 'Miranda Love,' others couldn't stop talking about how lovely the Simms family is now.
Another Reddit user put up a photo of the Simms Family on the 'Teen Mom 2' subreddit a week and a half later, stating, "Simms family looking good!". Of course, the comment section again turned into a 'Miranda Simms Weight Loss Discussion' thread.
Corey Simms and Family being dedicated by his brother Jeff.
Source: Jeff Simms, Instagram
"Miranda is so stunning!", "Wow!! I can't even recognize Miranda! She looks good!" and "I don't even have to read the thread to know that it's all comments about how smoking hot Miranda is. But OMG she is though..." are just some of the comments singing praises of the wife.
Another post lighted up on Reddit the next month of July, when a user wrote, "Jesus God Miranda looks good! (New pic of Corey and Miranda Simms)" with the picture of the two taking a selfie in a car.
The weight loss discussions continued.
Source: Corey Simms, Twitter
This particular post brought up one of the most hilarious praises for the mom-of-one. "Wait!? Wasn't she heavier at one point? SHE LOOKS AMAZING! I bet their sex life has increased 10 fold." Yeah, real charmer (not saying in a sarcastic tone☺).
Actually, you know what? Read all the comments in the Reddit links mentioned above. You'll know all the hype about the fans absolutely in love with her.
One of Corey's Daughter Did Lose a Lot of Weight Due to Her Disease Though
The true weight loss story happened to one of the twins Corey had with Leah. 10-year-old Aliannah Hope Simms lost about 6 lbs weight back in May 2016, Cory noted. She'd not been eating properly for a long while when she was with him. She was 40 lbs before but turned out 34 lbs, lower than the recommended weight for a child of her age, when Corey checked it.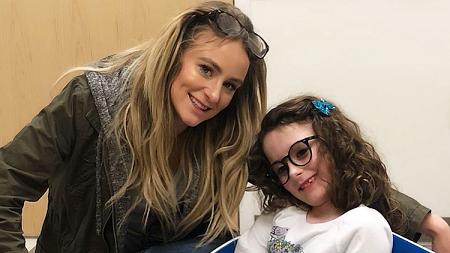 Leah Messer didn't notice Aliannah had not been eating properly.
Source: Leah Messer
When the revelation happened was not known, but she was later diagnosed with 'Titin Muscular Dystrophy,' a rare disease that only happens to adults above 20 years of age. Messer was heavily criticized when she revealed that she didn't particularly give more attention to Aliannah's irregular eating habits.
Still, after the diagnosis, the parents are extra careful with their daughter now. And even Miranda is getting to take care of Aliannah.
People are surprised how Corey found someone like Miranda, but they are warming up to their matching family life. With her looking even more beautiful, people can't help but fall more in love with her.
Stay tuned and connected to GlamourFame for more Lifestyle content. There are more 'Teen Mom 2' updates covered by the site. Check them out in the tag links below.
-->