Game of Thrones Actress Emilia Clarke was Pressured to get Nude to not Disappoint "Thrones" Fans
Published Wed Nov 20 2019 By Travis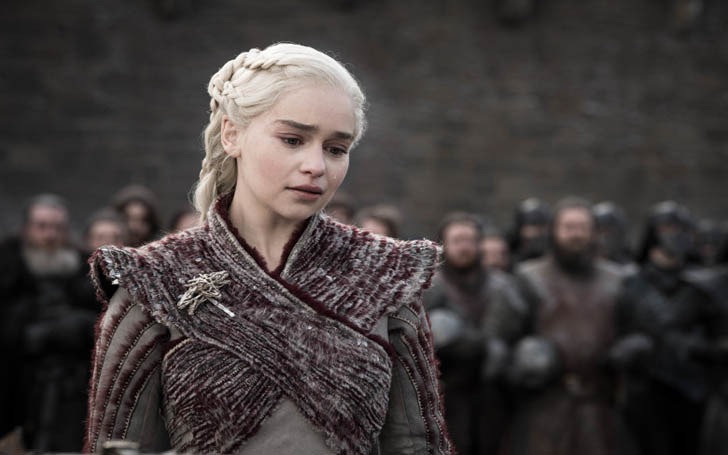 Emilia Clarke felt pressured to do nude scenes because of her history in Game of Thrones.
For people familiar with 'Game of Thrones' (everyone who lived on the surface of the earth for the last eight years), there are two things every viewer will be made familiar with as soon as they finish watching one scene. The show is brutal, and there are more than enough nude scenes to last a lifetime.
We all can agree, there was just way too many nude scenes than it is really necessary in the show and most actors and actress were hired with the caveat of needing to go bare naked on camera. Some actors are well established than others, which is why they could refuse graphic scenes, take, for example, Lena Headey, she needed to walk through a town naked, she refused, and a body double was used with her face added on the double in post-production.
Watch: Lena Headey's face was digitally put on a body double's head for this scene
But most of the actors and actresses do not get the luxury to refuse scenes because they are not so powerful in the world of entertainment. Emilia Clarke falls in this category because when she was first hired to play the role of 'Daenerys,' she was just a drama school graduate who was involved in maybe two TV productions before.
When she was hired, and she read the script, there were many nude scenes in the script, and she rolled with it because of the opportunity the job was providing for her. But she was still confused as to why she was there naked in front of all the people looking at her and what she was supposed to do.
Watch: Emilia was constant asked to do nude scenes in Game of Thrones; Here seen her clothes burnt by fire
The actress was on Armchair Expert podcast when she opened up about what it was like getting the job in Game of Thrones and all the nude scenes she needed to do. She said, "I'd come fresh from drama school, and I approached [it] as a job – if it's in the script, then it's clearly needed, this is what this is, and I'm gonna make sense of it…Everything's gonna be cool."
But as the filming progress and she grew into the role more, she started to question what it was really for in the first place. She continued, "I'm floating through this first season, and I have no idea what I'm doing, I have no idea what any of this is," she said. "I've never been on a film set like this before, I'd been on a film set twice before then, and I'm now on a film set completely naked with all of these people, and I don't know what I'm meant to do and I don't know what's expected of me, and I don't know what you want, and I don't know what I want."
Source:Los Angeles Times
The actress also said because she did so many of the full-frontal scenes in the series, she was pressured in her other jobs also to display her nakedness for the camera. But according to the actress, she is not falling for any of the persuasions; she said, "I'm a lot more savvy [now] with what I'm comfortable with, and what I am okay with doing. I've had fights on set before where I'm like, 'No, the sheet stays up,' and they're like, 'You don't wanna disappoint your 'Game of Thrones' fans.' And I'm like, 'F*ck you.'"
There was an abnormal level of nudity when it comes to 'Game of Thrones,' and just because people involved in the show were comfortable with some scenes does not mean every other project should work with the assumption they will be okay. Nudity is not really needed in most of the scenes we get to see in movies.
Source: Her.ie
Almost no one is going to the theatre, hoping they see some celebrity naked on screen. Some of the writers and directors are still working with ideas of the past, a time when seeing a naked actress on-screen was scandalous. There are more beautiful people on adult movie sites doing weird things to one another, and people really do not need to be so pushy about the nude scenes.
If the story calls for an actor or actress to be naked for a scene, then it is understandable, take, for example, the shower scene in 'Gone Girl' where both the actors are naked because the whole thing serves a purpose to the overlying story. But then there are people asking Emilia to pull down the sheets, so as to not "disappoint" her 'Game of Thrones' fans is utter ridiculousness.
Watch: Last Christmas trailer starring Emilia Clarke
Before you leave, make sure to head on over to our Entertainment section for all the latest news and gossip on your favorite celebrities. Also, do not forget to visit Glamour Fame to be in the know of all the happenings in the world of show business.
-->