Giovanni Reyna - Relationship Status And Love History
The Complete Relationships History And More on The Young Champion Giovanni Reyna: Find Everything Here!
Giovanni Alejandro Reyna is an American soccer player for the Bundesliga club Borussia Dortmund and the united states national team. Born to professional soccer player parents, Reyna's talents were given and natural as a child.
Giovanni was born on November 13, 2002, in Sunderland, England, to Claudio Reyna, a former member of the Rangers FC, Sunderland, and his mother, Danielle Egan, a former member of the United States women national team.
Check Out: Slogoman aka Slogo's Net Worth - Breakdown Of YouTuber's Earnings
Europe-born Giovanni spent most of his boyhood in New York, pursuing his education and later soccer career. Only 18 years old, Reyna is currently at the onset of his bright future; continue reading to know more about the novice athlete.
Who Is Giovanni Reyna Dating In 2021?
The teenage champion is not only recognized for his intrinsic talents but also admired for his chiseled and attractive face. The 18 years old athlete has acquired fans in and outside of the sports realm.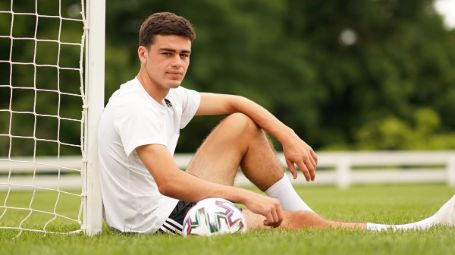 Giovanni Reyna is reportedly single in 2021.
Photo Source: Sports Illustrated
Giovanni, however, isn't taking much interest in love and relationships at the moment. Of course, given his tender age and ascending career, Giovanni is probably not ready for any big relationship commitment or futile romances to waste time on currently.
But the Dortmund's player has one more reason and purpose behind his excelling career that many don't know of.
Giovanni Reyna is single in 2021, and as per sources, he hasn't had any significant relationships in the past.
The heartthrob athlete, despite his huge women fan following, isn't likely to indulge in flings or romances anytime soon, tells a source. Honored the U.S male soccer player of the year in 2020, Giovanni has made his ambition his top-most priority.
Giovanni Reyna And His Family's Unforgettable Tragedy!
In July 2012, when Giovanni was only 9 years old, he and his parents lost the older Reyna son named Jack Reyna died of brain cancer at the age of 13. Jack, too was a natural athlete, but his untimely death made the Reyna family's soccer legacy Giovanni's responsibility.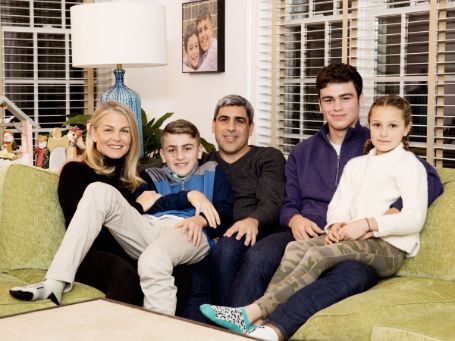 The Reyna family lost their older son Jack Reyna to brain cancer when he was only 13.
Photo Source: Sports Illustrated
Claudia and Danielle Reyna were the American soccer royal couple in the early 1990s; the couple remembering their deceased first-born had said, "He was like the first baby of everyone, soccer-wise. I've been told so many times: 'The reason we had our baby was because of Jack."
Recommended: Giovanni Reyna - Net Worth Details About The American Wonderkid
Claudia recalls Jack telling her how he thought Gio was a much better player than he was. Gio, who took on his older brother's role, is U.S 's top soccer prospect and has a long way to go.
Giovanni Reyna's Soaring Career!
Gio's talents were further polished when he joined the NYCFC academy, after which his skills shone through. The former NYCFC coach Patrick Vieira had compared Gio to the french-world cup winning teammate David Trezeguet.
Giovanni Reyna is an ultimate player and the most anticipated next-Gen star.
Photo Source: Sports Mob
Gio, who has acquired his mother's soccer IQ and father's strenuosity, broke the record previously set by Christian Pulisic by becoming the youngest American to appear in Bundesliga. He then went on to become the youngest goalscorer in the German cup history in February 2020.
Also hailed as the next-generation star, Gio had helped his team win the Generation Adidas Cup and was named player of the tournament.
Gio, a sports all-rounder with the best innate skills and his own distinctive style, is definitely the name that everyone should look out for in the coming years.
For more information and news on your favorite stars, stay connected to Glamourfame.
-->