Who is Grant Bovey Married to? Know About his Married Life and Relationship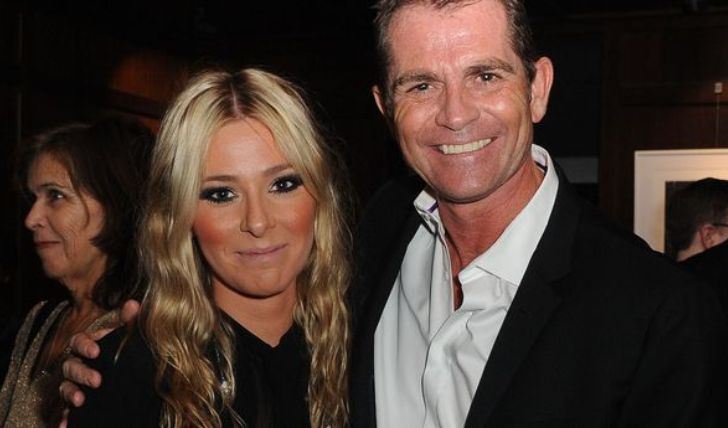 Grant Bovey Reunites With Ex-Wife: Learn More About His Married Life!
Grant Bovey is a British businessman, television personality, and producer. He holds credit in shows like Comedy Classic of the 80s (1991), Keegan on Keegan (1992), and Morecambe & Wise Christmas Cracker (1993). Bovey previously worked as the CEO of Imagine Homes and has also contested in the season 18th of Celebrity Big Brother.
Bovey was born on March 31, 1961, in Nottingham, England. He rose to fame or notoriety after he married esteemed television presenter Anthea Turner. Rather than his work, the businessman is better known for his tumultuous married life. Before tying the knots with Turner, he was married to Della Chapman. Learn more ahead.
Bovey Left His First Wife For Turner!
The English businessman was married to Chapman for over a decade; the duo shared three daughters, Amella, Claudia, and Lily. It is reported that Bovey left his first wife when he met Turner, who also abandoned her first marriage with DJ Peter Powell.
Grant and Turner left their respective spouses to marry each other.
Photo Source: Lady First
After a brief romance with Turner, Grant reconciled things with his ex-wife, Chapman, and then left her again for Turner. Indeed a match made in heaven, Grant and Turner tied the knots in 2000 and broke up in 2013, after Bovey cheated on her with Zoe de Mallett Morgan, a socialite who became a recognized name because of the alleged affair.
Check Out: Who is Candiace Dillard's Husband? Learn About Her Married Life
Both Grant and Zoe admitted to the romance and kept their relationship intact for four years until Bovey dumped her to enter the Celebrity Big Brother house. Bovey and Turner's tumultuous marriage was a media staple back then. Their private life was covered widely by tabloids, which had a damaging effect on Tuner's soaring career.
The couple broke up after Grant cheated on her with a woman half her age.
Photo Source: Metro
The former Blue Peter host was ridiculed and poked for throwing her career away for a man like Grant. "It was like reading about someone else, sometimes I think my life is like Princess Diana in micocrosm," Turner said about Media's ruthless reports on her life. After all, was said and done, Bovey and Turner recently revealed their amicable relationship.
Anthea Turner and Grant Bovey Reunites!
The 61 years old television presenter proved she and her ex-husband had kept friendly ties even after their messy past. Commemorating Bovey's daughter, Claudia's 25th birthday were Turner, Bovey, and his other two daughters. Turner wrote, "Claudia is officially 25". Raising their drinks for the celebration, the family looked real happy.
Bovey's ex-wife, Turner, reveals her wedding plans with her Fiance Mark.
Source: Lorraine
Turner has time and again said that she has kept a good relationship with Bovey's daughters. "You are my daughter in every sense of the word even though I didn't give birth to you," Turner had said about her ex-daughter, Claudia, in an interview. The duo reportedly grew closer after her divorce from Grant.
Don't Miss: Who is Kristin Cavallari? Is She Getting Married After Divorce? Know About Her Relationship
The veteran host is currently engaged to businessman Mark Armstrong whereas there is no update on her ex-husband's relationship status. Anthea once said she would have reconciled with Grant if they could have children of their own.
For more information and news on your favorite stars, stay connected to Glamour Fame.
-->