Green Bay Packers knocks out Russell Wilson's Seattle Seahawks
Published Mon Jan 13 2020 By Sea
The Smith duo was instrumental for the Green Bay Packers to snatch a win and eliminate Russell Wilson and his Seattle Seahawks from the NFC Divisional Playoff games at Lambeau Field.
The first half of the playoffs was the biggest edge the Green Bay Packers got to keep their foot on the game strong. They led the Seattle Seahawks by 18 points in that time alone, and despite their "it's never over" attitude, the Seahawks succumbed to end their season in the division round again.
There was not much prized-quarterback and cornerstone Russell Wilson could do as Malik Turner dropped the ball passed from Wilson. It was the Seahawks' last possession, which would have got them back up after trailing 28-23 with five minutes left.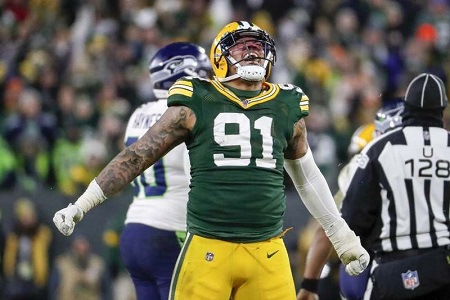 Preston Smith had to sack Wilson over and over.
Source: Matt Ludtke, AP Photo
As Turner's hands could hold the ball, the Seahawks' defense was not instead defending Packers' Aaron Rodgers on the other side of the field. When the game ended 28-23, Wilson and Rodgers met at the center of the field and hugged.
Rodgers had led them to a 21-3 lead over the Seahawks in the first quarter of the game. But as Wilson fired back into the game in the third quarter, the Seahawks had scored 14 more points to the Packers' 7. Wilson's 13-yard run, then 22 yards on third down, then 7 yards on third and 1 to the Packers 9-yard line were quite heavy for the Packers linebackers Preston Smith and Za'Darius Smith. "It was like chasing a chicken in a field with no fence," said Preston. Pretty impressive for a defender.
Watch: The Highlights from the Packers vs. Seahawks Game
The score was then 28-17 entering the fourth quarter. Despite becoming the first team to win 10 games by one score in a season since the 1978 Houston Oilers, they fell short this time around.
There was that little spark of hope when Marshawn Lynch's "passionate" locker room speech re-energized the team after the 18 points trail. And when Wilson had the ball with five minutes left everyone in the game and the stadium thought the Seahawks were going to clinch it. But no shoot.
Watch: Russell Wilson in the Post-Game Press Conference - "We Thought We're Gonna Win"
Wilson's team now heads back home after another disheartening loss.
Stay tuned and connected to GlamourFame for more Entertainment content.
-->