Gwen Stefani Denied Her Boyfriend Blake Shelton from a 22-Year-Old Singer Joining His Team by Blocking Him on 'The Voice'!
Published Tue Sep 24 2019 By Sea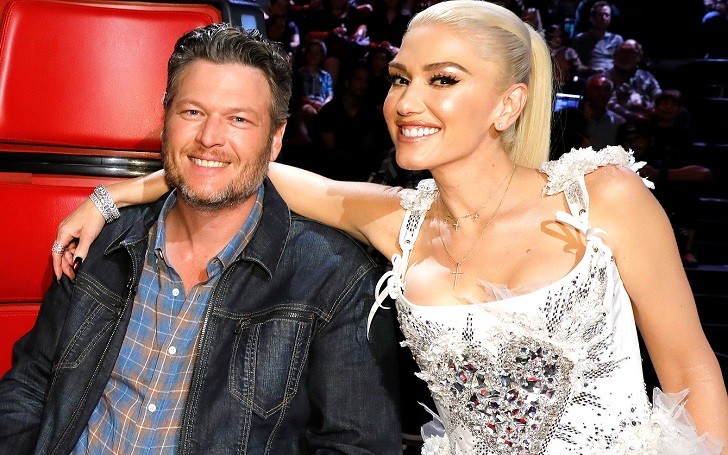 On her return to 'The Voice', Gwen Stefani blocked boyfriend, Blake Shelton, from nabbing a talented young country singer to his team.
The blind auditions for Season 17 of 'The Voice' kicked off on Monday, September 23, with Blake Shelton, Gwen Stefani, John Legend and Kelly Clarkson as the coaches on the red chairs. Gwen replaced Adam Levine, the only change in coaches from last season. Carson Daly returned as the host.
Blake and Gwen are in a romantic relationship right now, but when it comes to a professional relationship, Gwen tries to make sure she's one step ahead of him. She did exactly that for the last audition as she stole (kind of) an aspiring 22-year-old country singer from Blake. Well, because she knew he'd want to coach the prospective singer from his genre.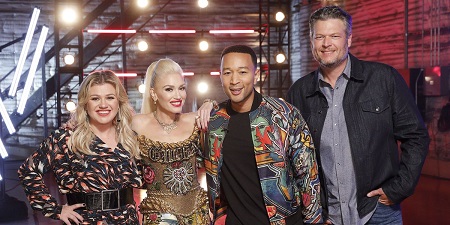 The coaches are ready to compete to win.
Source: The Voice, NBC
The singer, Kyndal Inskeep, had just moved to Nashville and made a powerful performance with the song 'Never Been to Spain' on the first blind audition for the show as the last performer. It was soulful enough to wow all the coaches and maybe the reason for some rift between the power couple.
The 43-year-old country star was "blocked" by her very own girlfriend (with her only available block option) so that she could snatch the new star from him. As she did, she got up from her chair and made way in front Blake to tease him with a little dance routine.
"She risked her relationship get you [Kyndal] in her team," Blake Gushes.
Source: The Voice, NBC
Blake retaliated to Gwen's action, saying, "Hey, it's never good when your girlfriend blocks you. This brings it to a whole new level, okay? This was on national television!"
"You're personally responsible for breaking up one of America's favorite couples," John added as he praised the young star while joking about Gwen being an "assassin" for pitching her to come to her team.
Meanwhile, Kelly sat in her chair, which Adam sat on last year, and may have been disappointed she might not get Kyndal in her team. But she was also gleeful for Blake being blocked by his own girlfriend. And when Kyndal was asked to choose her coach, she waited a while and declared her desire to join Gwen's team.
Watch: Gwen Stefani Blocks Blake Shelton to Snatch the New Country Singing Prospect!
Gwen is a returning judge as well as she previously was a coach on Seasons 7, 9 and 12.
The 'God's Country' singer did previously talk about Gwen in an interview with ET, saying that she has a kind of competitive streak and does anything she can do to win.
You know, she wants to win, and I want to win, and that's what they pay us to do on this show is to try to win the show. It's harder for [Gwen]. She's not, she's not competitive. She'll be the first to tell you right up until it gets competitive and then all of a sudden she is.
As Gwen snatches the last contestant from all other coaches, she becomes the only one with three members in her team, the most out of all the coaches. Here's how it stands:
Gwen Stefani — Jake Haldenvang, Rose Short, Kyndal Inskeep
Blake Shelton — Kat Hammock, Marina Chello
Kelly Clarkson — Brennan Lassiter, Alex Guthrie
John Legend — Katie Kadan, Will Breman
The Blind Auditions will continue on from the first episode every Monday and Tuesday. The next episode airs on September 24, at 8:00 p.m. ET/PT on NBC.
-->