Heidi Klum Halloween Costumes: Check Out 10 Of The Best Ones Over The Years!
Published Thu May 30 2019 By Alice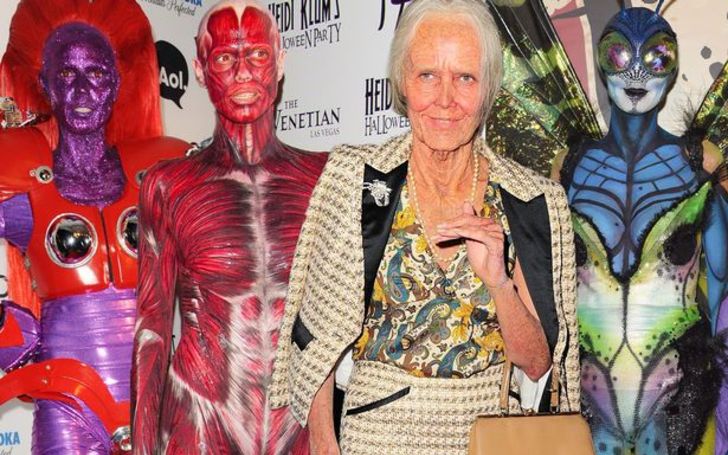 If there is one celebrity that knows how to do Halloween right, it's Supermodel-turned-TV star, Heidi Klum.
Since 2000, Heidi Klum has been giving some serious costume inspiration at her annual Halloween party.
America's Got Talent judge is always willing to sit in a makeup chair for hours and disappear into her costume. So there is no surprise, Heidi became the queen of Halloween costume just at the age of 18.
From her human flesh costume to her transformation into Fiona from Shrek, Klum's costumes are the stuff of legend. Just check out her version of the old lady from 2013, it's so well-crafted that she's completely unrecognizable.
Since Halloween is swiftly approaching, let's check out the 10 best Heidi Klum Halloween Costumes.
10. Gold Alien
SOURCE: Glamour
Heidi had a gold shimmer all over her body and she even wore gold teeth. It's unclear what exactly Klum dressed as in 2003-a predator, an alien or a Greek goddess. But one thing we know for sure: It sure sparkles.
9. Apes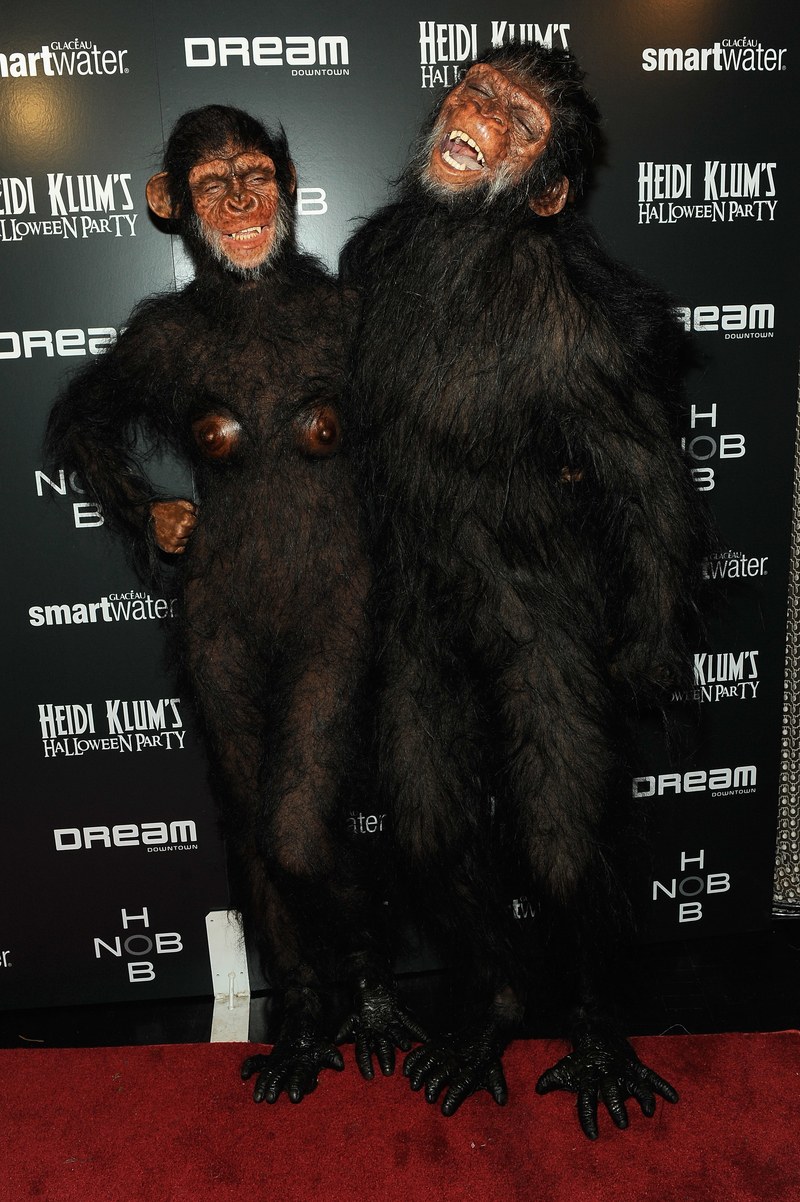 SOURCE: Glamour
In 2011, Klum actually held two Halloween parties and obviously, she didn't repeat a costume. She dressed as Apes with her ex-boyfriend Seal. The makeup took around six hours to apply and even included fake breasts.
8. Hindu Goddess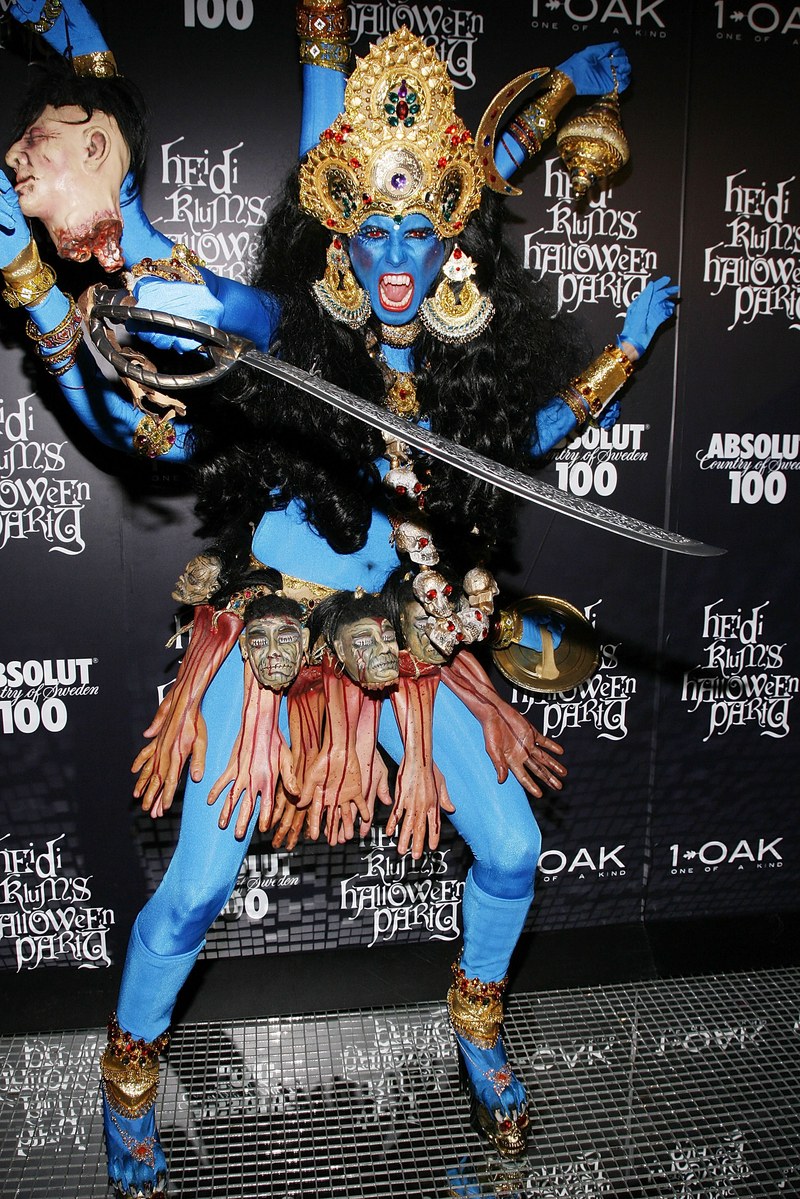 SOURCE: Glamour
The 45 years old actress took a cultural shift in 2008 when she dressed as Kali, the Hindu goddess of death and time. This blue, multi-armed costume was a showstopper but the costume received backlash from many Hindus who called the look "denigrating."
7. Jessica Rabbit(2015)
SOURCE: Instyle
TV personality Heidi raised her own makeup record to 10 hours in 2015 when she became Jessica Rabbit. She looked utterly unrecognizable enhanced her figure with prosthetics, bold makeup, and a curve-hugging red dress.
6. Human Body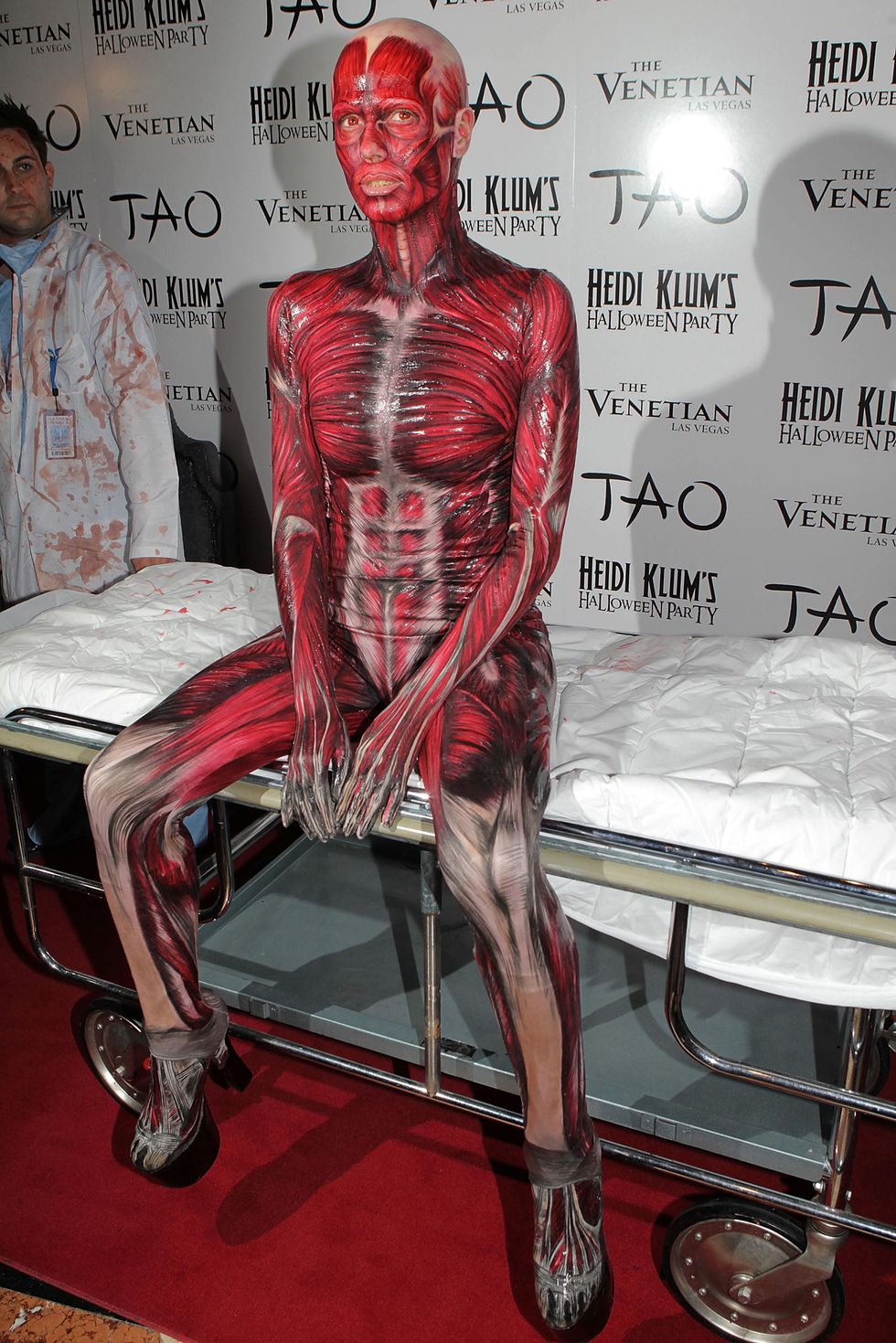 SOURCE: Cosmopolitan
At her first Halloween party of 2011, Heidi dressed as "the Visible Women" and had men dressed as surgeons wheel her out on a gurney at her first Halloween party of 2011. She looked like a part of that traveling exhibit.
5. Heidi Clones
SOURCE: Us Weekly
Fashion designer did her most daring costume to date in 2016: Heidi turned the red carpet into a runway while debuting several Klum clones in full Victoria's Secret Angel gear.
4. Butterfly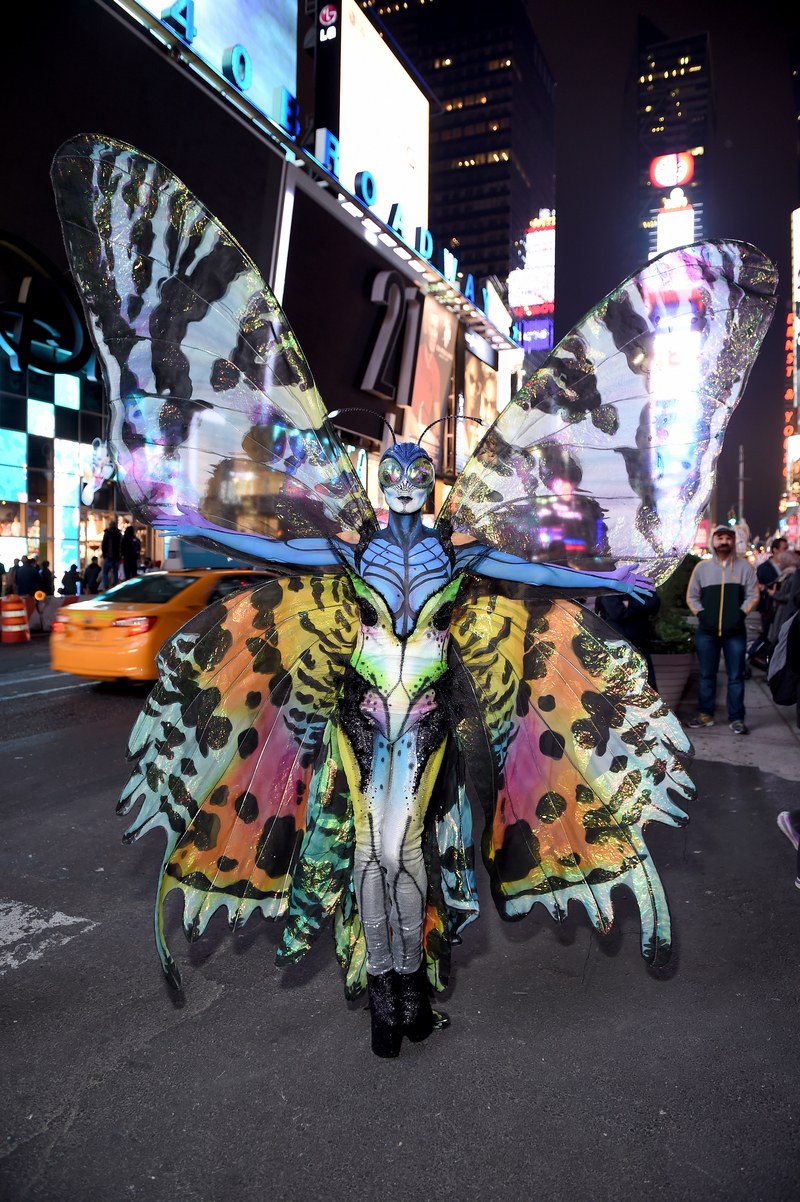 SOURCE: Glamour
Um, did we just take a trip to Cirque de Soleil?! Heidi waltzed through the streets of New York City in this bold and beautiful butterfly costume, massive wingspan included.
Klum's butterfly costume puts the rest of Times Square's characters to shame.
3. Michael Jackson's "Thriller"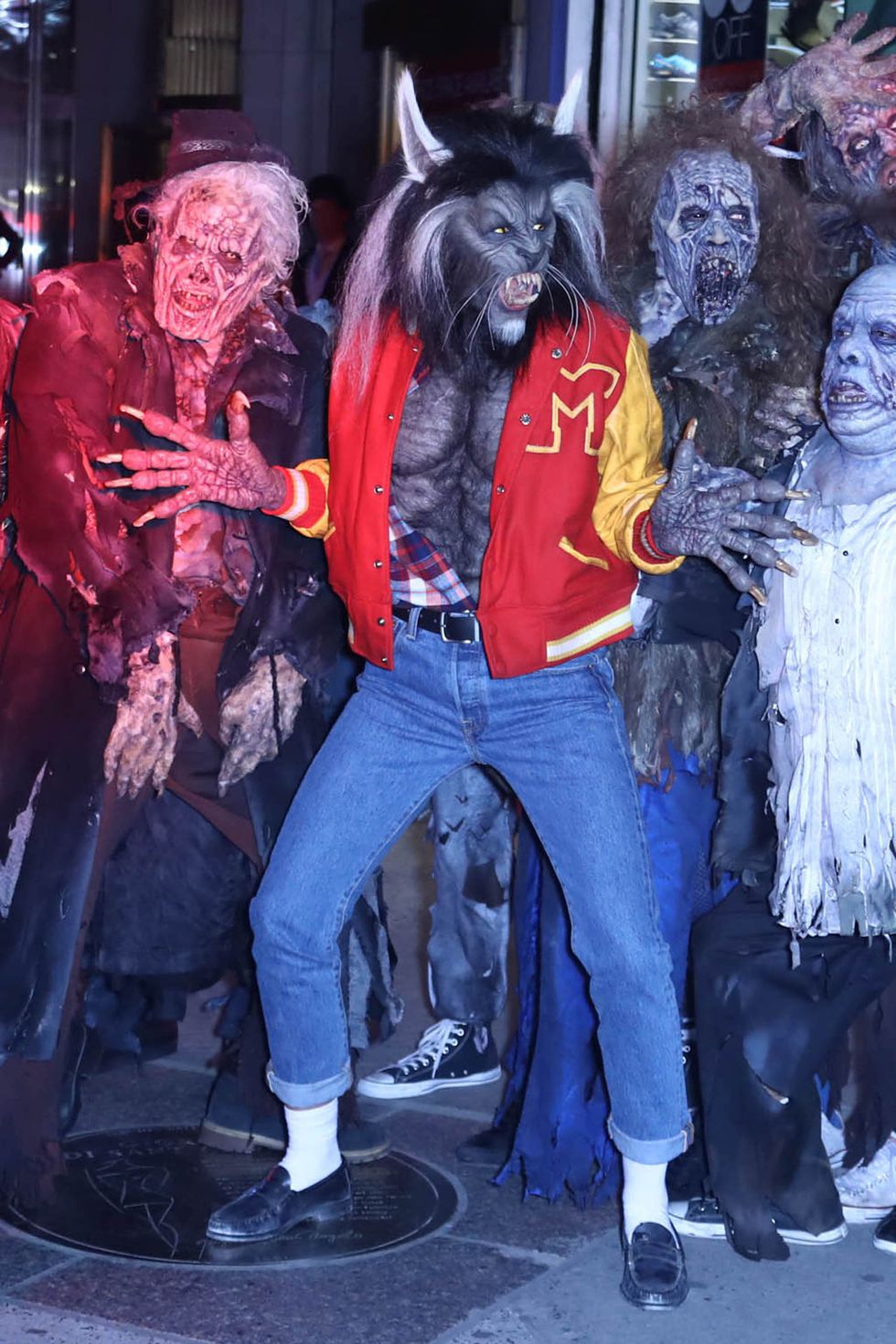 SOURCE: Cosmopolitan
Businesswoman Klum spent seven hours undergoing special effects makeup to make her debut as werewolf Michael Jackson from his "Thriller" music video. She even dressed some of her friends like zombies for the thrilling grand entrance.
2. 95-Year-Old Heidi
SOURCE: Glamour
In 2013, Klum disguised as a cane-wielding elderly woman, complete with wrinkles and varicose veins. She even had a rocking chair and a cane for when she got tired of all the standing.
1. Fiona from Shrek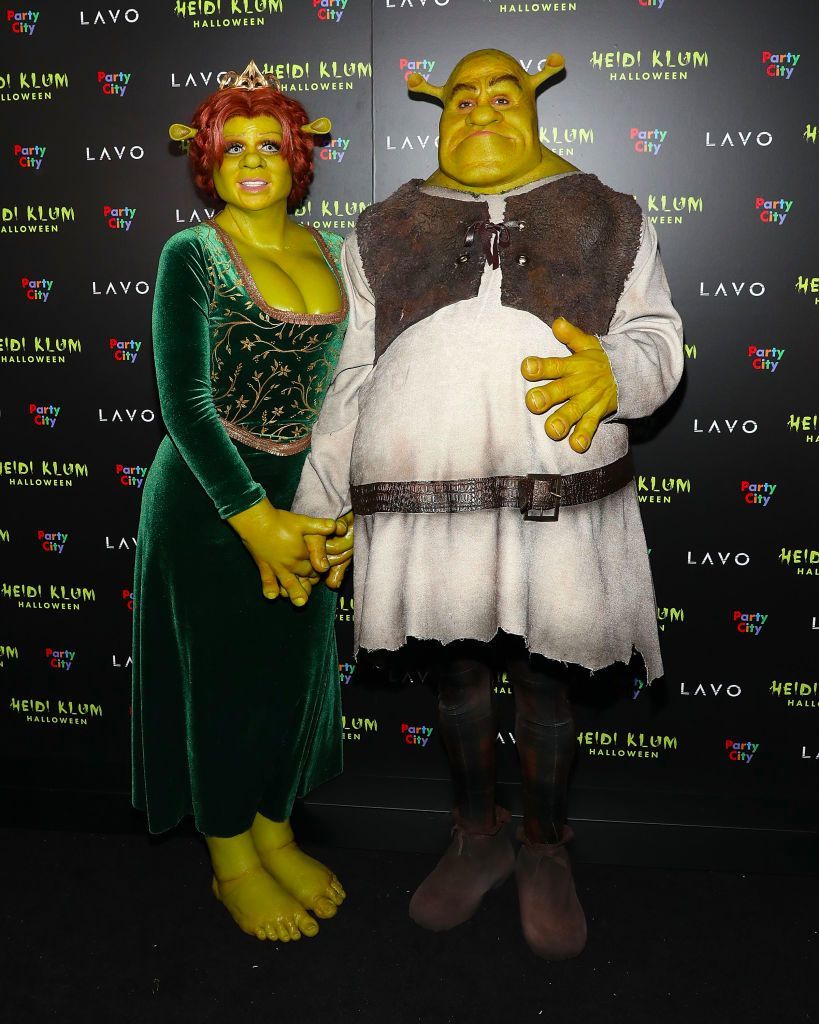 SOURCE: Pop Culture
In 2018, the German beauty won Halloween by dressing as Fiona from the movie Shrek with prosthetic ears, green skin, and all. Heidi's boyfriend Tom Kaulitz completely nailed his own Shrek look.
Each year the Queen of Halloween attempts to create a get-up even more over-the-top and jaw-dropping than the last. Heidi shocks with her insane, elaborate, and mind-blowing costumes every year. What will she have in store for us this year? Let's wait and watch!
-->