His Dark Materials Star Daniel Frogson is a Rising Teenage British Actor from Nottingham
Published Sun Sep 22 2019 By Sea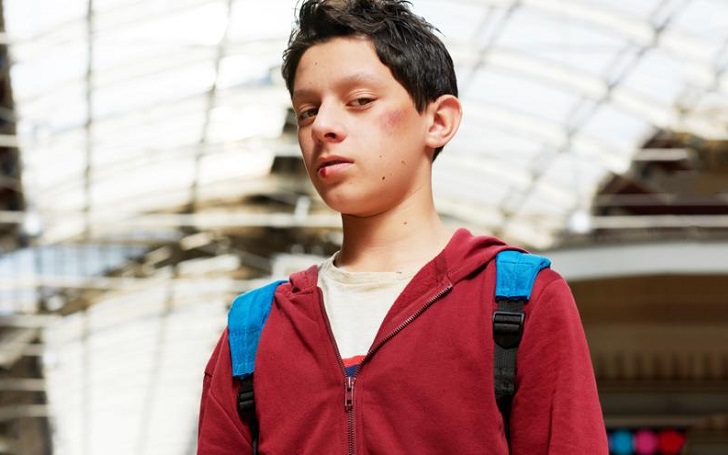 Daniel Jake Frogson is an up-and-coming actor in Britain. At just 17 years of age, he is way ahead of his time as he gained heaps of praises from everyone he worked with. Now, he has big shoes to fill on the anticipated and upcoming BBC adventure drama, 'His Dark Materials'. He plays the role of 'Tony Costa' that Steven Loton so amply performed in the movie adaptation, 'The Golden Compass' in 2007.
The teenager was not aiming to be an actor in all his childhood years. It just came to him. He hasn't been around long in the TV industry, but ever since he started, he hasn't disappointed his co-workers.
Literally Picked up from the Streets
Frogson does not possess any history of study in the acting business. He is just a kid from Nottingham, Nottinghamshire, England who got a chance to shine. He got it and never disappointed the viewers.
Noah Carson and Daniel Frogson were the two boy-actors in on 'The Devil Outside'.
Source: Jolygram
Born in August 2002, Frogson was a nobody until his talent for acting got noticed while he was playing on the street with his friends. He immediately got a role in the British drama, 'The Devil Outside', as one of the two young stars, alongside Noah Carson. He played 'Marcus' on the film that aired a couple of months later than his big appearance.
BAFTA 2018 Young Performer Nomination for 'Joe All Alone'
Only a nomination, but all the recognition.
Source: Daniel Frogson, Instagram
Frogson was filming for the movie when the director of 'The Television Workshop', based in Nottinghamshire, was looking for someone to star in CBBC's 'Joe All Alone'. When he saw Frogson acting for the movie, he found his star. The role exactly fit for the teenager's type. Although, the lead character, 'Joe Holt', was the exact opposite of who he is in real life.
It was his biggest role yet, and despite what the role asked of him, he fulfilled it ever so flawlessly. For the part, he was among the nominations of the 'Young Performer' title at BAFTA's British Academy Children's Awards in 2018, which Chloe Lea ultimately won. The Television Workshop still represents him.
The Role on 'His Dark Materials' - Tony Costa
Frogman plays Tony Costa, a Gyptian, who travels to the North with the other Western Gyptians to rescue the children captured by the Gobblers. One of the kidnapped children was his brother, 'Billy Costa'. His mother is 'Ma Costa', portrayed by Anne-Marie Duff. For now, Frogson is set to appear on one episode only.
Trivia
Frogson is a bit of a fitness freak. You should see his training scenes on Instagram. While you're at it, it's noticeable he likes to call himself 'Batman', as sort of the vigilante type. When he was 13 years old, he was one of the three boys who helped an elderly woman after she fell on mud in the park. There is an article on the Eastwood & Kimberly Advertiser about it.
Check out his fitness routines on Instagram.
Source: Daniel Frogson, Instagram
"Found this mask thing in my room 🤙"
Source: Daniel Frogson, Instagram
'His Dark Materials' will start to premiere on November 3 on BBC in the UK and November 4 on HBO in the US. The series is based on a novel trilogy by author Phillip Pullman, with a movie adaptation already done with 'The Golden Compass'.
Stay tuned and connected for more articles on Movies & TV Shows with Glamour Fame.
-->