How Rich The Woman King Actress, Viola Davis in 2023? Know About Viola's Net Worth, Salary and Many More
Viola Davis is a highly acclaimed American actress known for her extraordinary talent and captivating performances. Born on August 11, 1965, in South Carolina, Davis has become a prominent figure in the entertainment industry. With a career spanning over three decades, she has garnered numerous accolades, including an Academy Award, an Emmy Award, and two Tony Awards.
Davis is celebrated for her remarkable versatility and ability to bring depth and authenticity to her characters. She has delivered powerful performances in films such as "Fences," "The Help," and "Doubt," leaving a lasting impact on audiences worldwide. Beyond her acting prowess, Davis is also an advocate for diversity and representation in Hollywood, making her an influential and inspirational figure in the industry.
Net Worth Highlights of Viola Davis in 2023
Viola Davis, the celebrated American actress, has achieved both artistic acclaim and financial success throughout her illustrious career. With a net worth of $25 million, Davis stands as a prominent figure in the entertainment industry.
Notably, she holds the distinction of being the first African-American actress to secure the coveted Triple Crown of Acting, comprising an Academy Award, a Primetime Emmy Award, and two Tony Awards.
Beyond her remarkable talent, Davis is recognized for her dedicated advocacy for human rights and her unwavering support for women, particularly women of color.
Her commitment to these causes is paralleled by her significant earnings, as she was one of the highest-paid actresses in the world, earning nearly $15 million between 2019 and 2020.
Salary and Earnings
Viola Davis's impressive earnings and financial success can be attributed to her notable film projects, such as "Ma Rainey's Black Bottom," "The Help," "Fences," "Widows," "Prisoners," "The Woman King," and "Black Adam."
According to Forbes, these successful ventures played a significant role in bolstering her income. In 2020, Davis secured the tenth spot on Forbes' list of the highest-paid TV actresses worldwide.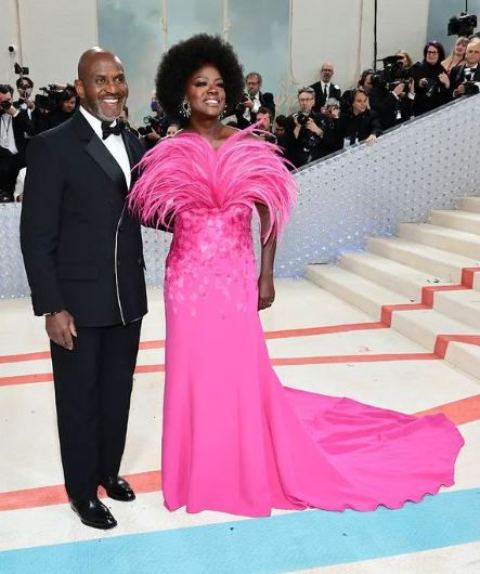 The same source disclosed that she earned a substantial $15.5 million that year, which exceeded half of her total net worth. Back in 2016, Variety revealed that Davis commanded a salary of $250,000 per episode for her role in "How to Get Away with Murder," resulting in an annual income of approximately $3.75 million.
Additionally, Davis also enjoyed financial success through her memoir, "Finding Me," released in April 2022. South African Actress, Thuso Mbedu's Net Worth in 2023! Find Out Thuso's Salary and Earnings
Heavily Involved in Charities
Viola Davis is not only recognized for her outstanding talent in the entertainment industry but also for her philanthropy and activism.
In 2011, she made generous donations to her hometown public library in Central Falls, Rhode Island, to prevent its closure due to insufficient city funding. Additionally, Davis has supported her alma mater, Central Falls High School, by contributing funds to enhance its theater program.
Furthermore, Davis has actively participated in the Hunger Is campaign, working alongside others to combat childhood hunger throughout the United States. Her dedication to this cause showcases her commitment to making a positive impact on society.
Investment in Real Estate
In 2016, Viola Davis made a significant real estate acquisition with the purchase of a luxurious estate in Toluca Lake for $5.7 million. This grand two-story property boasts an impressive 7,500 square feet of living space and is adorned with numerous sophisticated features.
Notably, the formal dining room includes a glass door that leads to a 600-bottle wine cellar, catering to the connoisseur in Davis. Complementing her profession, the estate also boasts a private theater equipped with a state-of-the-art 4K projector.
The outdoor area is equally enticing, with fountains, a pool, a built-in BBQ, and a fire pit, perfect for relaxation and entertainment. A 3-car garage completes the property, providing ample space for Davis's vehicles. However, in 2017, Davis sold her Los Angeles property located in Granada Hills, San Fernando Valley, for $1.15 million.
This property, featuring five bedrooms and five bathrooms, had been initially purchased by Davis back in 2005 for $1.7 million. Although the reason for the significant loss in the sale price remains unclear, it is possible that Davis was motivated to finalize the sale and transition to her more opulent Toluca Lake residence.
How Much is Swoosie Kurtz Net Worth? Here is the Complete Breakdown of Earnings and Property
Lavish Cars Collection
In terms of her personal indulgences, Davis possesses a modest yet admirable collection of luxurious cars. She takes pride in owning an Audi A8, Audi Q7, and Mercedes-Benz GLS-Class, reflecting her taste for sophistication and quality.
A Glimpse in Viola Davis's Career
Viola Davis has had a remarkable career with numerous highlights showcasing her immense talent and versatility. Her portrayal of Aibileen Clark in the film "The Help" garnered critical acclaim, earning her an Academy Award nomination.
Davis then achieved the pinnacle of recognition by winning the Academy Award for Best Supporting Actress for her captivating performance in the film adaptation of "Fences." She also received praise for her role in the legal drama "Doubt," which earned her an Academy Award nomination.
Davis's powerful portrayal of Annalise Keating in the television series "How to Get Away with Murder" earned her widespread acclaim, including an Emmy Award. Her consistent dedication to delivering impactful performances has solidified her position as one of the most respected and admired actresses in the industry.
Stay With Glamour Fame
-->