InfoWars Host Owen Shroyer - Here's his Entire Life Story!
Published Mon Nov 18 2019 By Travis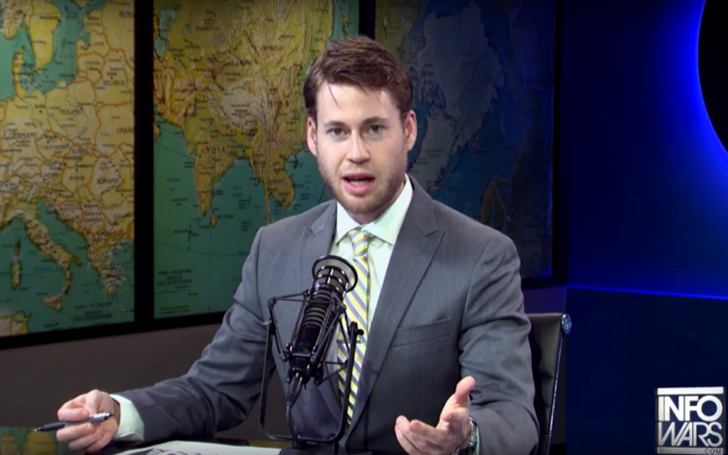 InfoWars is a hate speech promoting the site, but mainly, it is a merchandise selling business where Alex Jones uses the platform more to talk about his products and small pockets of time to provide inflammatory sound bites. But Alex is not the only person on the inflammatory right-wing site peddling hate speech and advocating violence; Owen Shroyer is up there with Alex.
Owen Shroyer is one of the most despised human beings on the face of the earth when it comes to the people of the right-wing. Whether he is calling the parents of murdered children, actors, or he is accusing pizza chains of running pedophile rings run by Hilary Clinton, he is relentless, and when facts don't work, he invents his own to come out as the intellectual one.
Source: Twitter
We don't know what it takes for someone to hate another human being so much and advocate violence upon others. But someone who is learned and knows so much about the world, he should also know what hate always brought to this earth. Owen Shroyer comes off as an intelligent man, but as you listen to him more, you just know something is wrong, and though he pretends to search for the middle ground sometimes, then he goes on to say President Obama should be lynched.
Starting Out in the Radio Broadcasting Business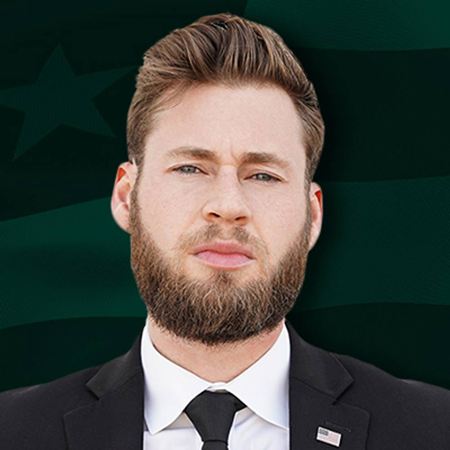 Owen Shroyer was born in 1989 to his parents in St. Louis but spent the formative years of his life in Austin, Texas. Raised by a conservative family, in a conservative neighborhood, Owen was groomed in a place where white people felt affirmative action ruined the country, and abortion should be illegal.
Young Owen was shaped by the environment he grew up in, but he himself made the man he turned himself into. Owen finished his education and soon was working as an on-air radio presenter for various radio platforms. He worked for KXFN, KFNS, and also InfoWars, where his appearance is the reason he is known the most to the general public.
Infowars: Calling for Obama's Lynching, Pizzagate, Sandy Hook Denier and All-Around Conspiracy Peddler
Owen Shroyer started to work for InfoWars, and soon, he was in the thick of things as he peddled conspiracies for the site. In December of 2012, there was a shooting in Sandy Hook Elementary School, and many children were killed in the massacre, and there were greater calls for gun control laws.
Well, InfoWars was not going to take the facts lightly as they claimed the whole shooting inside the school was staged by Hollywood, and the dead children, as well as the grieving parents, were crisis actors hired to sell the gun violence. The whole thing did not go down well with the parents who lost their children, and Alex Jones and Owen Shroyer were sued for their fake claims of the shooting being fake.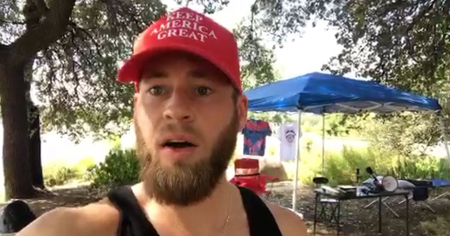 Source: National File
During the 2016 election campaign, the right-wing was doing its best to discredit Hillary Clinton and when one of the conspiracy theories of pedophile rings being run out of Comet Ping Pong Pizza chain basements. Clinton's family was linked to the pizza chains, and so started the pizzagate conspiracy theory.
Local militias started to vandalize the pizza joints, and Owen also got in on the action by accusing East Side Pies of running similar rings. InfoWars apologized for their fake news, but the damage was done for the pizza points, which were vandalized by the local people believing the pizzagate stories to be true.
In 2019 there was fake reporting by Breitbart about Barack Obama involved in a cabal to damage the presidency of Donald Trump. This reporting resulted in Owen calling for the lynching of the former and the only black president of the US.
Owen Shroyer's Family
Owen Shroyer likes to attack people for their beliefs, and he made a habit of attacking other people's children and family, but when it comes to his own family, the host is extremely protective of how they are portrayed. There are little to no images of his family, and for a man who likes to throw stones at other people's houses, he sure as hell does not want people to know where his home is.
Before you leave, make sure to head on over to our Entertainment section for all the latest news and gossip on your favorite celebrities. Also, do not forget to visit Glamour Fame to be in the know of all the happenings in the world of show business.
-->