Irish Theater Actress, Louisa Harland's Rise to Fame
Published Mon Oct 14 2019 By Sea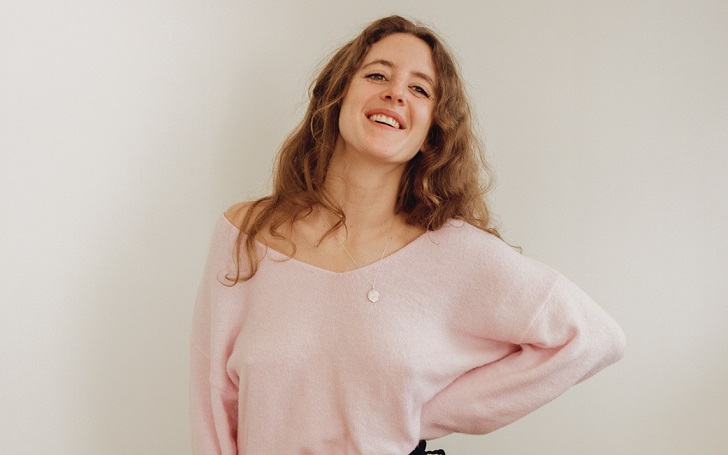 Louisa Harland is a young Irish actress from Dublin who began her career on the screen with a bang in Stuart Carolan's 'Love/Hate'. Her love for acting is evident from her passion and effort she gives when taking on the roles she is provided with.
Few can immediately break into the scene like Louisa did, with much less experience than her co-stars and not even an acting school graduation moment. She eventually did get her degree from an acting school in London, which was a dream come true for her.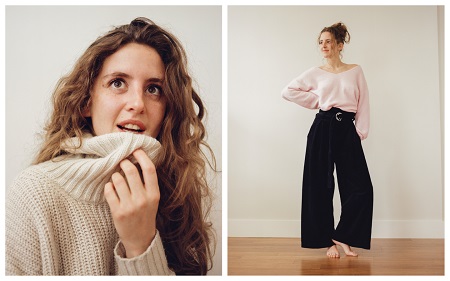 Louisa is a strict worker when it comes to being passionate about what she loves most.
Source: District Magazine
One could say 'Derry Girls' was her breakthrough job on the screen, but she might disagree and believes her first job was the big break that she needed.
Landed Her First Acting Job in 'Love/Hate' While Working with a Youth Theatre in Rathfarnham
The youngest of the three daughters to her parents, Louisa, was obsessed with theater from a very young age. She loved acting and was, in fact, obsessed with Shakespeare. She compiled up an ambition to train in big drama schools of London while joining the gang at Ann Kavanagh Youth Theatre in Rathfarnham.
It was during the period of working at the youth theater in 2011 that she auditioned for the role of 'Kayleigh' in the Irish crime, drama 'Love/Hate'. It was through the theater she got the chance to audition, and she did not disappoint. She got the role and was freaked out that she got the chance to work with the likes of Aidan Gillen, Robert Sheehan, and Tom Vaughan-Lawlor for four recurring episodes.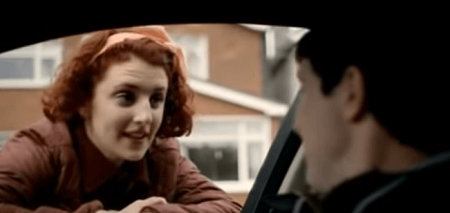 Before her Derry Girls fame, Love/Hate was her breakthrough.
Source: Love/Hate, Octagon Films
It was also a big learning phase from her, and she believes she learned as much as she did in three years of her training after the series. After completing her work in the Ireland studio, she was off to England to fulfill her dream.
Completed Her Three-Year Training from Mountview Academy of Theatre Arts, London
Louisa's love for acting is always clearly seen in her performances.
Source: Johan Persson
There was a gap in the credits of Louisa after 2011 until 2014, because she'd finally done it and completed her dream to practice acting in London. After she completed the training in 2014, she returned to Dublin in search of work and soon found herself cast as 'Julie' in the Irish romance/comedy 'Standby'.
For a while, it was difficult for the actress to get into any project, particularly due to traveling between Ireland and England. But soon, after a few theater roles in her hometown, she got a one-episode role of 'Caz Ellison' in the BBC drama 'Doctors'. Then it was just a rollercoaster ride for her. She appeared in the second episode of Discovery's mini-series 'Harley and Davidsons' in 2016 and Woody Harrelson's Daniel Radcliffe starring feature film 'Lost in London' as 'Stella' in 2017.
Starred in a One-Woman Theater Show 'Cotton Fingers'
Towards the end of 2017, Louisa started working with the HandMade Theatre to star in their production 'Di and Viv and Rose', the one act that was praised by various different reviews. It went on a sell-out run at The Tea House Theatre and Somerset House in London towards the end of January 2018. It was then transferred to Edinburgh Fringe 2018 for another mind-blowing performance. She played the gay 'Di' on the show.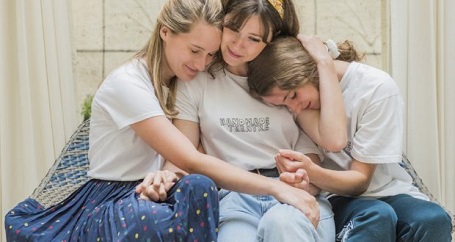 Louisa Harland (left) plays Di, Allegra Marland (center) plays Viv and Georgie Houlton (right) plays Rose.
Source: HandMade Theatre
Louisa was the star of the one-woman show production, 'Cotton Fingers', of National Theatre Wales, that ran from May to August of 2019 in various venues across Wales, Northern Ireland and the Republic of Ireland. It is a nuanced abortion drama that revolves around her character, 'Aoife', who travels from Northern Ireland to Wales in order to get an abortion after she finds out she's pregnant. Since it is an illegal act in Northern Ireland, Aoife doesn't tell anyone why she goes to Wales and monologues all the happenings to the viewers.
Watch: Cotton Fingers (2019) Trailer
The latest production for Louisa came with the Royal Court Theatre in London for its new show 'Glass. Kill. Bluebeard. Imp.', a four-piece act about four different stories. It was lauded by major national reviews as "Audacious, haunting and often horribly funny". It started only earlier in September with productions ending on 12 October at the Jerwood Theatre Downstairs, Royal Court, London.
Season 1 Finale of 'Derry Girls' Was Voted the TV Moment of the Year by Radio Times Readers
Around the beginning of 2017, Louisa got the breakthrough she needed, with the help of her youth theater again. She was cast as 'Orla McCool' in Lisa McGee's female-dominated comedy series, 'Derry Girls'. Orla is the endearingly eccentric secondary school who is "at an age that when she doesn't care what other people think." The crew finished the filming by the end of the year, and Channel 4 broadcasted the show in early 2018.
The moment they ended the third part of the first series of 'Derry Girls'.
Source: Louisa Harland, Instagram
The show was an absolute hit on the entire island of Ireland, as well as in the UK. It would've been a difficult stint with the life of four girls during the tragic violence (called The Troubles) in the 1990s in Derry depicted nonchalantly on the show. There were bound to be controversies rounding up, but the incredible script just made everything swerve in their favor. It is the most watched show in Northern Ireland. The series finale got picked up as the TV Moment of the Year by Radio Times Readers in 2018. Louisa's grit dance lessons paid off pretty huge after all.
The comedy series was also one of those few ones that had more women than is the norm, which made Louisa love the creative energy the fact brought to the project. Soon after the first series, the second series started filming and aired from March 2019 in the UK and Ireland. With the same response from fans as the first series, the production for the third series was announced by Channel 4 immediately after the second series finale. It will release some time in 2020.
Netflix got a hold of the show for international distribution in December 2018 for its first series, while the second series was released in August 2019. With that, the show became a hit even in the States, about which Louisa was absolutely shocked. She traveled to the US (New York) in January 2019 (where she met-up with comedic actor Jonathan Van Ness), and fans were just buzzing to get a selfie with the star.
Louisa was in New York earlier in January.
Source: Louisa Harland, Instagram
While there is still 'Derry Girls' that Louisa is filming, she starred in the pilot episode of 'Handy' in May and is set to appear as 'Claire McCann' in the revamped Chris Baugh movie 'Boys from County Hell', after he directed the movie of the same name in 2013. She is represented by Emptage Hallett Talent Agency in London, where she currently lives.
Visit GlamourFame for more Entertainment articles on your favorite celebrities.
-->