Is Ellison Barber Married? Grab Details of Her Dating Life!
Published Mon Nov 04 2019 By Travis
Ellison Barber is a reporter for Fox News who made her name in a snow blizzard while she mistakenly stumbled into an interview with Alex Ovechkin. Her one video with the star of Washington Capitals shot her to fame, and she was moved from a local news channel to reporting news from the White House lawn.
The Fox News reporter was born on 20 October 1988 to her parents in the US while she was raised in Atlanta with her siblings. She was a tomboy from a young age and also loved playing sports, especially basketball. But by the time she was ten years old, hockey found its way to her heart, and she started playing the game while also following the NHL. By coincidence, her favorite team was Washington Capitals, and she got to meet one of her favorite players Alex Ovechkin.
Source: Instagram
Ellison grew up loving her hometown team of Atlanta Thrashers, but when the team moved to Winnipeg in 2007 while she was in a junior in college, the allegiance for her shifted. She attended Watford College located in South Carolina and graduated with her degree in 2012 and then moved to Washington to work in the news business and report on politics, and while she was finding success in her professional life, Ellison was also finding love.
Her Relationship Status, Is there an Ellison Barber Husband?
Ellison Barber, Andy Tongren, met around late 2015 or early 2016, and the two formed a relationship quick. They were great with one another, and the love between the couple showed. They moved in together soon after, and then there were those adorable pictures on Ellison Barber's Instagram with lovey-dovey captions.
The first image Ellison Barber shared on her Instagram was on 22 October 2016. The duo was seen together in the picture with two adorable dogs with the caption, "We're going to come home with so many dogs." There were other pictures of the two sharing intimate snaps and professing love for one another.
Source: Instagram
Andy Tongren is not so proficient when it comes to Instagram, with his page only displaying three pictures. Andy was one of the four-piece band 'Young Rising Sons' who is known for their alternative rock sound, and he is the lead vocalist of the band.
Andy was on the rise in the 2010s after being discovered while he was playing in a New York City bar. Before he met Ellison, Andy dated actress Evan Rachel Wood in 2015, and since the relationship did not last long, Andy Tongren and Ellison Barber got to be together.
Source: Instagram
Even though the couple is together for over three years, they are still not looking to tie the knot. They care for each other, and their love on Instagram shows how much they care for one another, which is why it is not a far-fetched idea to see the tow get married soon and bring a couple of kids into this world.
Rise to Stardom, Ellison Barber-Ovechkin Interview
It was 22 January 2016 while she was working for the network WUSA9; there was a blizzard headed to Prince George County in DC area, and she was tasked with talking to people on the street to get their reaction on how they are preparing for the storm.
The place to scout for people looking to hunker down to let the storm pass was to look for people in Gas Stations, which is why she was looking for people in those places. They settled down at a station, and when they were setting up, Ellison saw a car pull up to the station, and two men exited the vehicle with one man carrying a gas canister, and she thought these were the right people to ask for an interview.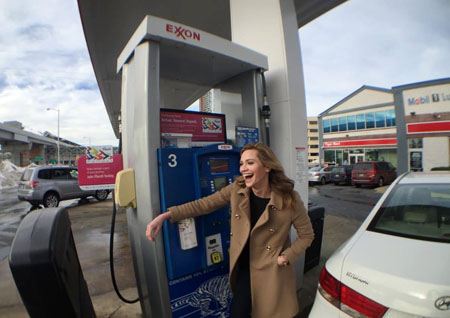 Source: Russian Machine
When she approached the duo and asked if she could interview them, the man filling the can look up smiling, and it was none other than Capitals' player Alex Ovechkin. The unfiltered happy reaction of Ellison was recorded on camera, and after the interview aired, she released her reaction when meeting the hockey player, and she was the trending topic on Twitter.
The story was run on state and national media, and one chance meeting caused a snowball effect for her life and career. She soon moved away from her previous job and started working for Fox News in 2017, where she is still employed.
Before you leave, make sure to head on over to our Entertainment section for all the latest news and gossip on your favorite celebrities. Also, do not forget to visit Glamour Fame to be in the know of all the happenings in the world of show business.
-->